PRF for Dark Under Eye Circles and Hollows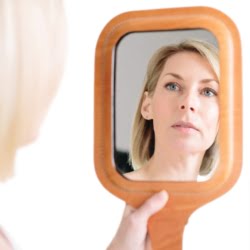 The modern way to erase under eye circles and hollows
Your makeup bag tells the truth about your under eye circles: filled with 10+ concealers you bought in a frantic search to find a holy grail product to help you look simply more…awake. Dark circles under the eyes or sunken, hollow under eyes have a variety of causes, ranging from genetics, to chronic conditions, to thin skin, to age-related bone and tissue loss.
Starting around age 25, we lose facial fat, our muscles atrophy, and our bones begin to recede, all of which impact the area under our eyes and lead to a more sunken look with dark circles. "By the time you're 30, volume loss is usually the thing you can't put your finger on when you wonder why you suddenly look so tired," says CSLC Founder and Clinical Director Courtney Lo.
Age-related collagen loss contributes to thinning skin in the area, too, says Lo. "And if you're fair-skinned, that thinning skin will make your under eye color get even more pronounced every year," she adds, which leaves you with that annoying blue or purple-tinged "bruised" look—like a permanent shadow.
For some with darker skin tones, under eye circles are a matter of genetics instead of thin skin or tissue loss. Hyperpigmentation, for example, is more common in darker skin tones.
"There's no one universal reason or cause for chronic dark circles," says Lo. "That's why we assess each client individually in our complimentary consultations and recommend a treatment plan that addresses each person's unique circumstances that lead to under eye circles."
Beyond concealer: how PRF treats under eye circles and sunken eyes
Clients at CSLC often come into our office with the hopes that  a vial or two of dermal filler will magically reverse their dark circles, but it's not as simple as that.
"Depending on the structure of your bones, and the texture and integrity of your skin, dermal under eye fillers may not be the right solution," Lo says. In fact, we've evolved our approach in our Traverse City and Petoskey offices to be more conservative with traditional under eye fillers, and prefer injecting PRF (platelet rich fibrin) in microdroplets for a better, more natural looking outcome.
"PRF, which comes from your own body's blood, helps by kickstarting collagen production and new cell growth," Lo says. "This process helps tighten thinning skin under the eyes and improves the overall tone and texture of the under eye area." This makes PRF ideal for a variety of skin tones and ages, because it helps both underlying structural issues (like receding eye sockets) and surface problems, like hyperpigmentation and thin under eye skin.
Traditional fillers injected under the eyes can sometimes lead to an unflattering "puffy" look or even add a blueish tinge to the area, and are also at risk of "sinking" lower into the face. Additionally, traditional face fillers don't address fine lines and crepey skin under the eyes, whereas PRF stimulates cell growth both internally (under the skin for improved "structure" and plumpness) and externally (on the skin's surface, for a smoother look and thicker cellular structure).
PRF under eye injections take approximately 45 minutes, and we recommend a minimum of 2 treatments spaced a few weeks apart. You'll see results over time—most clients notice they look less tired, need less concealer, and fine lines and texture smooth in the months following PRF. Annual maintenance treatments help keep your under eye area looking renewed and refreshed in the most natural way possible.
Injection-free under eye rejuvenation?
Absolutely. Booking a consultation is probably your best bet here, as ResurFX, Morpheus8, fractionated CO2, and Thermismooth all provide beautiful eyelid and under eye rejuvenation. "We need to take into consideration your skin type, your goals, your time frame and whether you need line smoothing, overall skin rejuvenation, or collagen stimulation primarily. Our anti-aging, aesthetic consultations are complimentary.