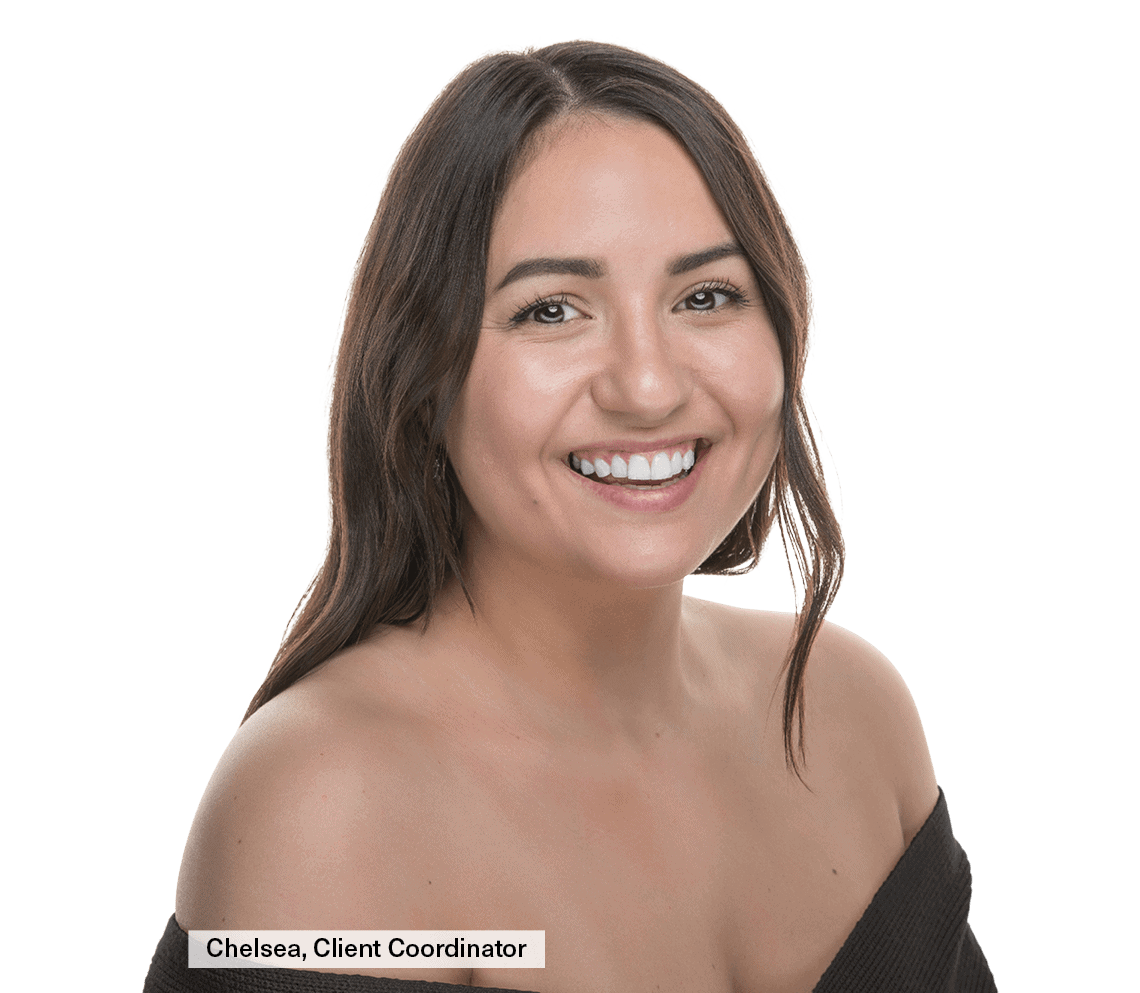 We have solutions for teenage acne, hormonal acne, and cystic acne.
Acne affects between 40-55% of the adult population, but virtually everyone can have clear skin. Our variety of skin rejuvenation treatments for post pimple marks, acne, and acne scarring can be done while seeking dermatology treatment for acne or without a dermatologist.
"I'd almost given up on treating my hormonal cystic acne. Morpheus miraculously helped clear my complexion and my scarring without Accutane." – Danielle L.
We've been helping people successfully treat acne and acne scarring for over 20 years.
Restore your skin with our wide variety of FDA-approved acne treatments, effective both with medication and when used alone.
Microneedling

Morpheus8

Facials

Microdermabrasion

Extractions

Peels

Skincare
The National Institute of Arthritis and Musculoskeletal and Skin Diseases (NIAMS) defines acne as a common skin condition that occurs when the hair follicles under the skin become blocked or clogged by hair, sebum (an oily substance), bacteria, and dead skin cells. This blockage causes blackheads, whiteheads, and other skin impurities to appear. And here is a good overview on acne from the American Academy of Dermatologists.
Although acne can show up just about anywhere, it's commonly found on the face, forehead, chest, shoulders, and upper back. And acne affects people of all ages – not just teenagers!
Types of acne include: 
blackheads

whiteheads 

papules 

pustules or pimples 

nodules 

fungal acne

cysts 
According to NIAMS, one or more of the following can lead to acne: 
excess oil production in the pore

a buildup of dead skin cells in the pore

growth of bacteria in the pore
The following factors may increase a person's risk for developing acne: 
hormones 

family history

certain medications 

age 
Best Acne Treatment for Adults
We understand both the shame and self-blame associated with adult acne. Many of our estheticians, skin care specialists, and providers at CSLC have suffered from acne even as adults, and our goal is to find a treatment plan that helps skin look better and feel better.
Every person's acne is different. That's why we offer individualized treatment plans and complimentary consultations. Here are a few treatment options to choose from:
If left untreated, acne scars can last months or even years. Acne scars develop from cystic acne or from picking at the skin. The good news? Microneedling (either with PRF or without PRF) can help rid a person of their acne scars for good.
CSLC's Customized Bi-Weekly Acne Treatment
CSLC offers an affordable bi-weekly treatment that combines our personalized acne skincare regimen with a facial regimen that's customized based on each client's unique acne needs and concerns.
Here's how it works: We start with a customized facial or peel that combines deep steam cleansing and extractions. This is then followed by a peel or microdermabrasion. Your Facialist and Physician Associate will recommend an at-home skincare program for acne. Patients who receive this treatment every two weeks usually see a reduction or elimination of acne after approximately two months of treatment.
Acne's the last thing anyone wants to deal with in adulthood.
Studies show a relationship between acne and depression. It takes a major toll on self-confidence, and often feels like something you think you should be able to control as an adult. The truth is, acne isn't your fault! A variety of factors ranging from fluctuating hormones to the environment can trigger and cause acne in adulthood. We can also help with mascne caused by masking.
Modern aesthetic treatments, from facials to microneedling to laser treatments, can help you reclaim a beautiful complexion and restore your self-esteem.
Acne and Acne Scarring Treatment Before and After Photos at
Cosmetic Skin & Laser Center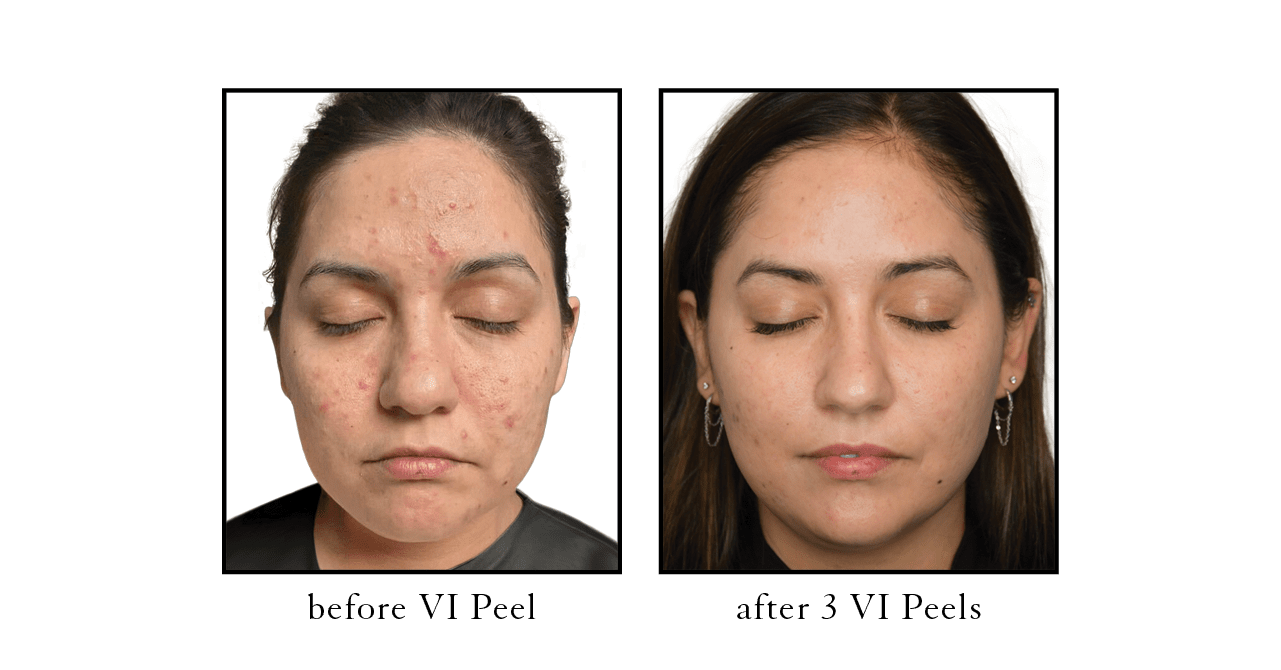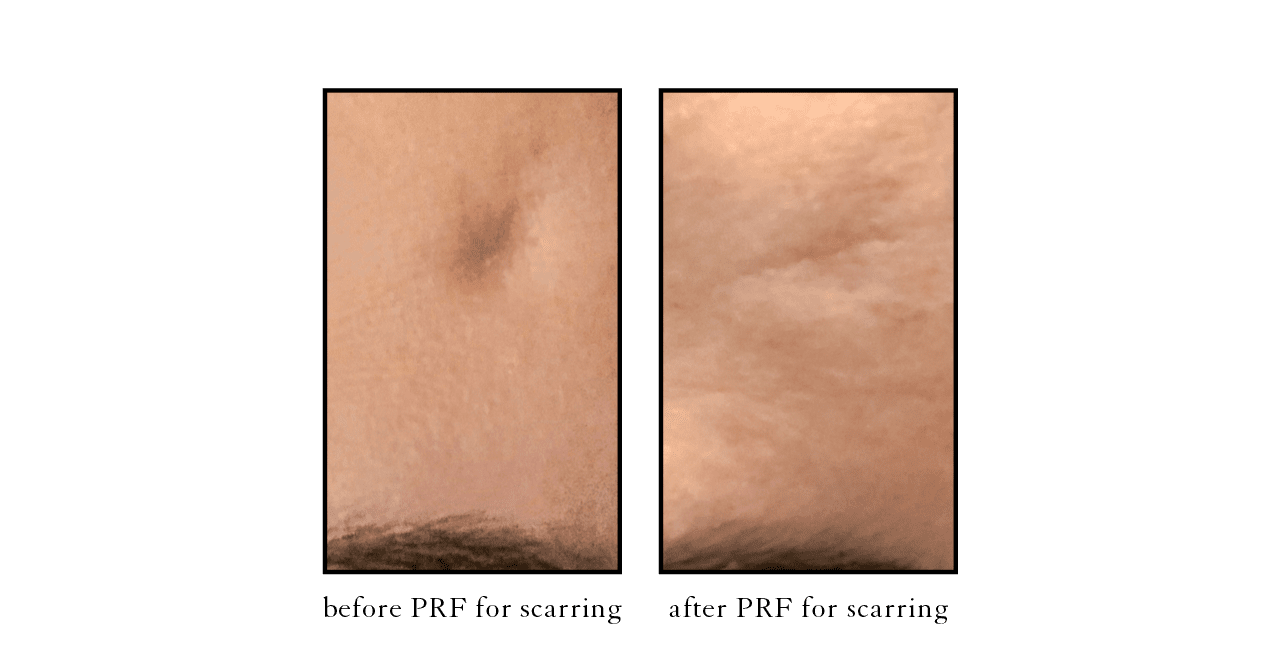 "I've been a client for years and have tried numerous treatments. I've never had a bad experience. My skin looks as good as it did 20 years ago. Thank you CSLC."

Peels: Frequently Asked Questions
Peels can also: 
reduce fine lines and hyperpigmentation
improve wrinkles and other skin imperfections 
minimize pores 
soothe scarring 
balance texture
Salicylic acid is the gold standard for unclogging pores and treating acne. This is because it lingers in the cells and continues clearing them for a few days. VIPeels are strong and very effective at reducing acne, acne scars, and melasma.
Unlike dermatology visits of the '90s, visible peeling isn't always the goal. Painful peels are a thing of the past. Many "peels" do a great job at exfoliating while infusing the skin with ingredients that improve skin tone, build collagen, and reduce age spots.
Yes, the same deep steaming, extractions, and peels we use on the face can treat both acne and bacne. Chemical peels also minimize acne scarring on the face, back, neck, and chest.
Our favorite drug-free treatment that treats acne with long-term, lasting results is InMode Morpheus8.
In our experience, Morpheus8 generally helps acne and acne scarring. Unlike microneedling, Morpheus uses radio-frequency (RF) combined with the physical injury caused by the microneedles.
Think of it this way: Microneedling works like a roller, whereas Morpheus8 penetrates the skin like a single stamp.
After the gold-coated pins (microneedles) penetrate the skin and create controlled micro-wounds, RF (via heat) is released into the skin. This double mechanism of action stimulates collagen for tighter, smoother skin and injures the pilosebaceous unit to reduce active acne. As the skin heals, it stimulates collagen and the integrity and structure around the scar improve.
After a series of four treatments, many report improvement in active acne (even deep cystic jawline acne) for years to come. Commonly, a single Morpheus8 treatment offers overall anti-aging benefits and reduced scarring. We see cumulative and more dramatic results with a series of three to four monthly treatments.
For moderate to severe acne, facials spaced two weeks apart over a four-to-eight-week period offer the most dramatic and fastest results. Depending on the severity of the acne and your home skincare routine, maintenance facials are generally every one to three months.
We offer the following skincare product lines: 
Our Master Aestheticians will build you a customized regimen to help you achieve your skin goals.
CSLC does not offer prescription treatment for acne. Many of our patients have already tried Accutane (isotretinoin), antibiotics (tetracycline, minocycline, erythromycin), and prescription creams or medical grade skincare (benzoyl peroxide, Proactiv). Some try birth control or spironolactone to control acne breakouts.
We are happy to refer to work with your dermatologist prescribed medications for acne or refer you to a dermatologist in Petoskey or Traverse City.
CSLC offers acne treatment alternatives that can be used in conjunction with other acne treatments to minimize breakouts or fade acne spots.
Steroid injections can be very effective to calm cystic acne or hormonal acne. We do not inject steroids at CSLC. We do inject acne scars with PRF or PRP.
Morpheus8, our radiofrequency microneedling treatment, is effective at preventing cystic breakouts and fading acne scarring.
Ready to get started?
Book a free consultation today!