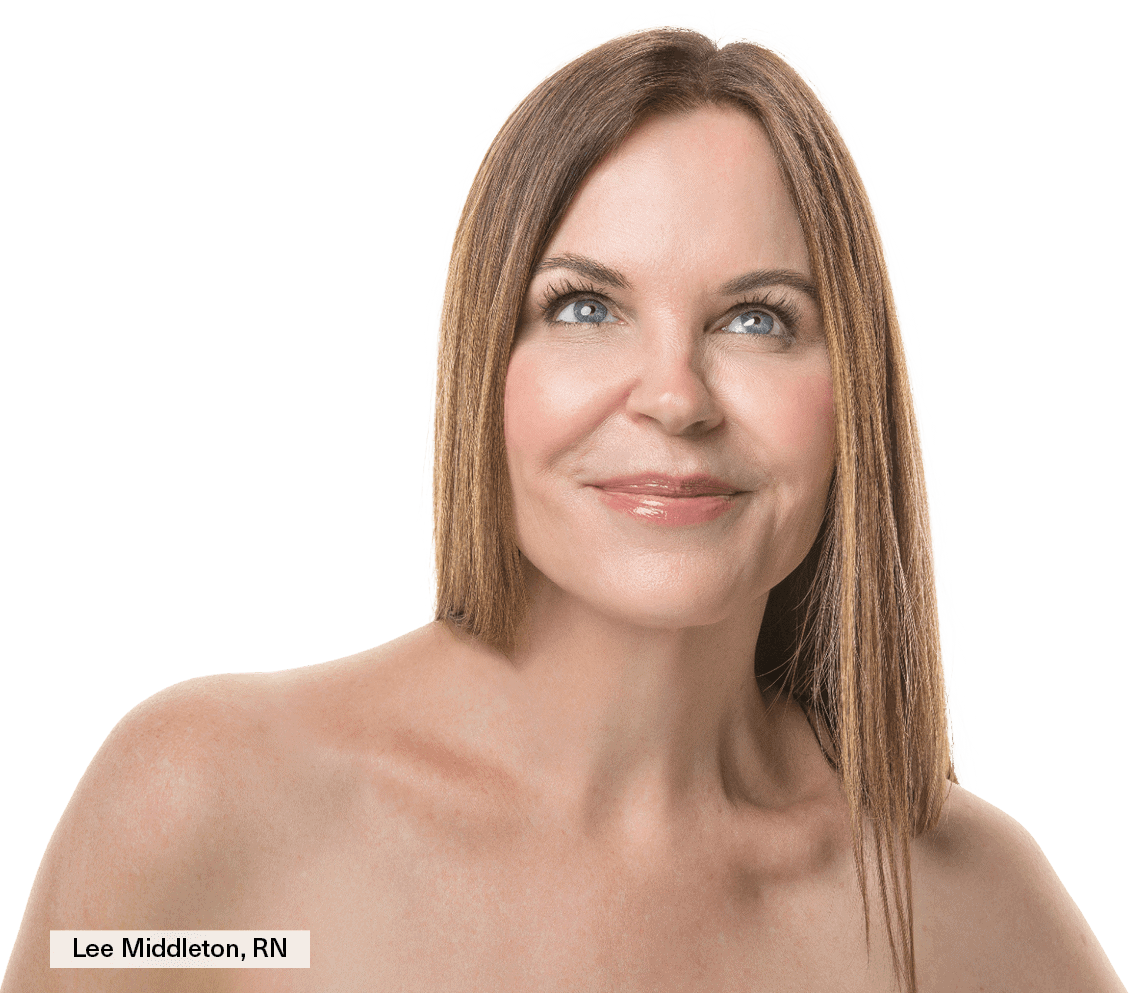 TotalFX laser skin resurfacing.
The fractionated CO2 skin laser is the one-visit reset for skin.
What we tell our patients: You'll have to hide away for 5 days, but it's a great investment! After one week, your skin will be smoother, more even, and radiant. Best results at 3 months.
Featured on "The Today Show" and "The Doctors," U of M says Total FX CO2 laser treatment will "change the way sun-damaged, scarred, and wrinkled skin is treated for years to come."
In just one treatment, TotalFX fractionated CO2 laser resurfacing turns back the clock:
Fine Lines

Wrinkles

Scars

Texture

Pigmentation
What is laser resurfacing?
Laser resurfacing uses laser energy to reduce the appearance of wrinkles and skin irregularities. Laser resurfacing (also referred to as lasabrasion, laser peel, or laser vaporization) can be done with an: 
Ablative laser (CO2, laser, erbium laser, combination systems).

An ablative laser, also known as a "

wounding laser

," removes the epidermis (the thin outer layer of skin) while heating the dermis (underlying skin).

These "wounds" then stimulate the growth of brand new skin cells and collagen fibers, smoothing and tightening the skin. 
Nonablative laser.

A nonablative laser stimulates collagen growth without wounding the patient's skin.

Nonablative lasers are non-invasive and require only a day of recovery time when compared to an ablative laser, but often require more than one treatment for best results. 
How does TotalFX laser resurfacing work?
TotalFX laser treatment is a two-step treatment. First, the CSLC provider numbs the patient's skin with a topical anesthetic. (CSLC can also provide patients with oral sedation or pronox laughing gas to ensure that they're comfortable and pain-free during the procedure.) Then, an FX laser is applied to the patient's skin one area at a time for 45 to 60 minutes. FX laser if very effective on the face, neck, chest and hands.
After fractionated CO2 laser, patients should expect to feel a sensation similar to a bad sunburn. Because of redness and weeping of the skin, most patients need five to seven days of downtime following a TotalFX treatment. At CSLC, we provide a complimentary hydration facial one week after your laser treatment in any of our locations in Petoskey, Traverse City, or Naples.
Pros and Cons of TotalFX laser skin treatment
✔
Pros 
see visible results in just one week and continued improvement for three to six months 

improve pigmentation, skin tone, and texture

reduce the appearance of wrinkles, scars, and folds 

produce new collagen and elastin in the treatment area

firm and lift the skin 
✗ Cons
five to seven days of downtime 

three months for best results 

dry skin for one month 

may aggravate melasma
TotalFX Laser Resurfacing Before and After Photos at
Cosmetic Skin & Laser Center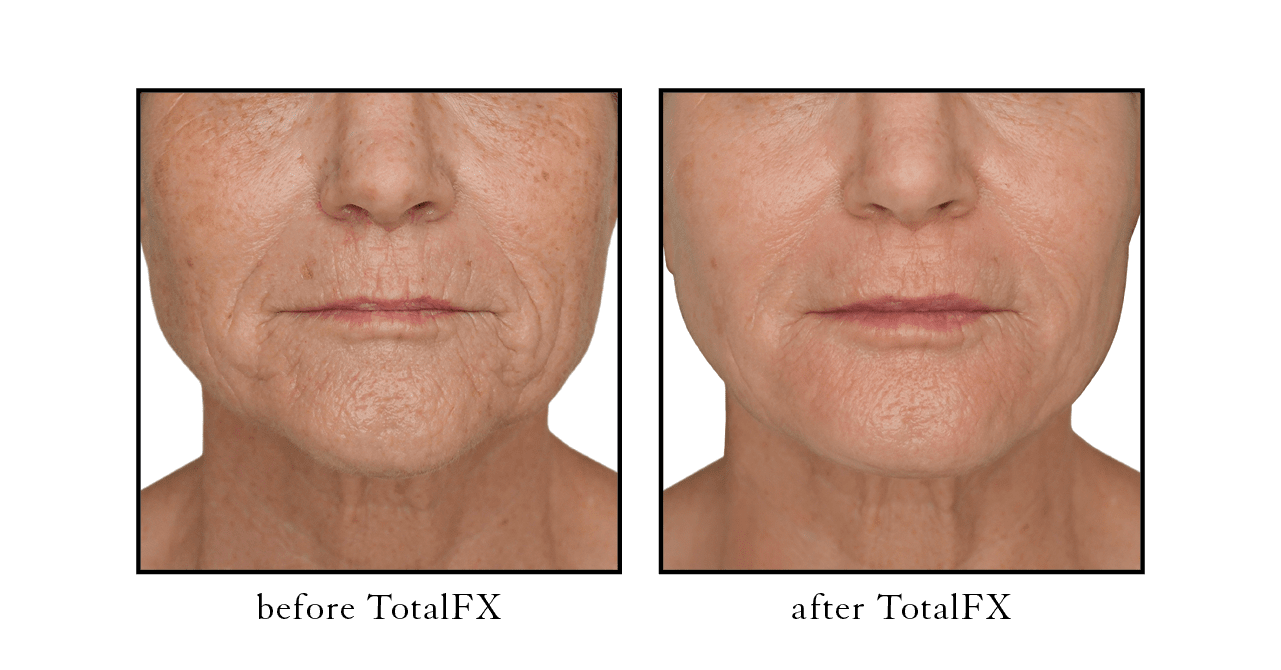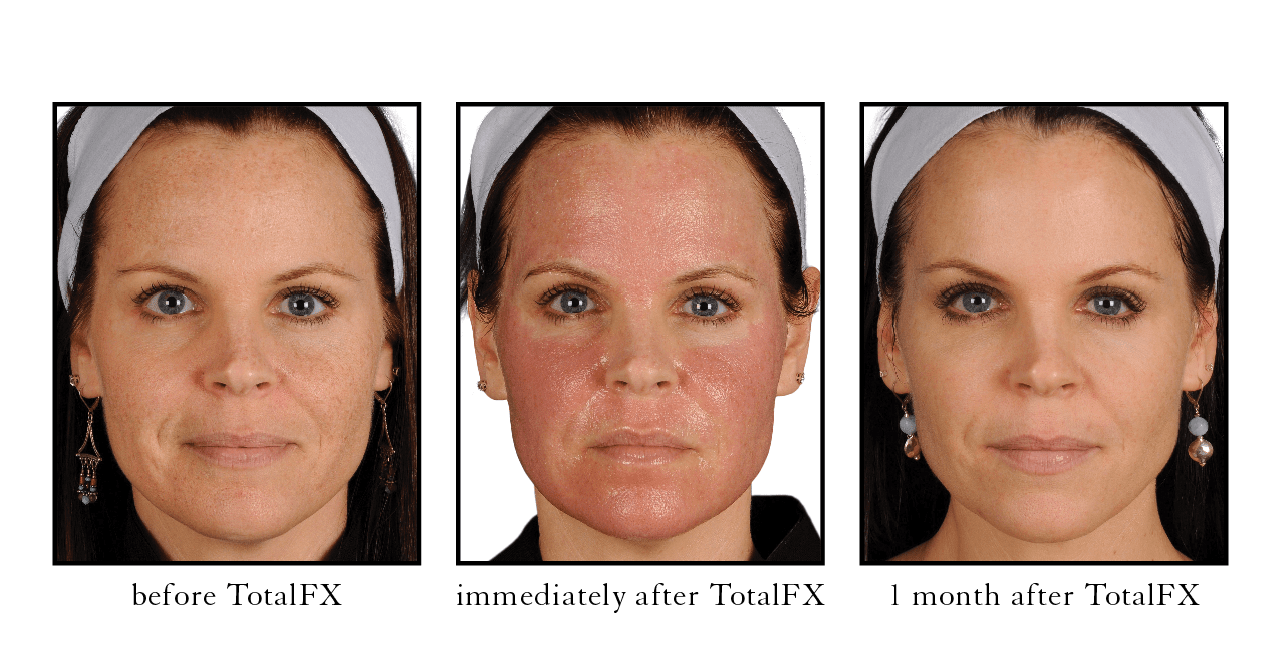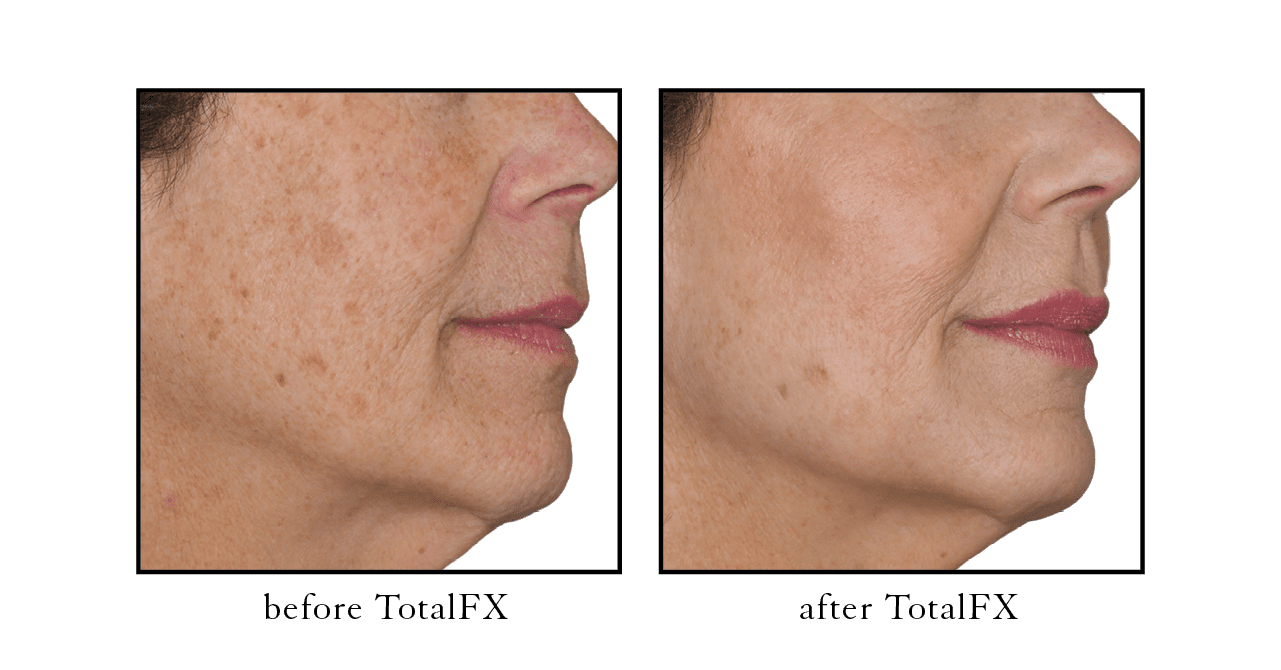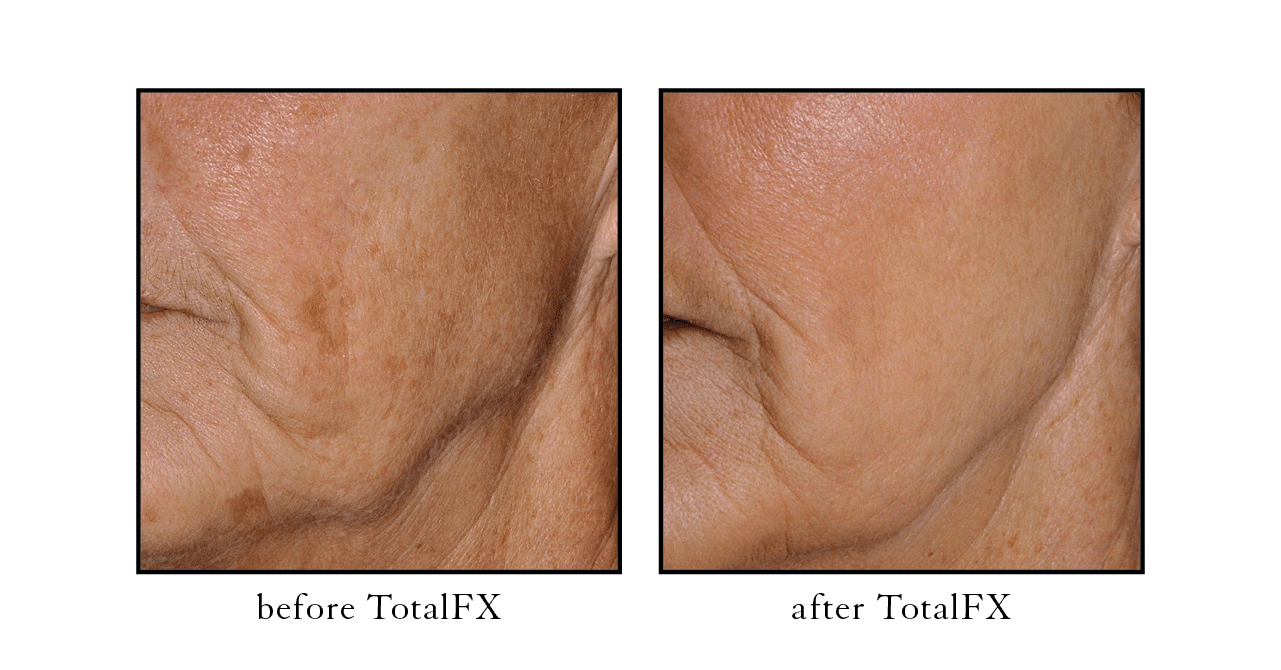 "I have been going to CSLC for several different restorative treatments and from check-in until treatments are completed every staff member has been professional, compassionate, informative, personable and courteous. They are all wonderful!"

TotalFX Laser Resurfacing Frequently Asked Questions
Every patient is different; what's right for one patient may not be right for another. Prospective patients book an introductory consultation to discuss goals, expectations, and areas of concern. Once a patient is approved for treatment, they'll be provided with instructions on how to prepare for their treatment date. 
To ensure a comfortable and successful procedure, CSLC provides patients with topical anesthetics and oral sedation. After the procedure, patients may feel pain similar to that of a bad sunburn. 
It takes about one week for a patient's skin to heal following CO2 laser treatment. Patients who add platelet-rich fibrin to their treatment can decrease their healing time by two days.
Fractionated CO2 laser results are long-lasting. Most patients repeat it every 2 years. FX laser resurfacing is the most effective procedure for patients who want to achieve dramatic results in fine lines, wrinkles, scars, texture, and pigmentation in one treatment. We think of it like "painting a room"!
Cosmetic Skin and Laser Center provides laser skin resurfacing in Traverse City and Petoskey MI as well at Naples, FL. Visit us for a complimentary consultation and see if laser resurfacing is the best treatment to meet your goals.
Ready to find out more about laser resurfacing?
Book a free consultation today!