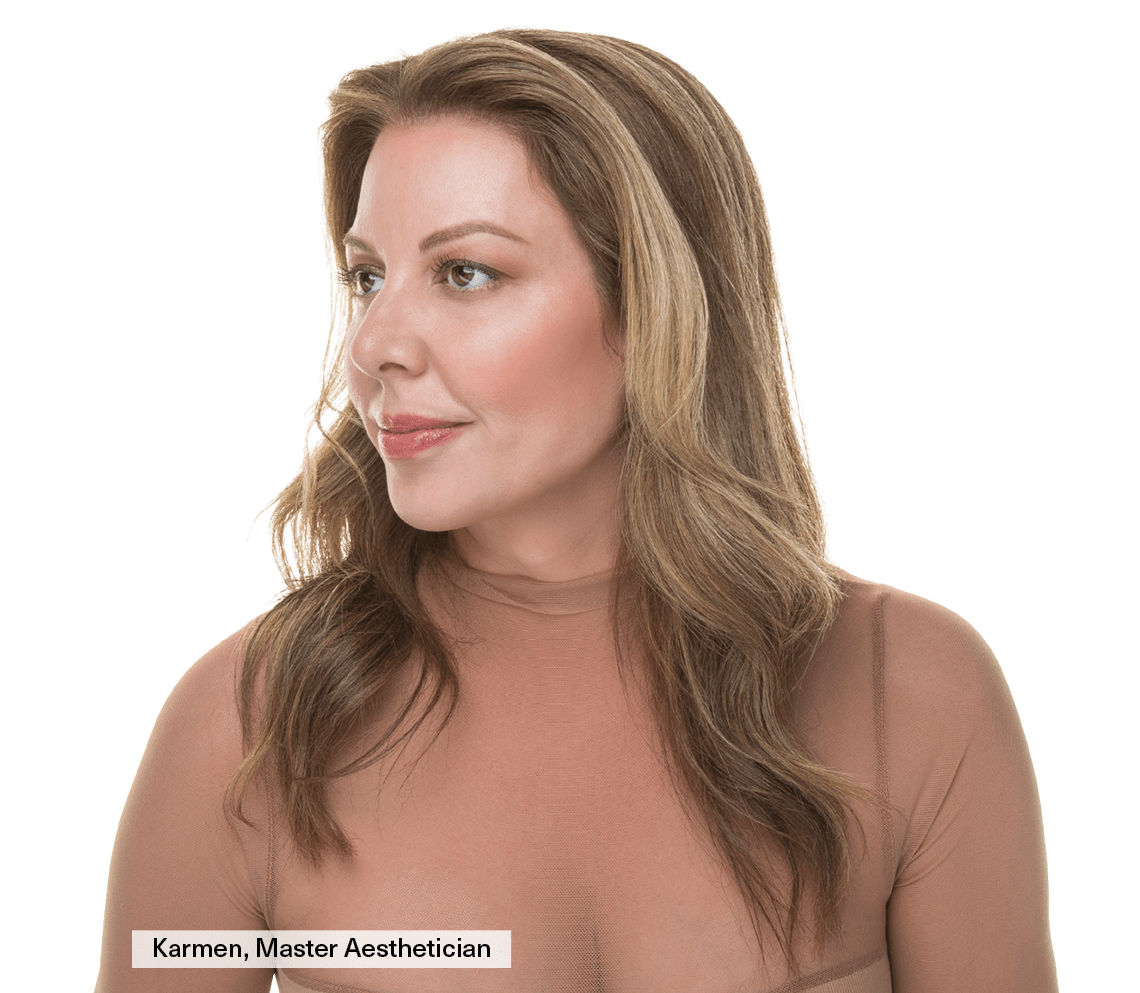 Morpheus8 Body: the most advanced microneedling RF treatment to tighten and smooth skin
What we tell our patients: Morpheus8 Body rejuvenates skin anywhere on the body and can be customized to slim and contour all in the same treatment.
"What makes Morpheus8 Body so revolutionary is the opportunities to customize the treatment to shrink, tighten, and smooth skin. No other external device can reshape and contour to this degree."
– Courtney Lo, PA and Founder
Jawline

Knees

Bra fat

Neck

Abdomen

Thighs

Arms
Morpheus8 Body Treatment In Action
Morpheus Body
Morpheus8 Body (blue handpiece) effectively reduces fat and tightens skin in various stubborn areas such as the abdomen, knees, bra areas, arms, and even the tail of spence (the breast area that extends into your armpit).
Morpheus Resurfacing
Morpheus Resurfacing (black handpiece) is a supercharged microneedling treatment that delivers instant peeling, while stimulating new growth and firmness to the skin, which helps minimize fine lines. Morpheus Resurfacing gives your skin an added boost of firmness and rejuvenation, and is commonly performed with Morpheus8 Body.
InMode's Morpheus Body depth
Morpheus8 Body has needles coated with a protective layer that go into the tissue beneath the skin. These needles help make the fat firm and tighten the connective tissue. At the same time, controlled radiofrequency (RF) energy is delivered to the targeted areas. For fat reduction (volume loss) we use depths of 4-8mm, and for skin tightening we use depths of 2-4mm.
InMode's Morpheus Body Microneedles
Morpheus8 Body is designed to target deep layers of tissue, which can reach up to 8mm beneath the surface. This video shows a burst of 6mm, and the RF (radio frequency) energy is delivered in three different tissue layers within one cycle. The energy is delivered at 6mm (first), 4mm (second), 2mm (third).
How Morpheus8 works on the body
Choose the treatment area
Tell us what's bugging you on your body and we'll make a treatment plan with you.
At your body contouring consultation we will go over treatment alternatives like Coolsculpting, BodyTite, AccuTite, Microneedling with PRF or PRP and laser assisted liposuction or Smartlipo.
60-minute morpheus treatment
For your comfort the area is numbed and we also have in office laughing gas (Pronox) Then the microneedles and RF heat are performed deep and superficial in the skin resulting in a shrink wrap-like effect, tightening the skin and fat below and skin smoothing – all in the same treatment.
Results in 3-6 weeks
Look at your body and skin 3-6 weeks after your procedure to see tightening, slimming, and smoothing, which will continue to improve over time. Like what you see? Schedule a series of 3 treatments for even more cumulative results.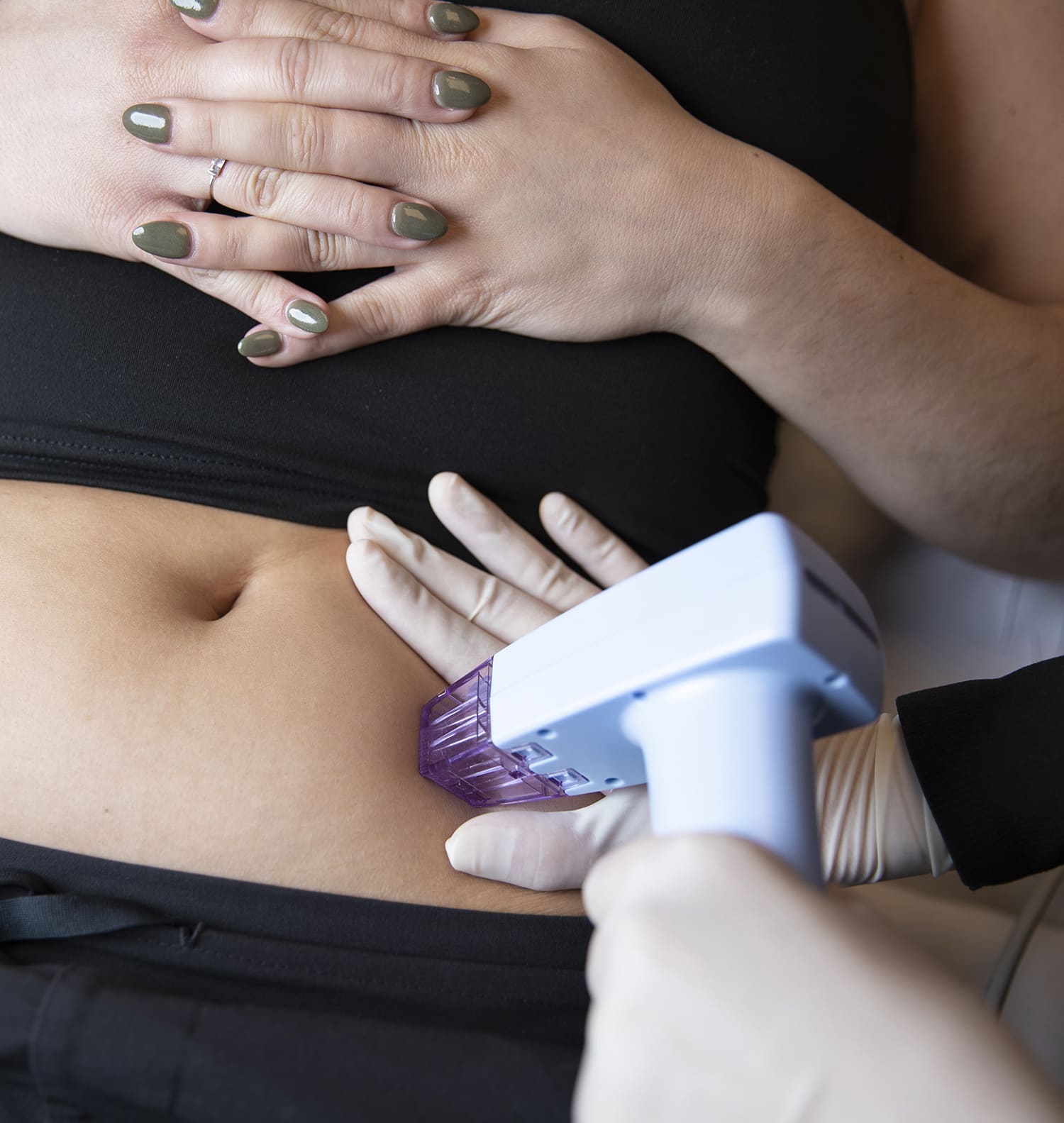 Where can Morpheus8 be used?
The Morpheus8 RF microneedling modality has three different treatment handpieces: Morpheus8, Morpheus8 Body and Morpheus8 V.
The Morpheus8 handpiece can be used anywhere on the face or body. The Morpheus8 handpiece heats up to 4mm deep for fat reduction under the chin or as superficial as .5mm to smooth and refinish skin.
Morpheus8 Body is a separate Morpheus handpiece that heats 8mm deep. Morpheus8 Body is the first and only FDA approved technology to provide deep subdermal adipose tissue remodeling or SARD. This technology allows fat reduction, skin remodeling and resurfacing on larger body areas like the abdomen and thighs.
Morpheus8 V is a RF Microneedling treatment for the vagina and is the new gold standard for vaginal rejuvenation. Patients report dramatic improvement in bladder control, sexual enjoyment, and dryness after Morpheus8V. Fun fact: our regenerative medical practice, RegenCen, was the top Morpheus8 V provider in the nation in 2021.
Morpheus8 Body Before & After Photos at
Cosmetic Skin & Laser Center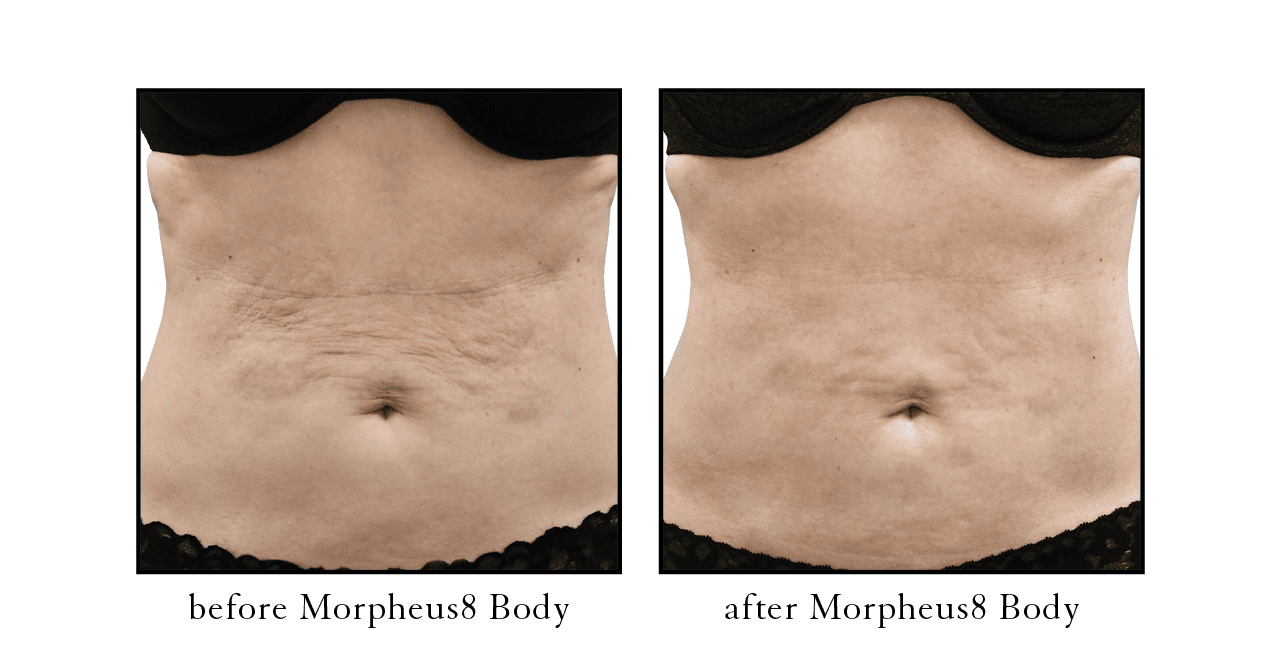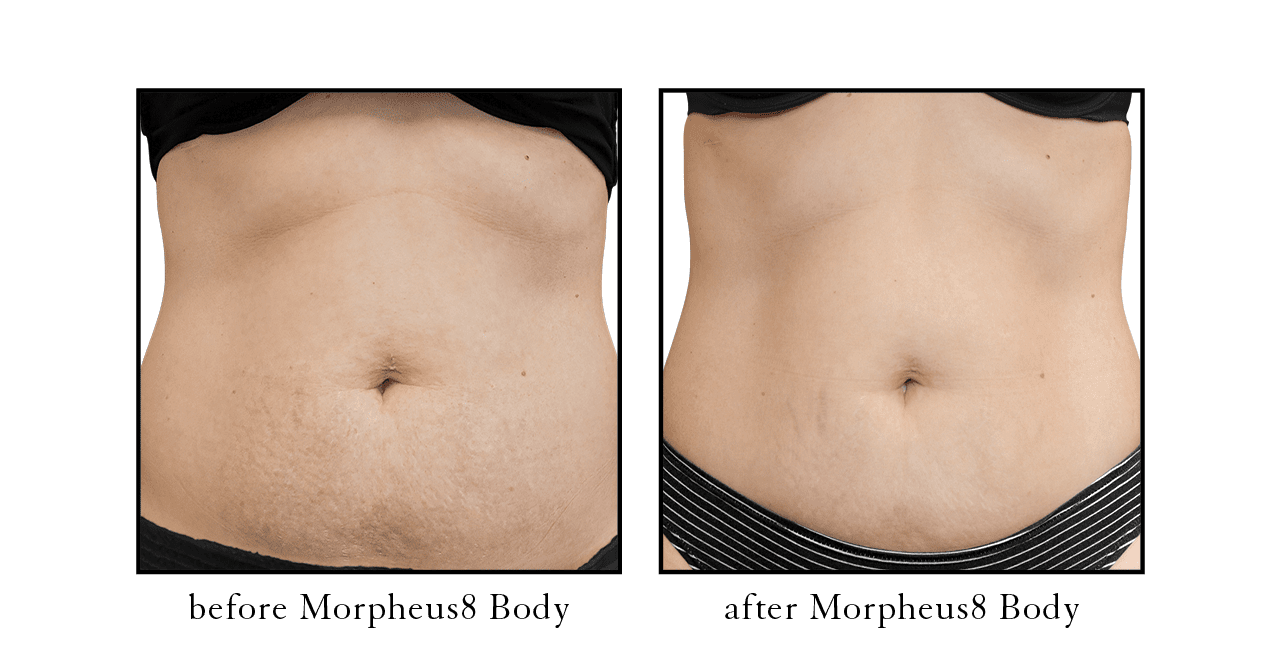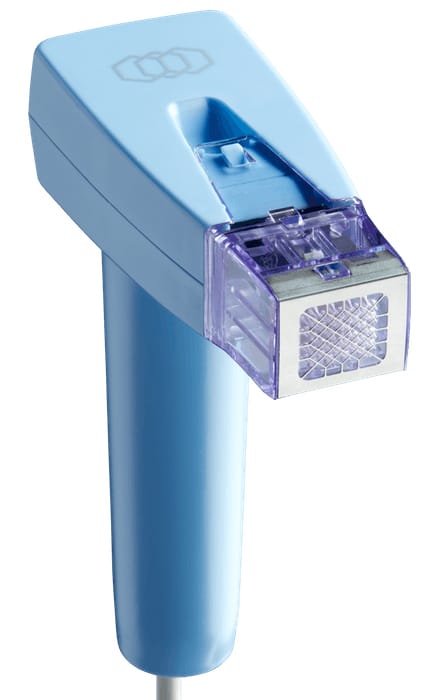 Morpheus8 Body Frequently Asked Questions 
No other treatment can address so many concerns with one visit. Morpheus body penetrates and delivers energy to different levels depending on the treatment goals: deeper levels to contract and tighten, and a more superficial level to smooth and firm thin, crepey skin.
Morpheus Body is a completely different system than Morpheus8 and we have it at CSLC! Morpheus Body treats deeper than Morpheus8 or Morpheus resurfacing and reduces cellulite, crepey skin, and body fat.
RF (radiofrequency) energy heats the deep layers of the skin in a controlled fashion, rebuilding collagen and stimulating new cell growth. Morpheus uses a matrix of micro-pins to renew, tighten, and tone the skin. It's a minimally invasive procedure, with minimal discomfort and downtime.
Want your abdominal skin back post-pregnancy? Morpheus hastens the process of restoring your skin to its pre-baby smoothness and tightness. Morpheus helps stretch marks on the abdomen, too.
Annoyed by crepey skin on your arms or knees? Tired of wrinkly skin on the neck? Morpheus can help. Bra fat and cellulite are improved with Morpheus, too.
No. Both Smartlipo and RF liposuction offer more dramatic fat reduction. However, Morpheus does improve results with Smartlipo or RFAL, whether it's for fat reduction on your body or your face.
RFAL and Smartlipo offer dramatic fat reduction and sculpting. Adding Morpheus ensures more surface skin tightening and rejuvenation with these treatments and helps combat the loose skin that can occur after fat reduction on the face or body.
Hyperhidrosis, or abnormally excessive sweating unrelated to exercise or environmental heat, is a frustrating and embarrassing condition that leads to soaked clothing or sweaty hands. Morpheus is similar to miraDry and dramatically reduces sweat production in a series of 3-4 treatments spaced one month apart.
For superficial treatments we use a topically applied numbing cream. For deeper treatments, we use a local anesthetic and encourage Pronox (nitrous oxide gas), which allows you to control the level of comfort and wears off in minutes. No driver necessary!
First, you should expect redness, mild swelling, and areas of taut or "shiny" skin for 3-5 days post-treatment. Flaky skin and light peeling are common and with deeper treatments for cellulite or body fat reduction some bruising is expected, especially in patients who bruise easily.
Most patients begin to see meaningful improvement at four weeks, with complete results at the three month mark.
Morpheus works best in a series of three treatments spaced 4-6 weeks apart. As cellular turnover occurs over time, spacing multiple treatments helps renew and repair multiple layers of your skin.
Yes! But our preferred method for treating stretch marks is generally PRF microneedling.
CO2 laser, Morpheus8, ResurFX laser and microneedling can all fade stretch marks. We see the best results with PRF microneedling.
"Awesome client focus, informative, quality care, great follow through and follow up. Lee was great at looking at my needs and relaying information in user friendly terms. Gave suggestions and took great care with my treatments. Thank you Lee, and all I came in contact with. The facility is clean, hygienic and inviting. Location and parking was awesome. Thank you Lee again for making my visit stress free and so informative and painless. See you soon."