The feel-good of a spa facial with anti-aging benefits
What we tell our patients: the best facial feels good AND turns back the clock. Our goal is to marry the two goals into one relaxing treatment.
The best facials for healthy, glowing and hydrated skin
Our expert aestheticians will select the treatments best for your current skin condition and concerns on the day of your treatment. Steps may include:
Skinceuticals
Biocellulose Mask Restore and
soothe irritation

Intraceuticals
O2 Treatment Instantly lift,
firm, and hydrate

AHA
(Lactic/Glycolic Acid) Exfoliate
and renew

BHA
(Salicylic Acid) Decongest and
reduce blemishes

Diamondtome
Microdermabrasion Exfoliate
and rejuvenate

Dermaplaning

Exfoliate and

eliminate peach fuzz
"The Signature Facial leaves my skin smooth, bouncy, and glowing. Although facials do feel good, the results are the best part."
The steps of a facial at our skincare and aesthetic center.
Skin assessment & Cleanse
After a skin assessment by a trusted facialist, steam and cleanse removes dirt, debris, makeup, excess sebum, and pollutants without disrupting your skin's natural protective barrier. Proper cleansing, exfoliation, and toning also prepares your skin cells for optimal absorption of preventive antioxidant and corrective products.
A customized Medical Grade facial.
Your skin is unique and so is your facial. Our facialist will assess your skin and address your skin issues day by day. Facials may include dermaplaning, microdermabrasion, AHA peel, extractions, Intraceuticals oxygen infusion, masks and Medical grade skin care like Skinceuticals or Skin Better.
results and skin care
Facials leave skin glowing, radiant and bouncy. AND the results continue for weeks to come. Investing in a medical grade facial gently removes dead skin cells (with no downtime) allowing your skin care products to be absorbed more efficiently. Our medspa facials are popular monthly, quarterly or annually as a self-care investment.
How long do the results of a facial last?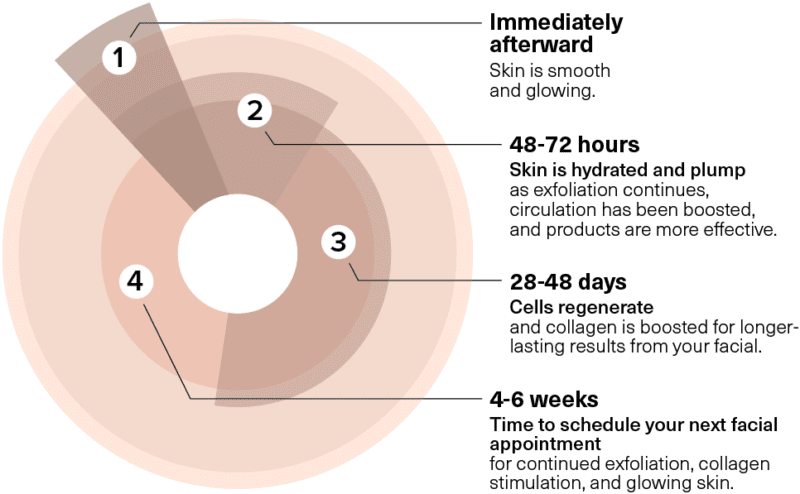 Facials in Naples, Petoskey & Traverse City are customized to:
•  decrease hyperpigmentation, melasma and lighten dark spots
•  expel whiteheads, blackheads, and dissolve oil
•  reduce pores, soften fine lines, and promote even skin tone
•  promote skin tissue repair, regenerate collagen and elastin
•  hydrate dry skin
Upgrade your facial to our exclusive Foundation+ Facial for even better results!
IPL (Intense Pulsed Light)