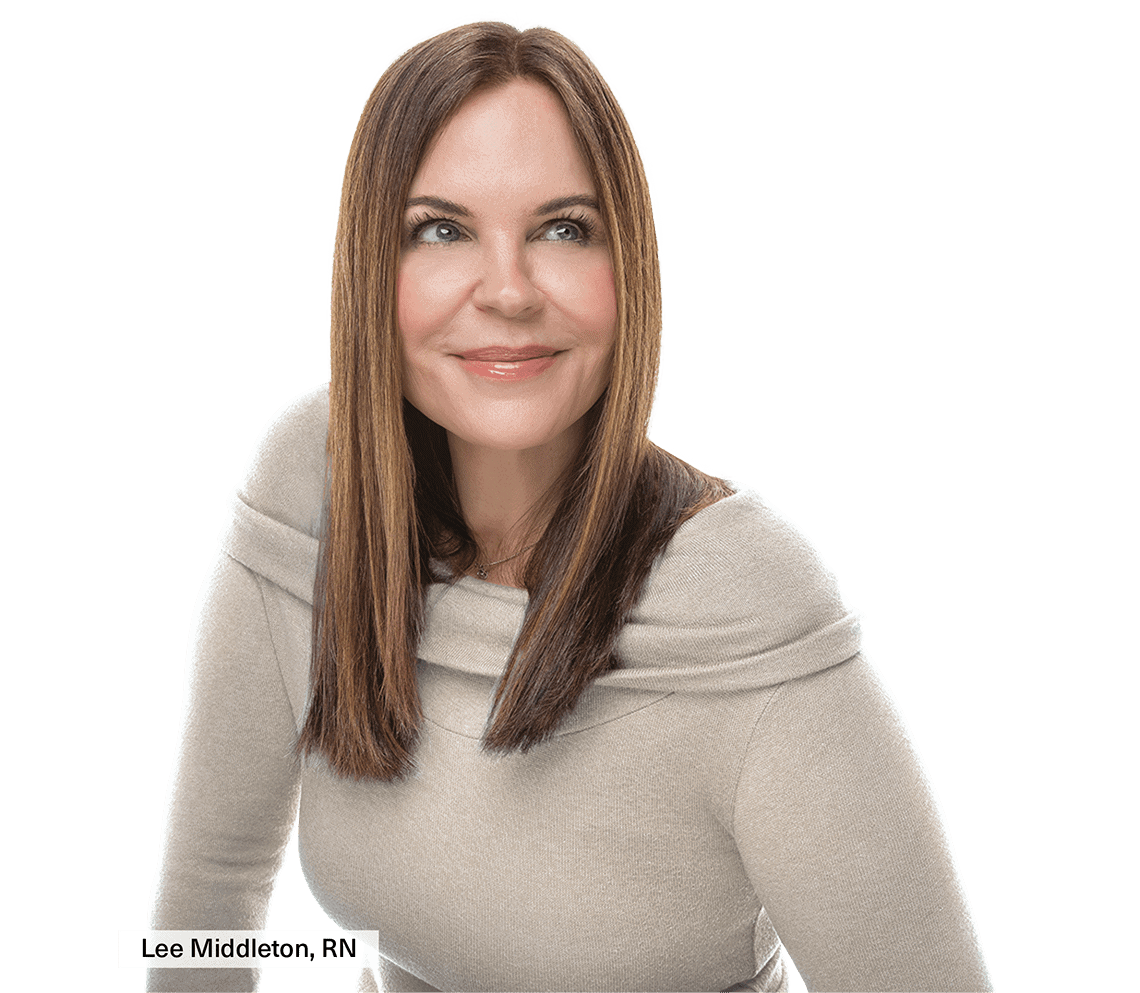 Dermal Fillers, Sculptra, & PRF: "The Liquid Lift"
As we age, we lose facial volume. Take a look at a picture of yourself from five years ago and you'll see it. Loss of volume leads to sagging cheeks, under-eye hollows, sinking temples, and jowls.
Nearly 75% of the dermal filler and biostimulator injections we do at CSLC are to maintain or rebuild the framework and shape of a patient's face.
By the time a patient is 35, volume loss is usually the reason why they feel like they look tired. Liquid Lift fills and lifts:
Jowls

Sagging temples

Loose jawline

Sunken eyes
What is a liquid facelift?
A liquid facelift (Liquid Lift) is a nonsurgical injection procedure to reduce wrinkles, sagging, and return the face to a more lifted, youthful shape. 
Liquid facelifts can also: 
restore volume in a person's cheeks or temples

reduce the appearance of eye hollows and scars 

lift sagging brows

minimize the appearance of jowls
Liquid facelifts are completely customizable depending on a patient's goals, desires, and expectations. While some patients may need both collagen stimulators like Sculptra and dermal fillers like Voluma, others may only need one or the other. Treating the face as a whole and maintaining beautiful facial proportions is always the goal.
How does a liquid facelift work?
A liquid facelift works by filling the empty space within the layers of a patient's skin with injectable dermal fillers, collagen stimulators, and platelet-rich fibrin. With that being said, not all liquid facelifts are created equal – there are several product combinations out there to combat the inevitable signs of aging and rejuvenate the skin.
At CSLC, we've performed thousands of liquid lifts. Our master injectors routinely perform a few every day.
Fun fact: Galderma named CSLC the #1 Sculptra provider in Michigan for seven years.
With Liquid Lift, CSLC uses a combination of injectables to precisely replace facial volume and lift sagging skin:  
Restylane Lyft is a safe, dissolvable, and effective FDA-approved dermal filler. Restylane Lyft is the first and only hyaluronic acid (HA) filler to have three FDA-approved indications: mid-face, cheek, nasolabial folds, and the back of a patient's hands. 
Platelet Rich Fibrin (PRF)
Liquid Facelift Procedure
A liquid facelift can correct facial sinking and sagging and reduce facial wrinkles. Prospective patients book an introductory complimentary consultation before scheduling a liquid lift. Once the patient and the provider agree on the treatment areas and what fillers and injectables will be used, the liquid lift can be scheduled or performed on the same day. 
On the day of treatment, topical anesthetic cream is applied to the treatment areas, then the provider will begin injecting the fillers. According to the American Academy of Dermatologists, the patient may experience a slight stinging sensation. One session can take about 60 minutes, depending on the patient's individualized facelift procedure plan.
The results are often visible immediately from the dermal fillers and Sculptra results appear gradually over three months.
Liquid facelifts require very little downtime. Most leave the office very happy with an instant lift in facial skin and naturally rounded cheekbones. Some patients opt to take some time off of work if there's obvious bruising (although makeup usually covers bruising easily). With the modern use of cannulas for facial injections, which are blunt-tipped probes that are inserted through a small needle poke, bruising is much less common and pain is generally minimal. Results of a liquid facelift can last for six to 24 months, depending on the filler used. 
Pros and Cons of Liquid Lift
✔
Pros 
noninvasive

quick with minimal recovery

provide a youthful appearance 

natural, instant results 

long-lasting
✗ Cons
temporary swelling and/or soreness 

temporary bruising

rare risk of infection

may require threads or FaceTite for optimal lifting
Liquid Facelift vs Surgical Facelift
Most surgeons recommend liquid lifts or fat transfer with surgical facelifts. Liquid lifts help replace the loss of collagen and youthful fat pads and surgical facelifts remove excess skin. FaceTite shrinks and tightens sagging skin without requiring major facial surgery.
While a surgical facelift is more likely to have a dramatic effect because extra facial skin is surgically removed, liquid facelifts are quick, require very little downtime, and provide immediate results. This is because liquid facelifts use Sculptra and dermal fillers to volumize a person's cheeks, nasolabial folds, or under-eye area and dermal fillers can be injected to correct fine lines and wrinkles at the same visit.
Liquid Lift Before & After Photos at
Cosmetic Skin & Laser Center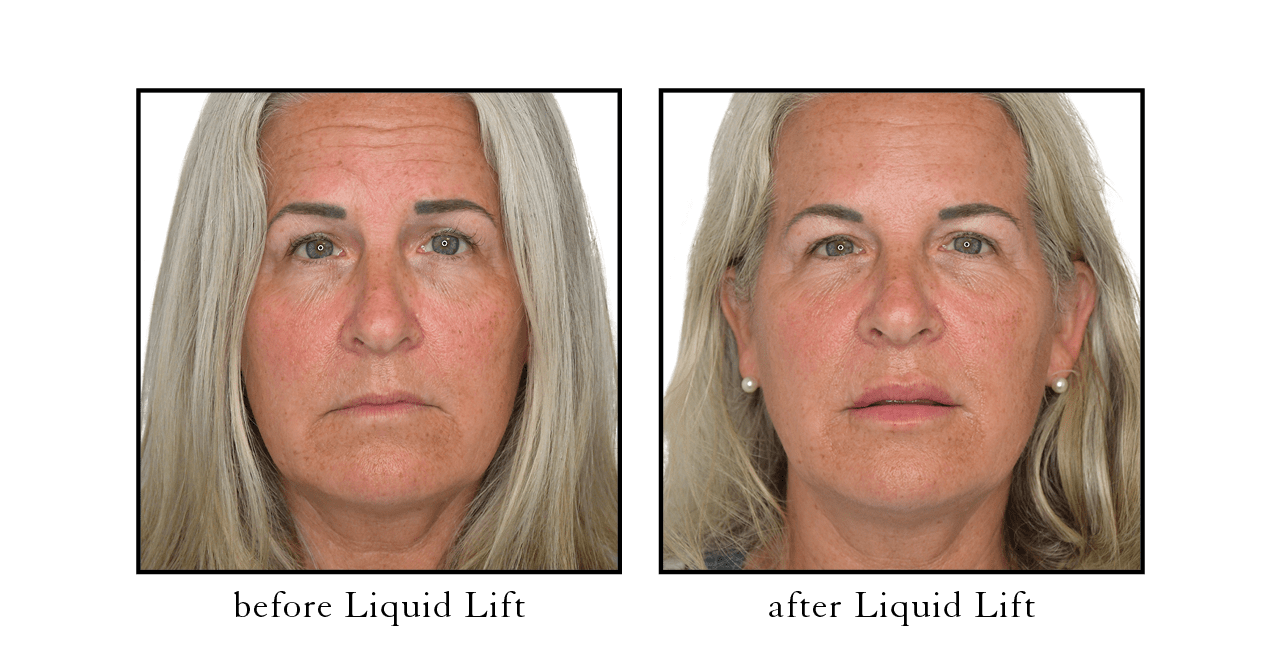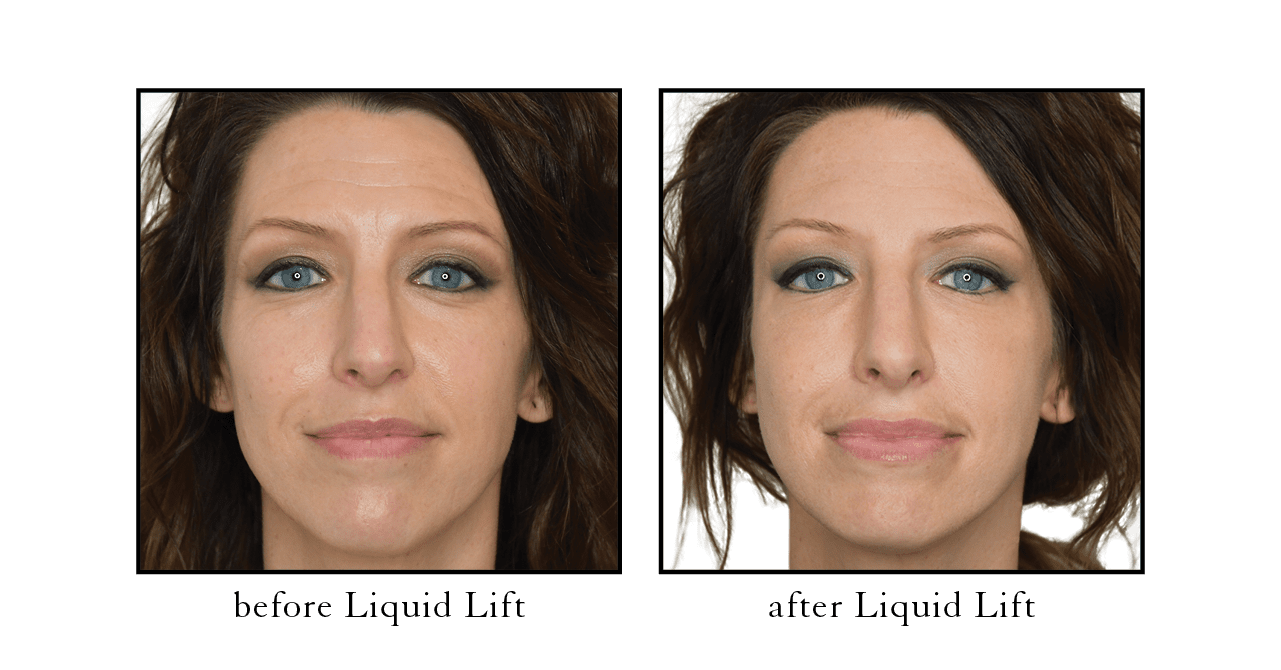 René took her time with me explaining what would be best for my facial structure and what the best way to achieve that would be. I never felt like she was trying to sell me something. I will be back very soon. Thanks, René!

Liquid Lift Frequently Asked Questions
Once a person hits 30, their bones start shrinking and under-eye hollows and flattened cheeks are the first signs. All this deep sinking leads to surface sagging – when the skin becomes like a nicely draped tablecloth that just doesn't fit the table anymore. By the time a patient is 35, volume loss is usually the reason why they suddenly look so tired all of the time.
Our goal at CSLC is to help patients look rested, never overdone. The key to a natural-looking result? We address the whole face with a variety of injectables. Our "global face" approach to fillers is what sets us apart, and has clients leaving the office looking renewed and refreshed, without any obvious signs of work done. It's only visibly overdone if too much is injected in one spot (like the lips, under eyes, or cheeks) disturbing a patient's natural facial proportions.
A combination of different fillers yields the best result. Filler variety allows us to precisely target various issues. Long-lasting hyaluronic acid injections like Lyft, Voluma, and the newly approved Contour immediately lift and reshape droopy cheeks. Sculptra (poly-L-lactic acid) works by stimulating your own collagen and is ideal for deeper support, offering gradual results that last 24 to 30 months. Restylane Refyne is our go-to for fine lines around the mouth and Restylane is still the ideal product for under eyes.
Ready to get started?
Book a free consultation today!