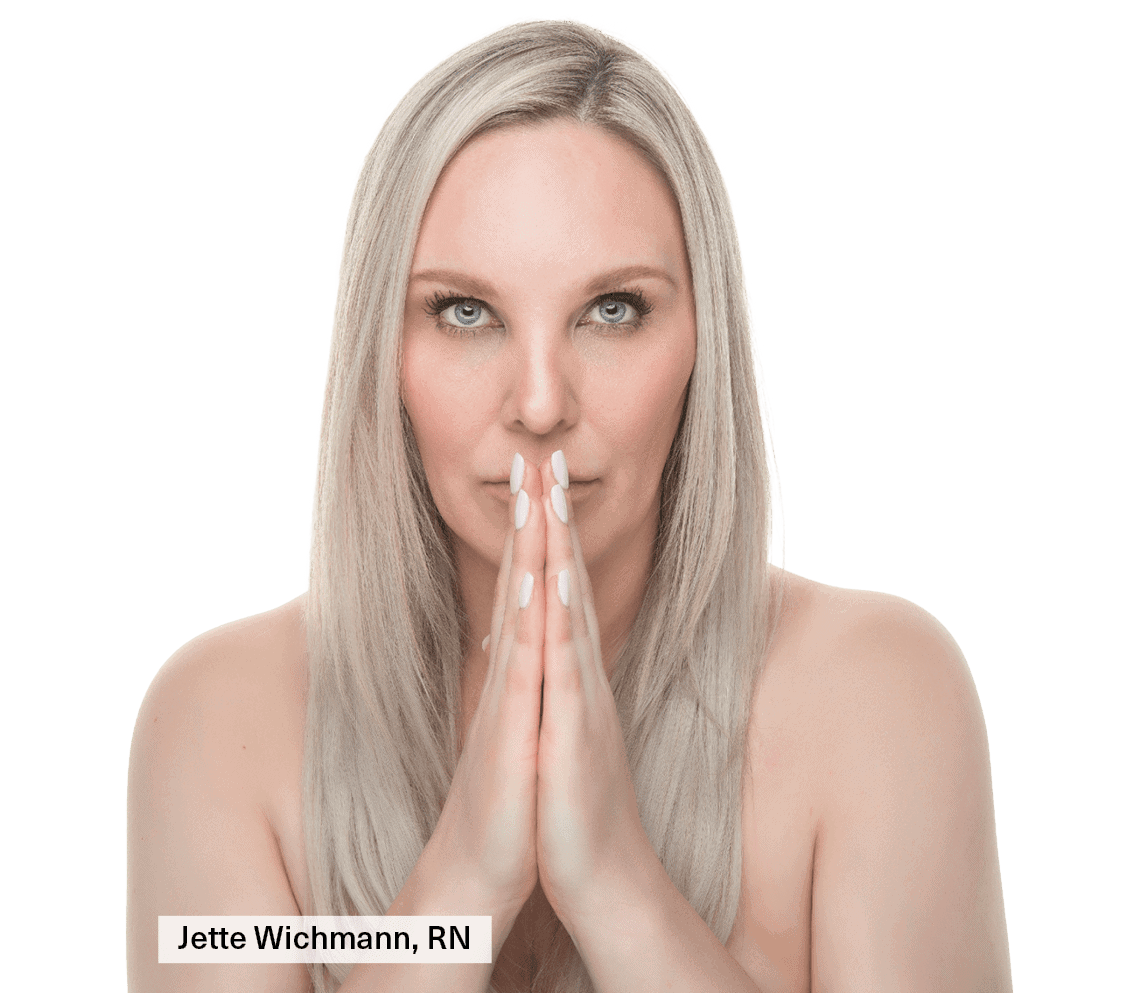 Morpheus8 RF Microneedling 
What we tell our patients: This is the best treatment to smooth, firm, and contour simultaneously on the face, neck, or chest. If you can't choose a treatment, this one checks the boxes for a one-and-done. We are the #1 Morpheus provider in Michigan.
What does Morpheus8 skin treatment do?
Morpheus8 can be customized to slim, smooth, and/or tighten skin (note that slimming on the body requires a separate Morpheus Body modality which we have of course!)
Jawline

Knees

Bra fat

Face

Neck

Abdomen

Arms
Designed by InMode, the Morpheus8 device combines radiofrequency technology and microneedling in one, powerful and effective treatment.
What makes Morpheus8 better than other cosmetic treatments? Morpheus8 magically reduces the visible signs of aging like lines, wrinkles, and scarring as well as puffiness and lax skin in the same visit.
Most laser treatments only address one sign of skin aging. While Morpheus8 can treat just about any part of the body, many patients choose Morpheus8 to improve problem areas on their face, jawline, neck, and arms. Morpheus8 also helps crepey skin, acne scarring, and enlarged pores. 
Where can I get Morpheus8 Microneedling treatment near me?
Morpheus8, Morpheus8 Body, and Morpheus8V are offered in our three flagship locations: Petoskey and Traverse City, MI and Naples, FL. 
How does Morpheus8 treatment work?
1. Consultation and Pre-Procedure
Prospective patients who are interested in having Morpheus8 treatments should book an introductory complimentary consultation to discuss goals, possible risks, and outcomes before their treatment. We've performed hundreds of Morpheus8 treatments in Petoskey, Traverse City, and Naples and have many other skin rejuvenation options. We are committed to helping you select the best treatment to get your best skin.
The primary advantage of Morpheus8 vs Ultherapy or IPL is that it can treat multiple concerns with one device. A person who has mild skin laxity (loose or sagging skin), fine lines, uneven or rough skin texture, sun damage, enlarged pores, or stretch marks may be a good candidate for Morpheus8. Morpheus8 can be customized to reduce a patient's excess fat in their face and/or neck. Morpheus8 can also eliminate underarm sweat!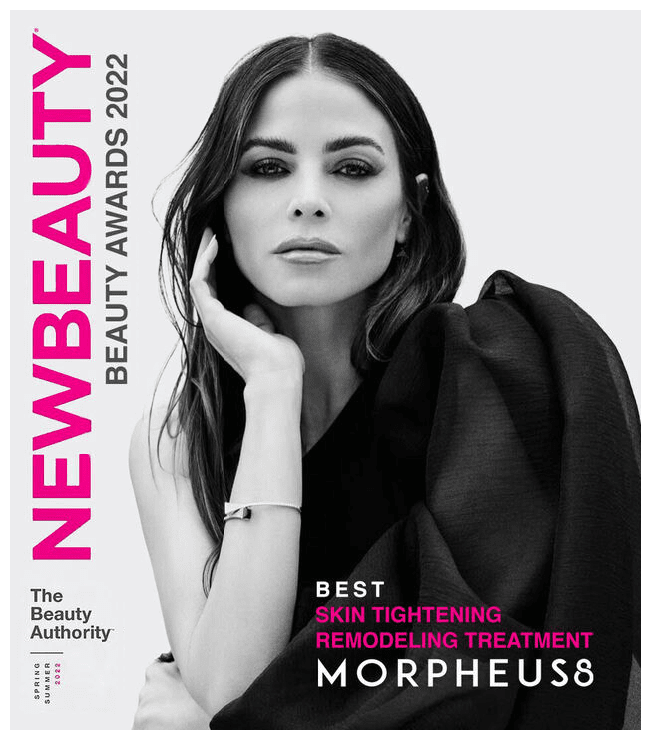 Pros and Cons of Morpheus8
✗ Cons
temporary skin sensitivity or irritation 

temporary dryness

can take up to 3 months to see full results 

best results take a series of 3-4 treatments
✔
Pros 
quick – about 45 minutes per area

noninvasive 

suitable for all skin tones and skin types

versatile (can treat just about any area on the body)

tightens skin and smooths skin simultaneously

long-lasting results
Morpheus8 Before and After Photos at
Cosmetic Skin & Laser Center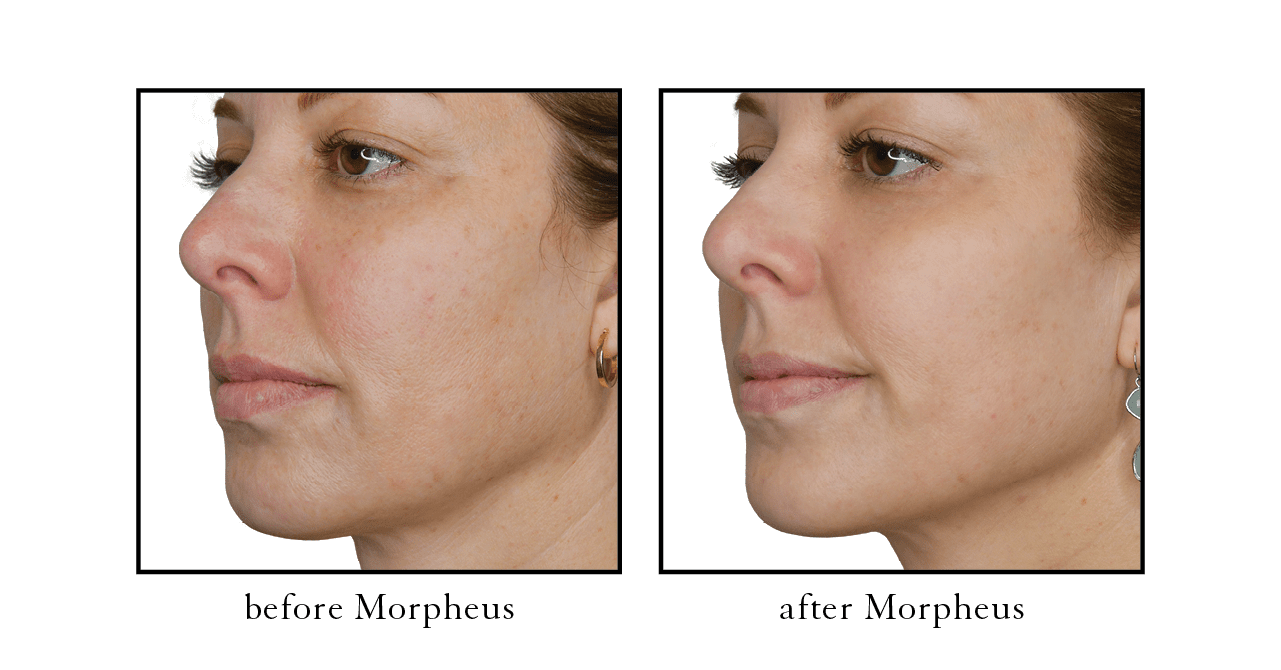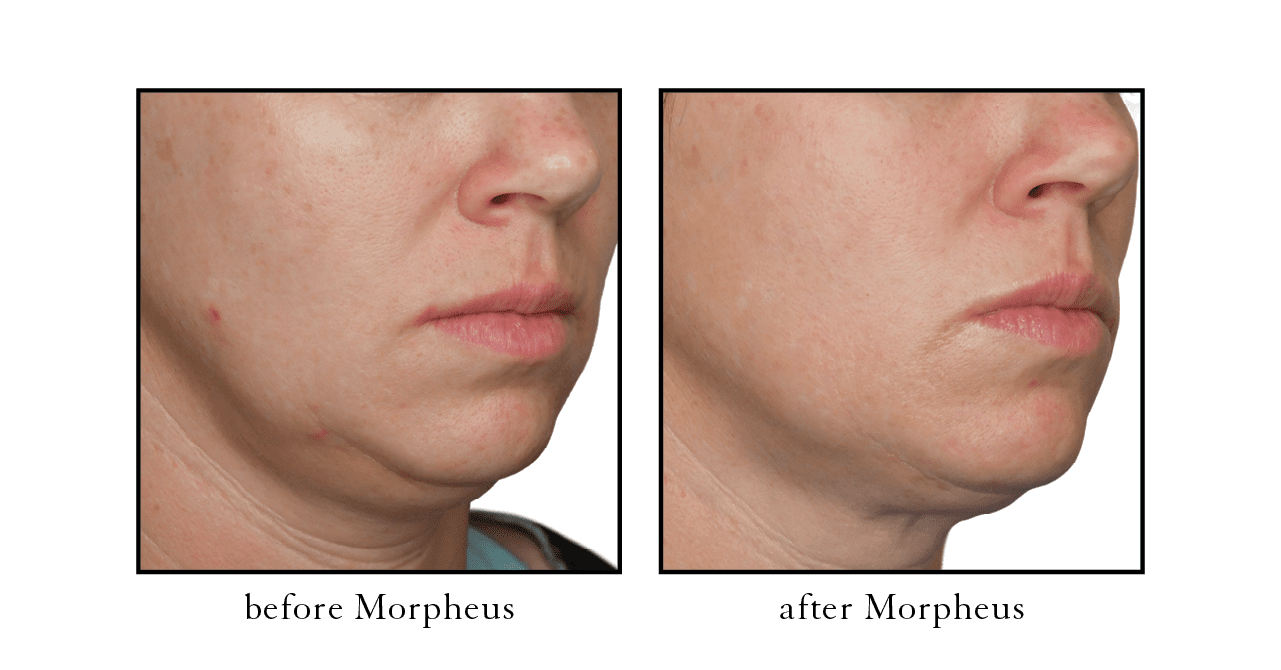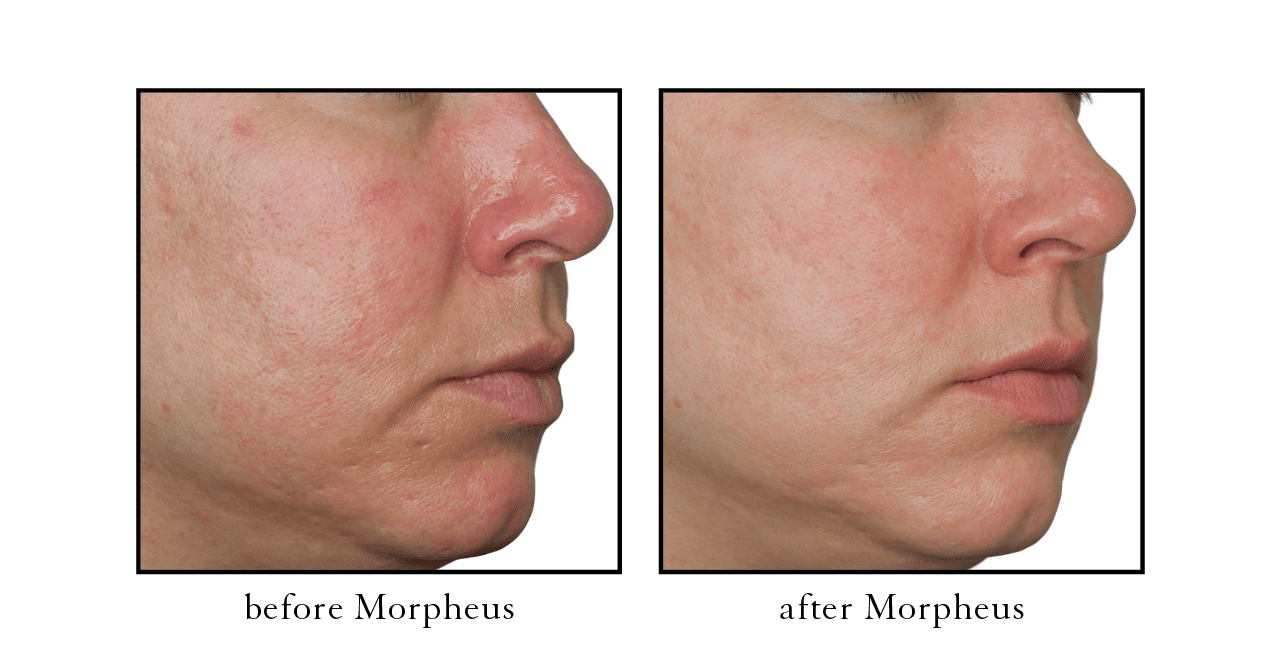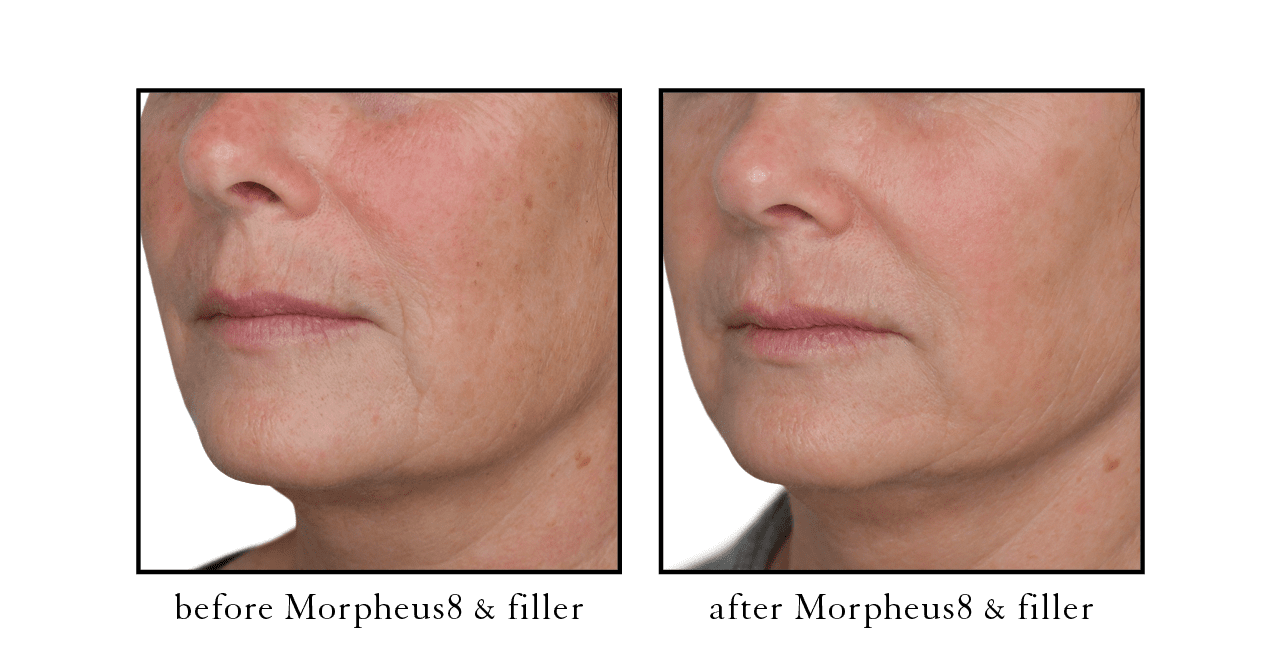 "I had Morpheus8 by Paige T. She was amazing, professional, made sure I was comfortable. I am so pleased I purchased a package and look forward to my next treatment. I highly recommend Cosmetic Skin & Laser Center. Lee RN, BSN has been my provider as well for other procedures, she took extra time to touch base with me, answer my questions for future services, and prep me for my procedure. She is amazing! Thank you!"

Morpheus8 Frequently Asked Questions
After some powerful numbing cream and little laughing gas, tiny gold-plated needles penetrate the skin and create micro-injuries, while radiofrequency energy is simultaneously released. The body responds to these injuries by naturally healing the area and flooding it with collagen and new skin cells. New collagen makes the skin stronger and firmer at the foundational level, and new skin cells give a fresh new glow to treated areas. 
Watch a Morpheus treatment in action on Instagram or on our website.
There are a lot of factors that cause skin to look aged, including lifestyle and genetics, but sun damage is the number one cause of premature aging. If you spent your youth baking in the sun, you're probably now noticing the lines, spots and laxity.  Accumulated sun exposure also negatively affects collagen and elastin production.
No. Morpheus8 and microneedling are not the same treatments. Microneedling is a skin treatment that uses a device fitted with tiny needles to penetrate the skin's surface in a continuous, rolling pattern. Microneedling is an excellent treatment, but Morpheus is both deeper plus adds radiofrequency energy. Morpheus tightens, firms and recontours. It's definitely a few steps up from microneedling.
Morpheus8 results appear in stages – both soon after a patient's first treatment, and in the weeks to follow. In the days following treatment, patients will notice that their skin is smoother and more radiant. Within the following weeks, lines and acne scars fade and the patient's skin becomes tighter and more contoured. 
The most dramatic results appear three months after a patient's first Morpheus8 treatment.
Morpheus8 addresses a broad range of concerns including smoothing skin texture, fading wrinkles and scars, and even treating active cystic acne. Each patient's treatment plan and settings are customized depending on the individual's desired outcome, budget, and downtime.
Morpheus8 excels at offering multiple skin benefits in one session. Individual treatments provide a nice overall anti-aging collagen boost while firming skin simultaneously. The most dramatic results are visible when Morpheus8 is done in a series of three treatments (moderate-depth setting).
To treat active acne, CSLC recommends booking one monthly Morpheus session for four consecutive months in either Petoskey, Traverse City, or Naples.
Morpheus8 is FDA-approved and considered a safe treatment option for reducing the appearance of sagging skin, wrinkles, and lines.
Morpheus treatments in Naples, Traverse City, and Petoskey can be used on all skin types and treatment is safe for all skin tones. But of course, we would do a complimentary consultation prior to treatment to make sure it's the best treatment for your concerns.
Morpheus8 utilizes varying needle depths, depending on the patient's desired outcome. All patients who undergo Morpheus8 treatment receive a topical numbing cream beforehand. Those who are anxious or nervous about the treatment can request ProNox (laughing gas) in addition to the numbing cream. 
Yes, and so much more! Morpheus8 softens the look of stretch marks, fades fine lines and wrinkles, and helps combat hyperhidrosis (excessive sweating).
Morpheus8 smooths wrinkles, scars, aging body skin, enlarged pores, stretch marks, and acne scars and can nonsurgically tighten and slim faces, jawlines, knees, arms, bra fat, abdomens, and other places on the face and body. 
Morpheus8 restores a patient's skin from the fat layer outward to the most superficial skin layer – think of the Morpheus8 as a noninvasive Laser Lift, FaceTite, BodyTite, or Smartlipo that works externally, on top of the skin.
Although the skin is pink and some pricks may be visible, clients rarely consider this "downtime." You can return to work or go about your normal daily activities. The skin just must stay moist with an application of good sunscreen for 7-10 days when you're exposed to the sun.
Book Morpheus8 in Naples, Petoskey and Traverse City.
Complimentary consultations!