Laser hair removal experts since 2001. We remove hair on everyone, everywhere.
What we tell our patients: We use state of art lasers to remove hair. We have a 95%+ success rate. We won't cheat with IPL for laser hair removal. We treat everyone.
Get laser hair removal in
Traverse City & Petoskey, MI and Naples, FL
Though we can't stop growth on red, gray, or white hair, we can remove other stubborn hair in the following areas (and essentially anywhere we can reach):
Face

Brazilian
or Bikini

Underarms

Legs

Back &
Chest

Arms

Toes (!)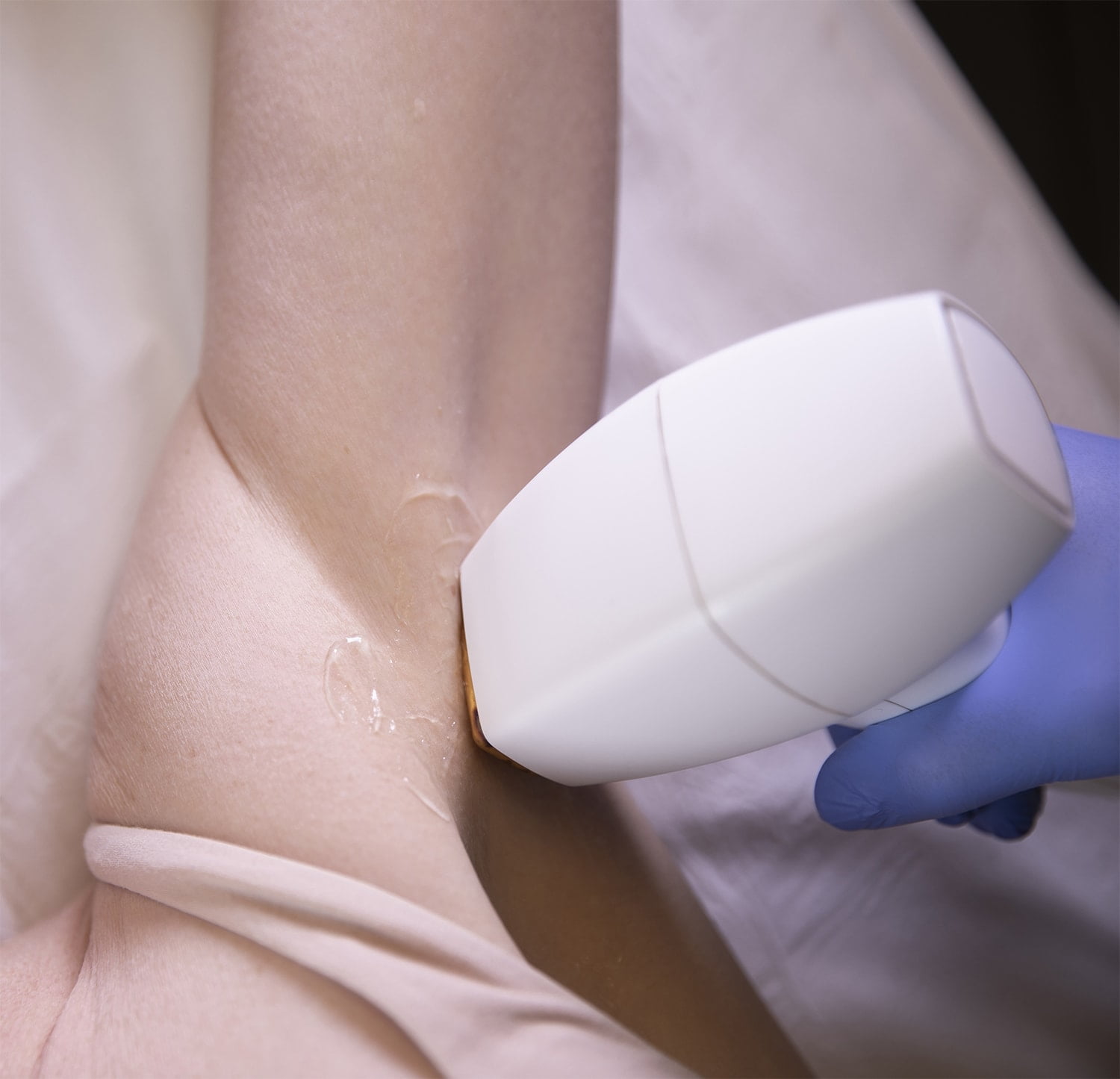 How does laser hair removal work?
Laser hair removal is a popular option for people who want a more permanent solution for facial hair, body hair, stubble, and ingrown hairs. Laser hair removal uses laser energy to prevent a person's hair follicles from growing new hairs. 
During a laser hair removal treatment, bright flashes of laser light are emitted on to the patient's skin. The light penetrates through the patient's epidermis, is absorbed by the pigment (melanin) in the hair, and destroys hair follicles in the active growing phase, permanently preventing any future growth. 
CSLC recommends new patients start with 5 laser hair removal treatments spaced 6 to 12 weeks apart for best results. Laser hair removal treatments spaced one month apart are less effective. 
What are the most popular areas for laser hair removal?
We have treated every area you can imagine at CSLC. In a sense, laser hair removal has become the norm. Our most popular areas are women's faces, underarms, bikini area, and legs. The goal? To not have to worry about shaving, of course! Men commonly get hair removal around their ears.
Who is a good candidate for laser hair removal?
According to the American Society of Plastic Surgeons, people with dark hair and light skin are ideal candidates for laser hair removal. People with blonde, white, gray, or red hair are not good candidates for laser hair removal. Although laser hair removal works best on people with lighter skin, CSLC can treat dark or tan skin types and we get amazing results with our Diolaze and Lightsheer diode lasers.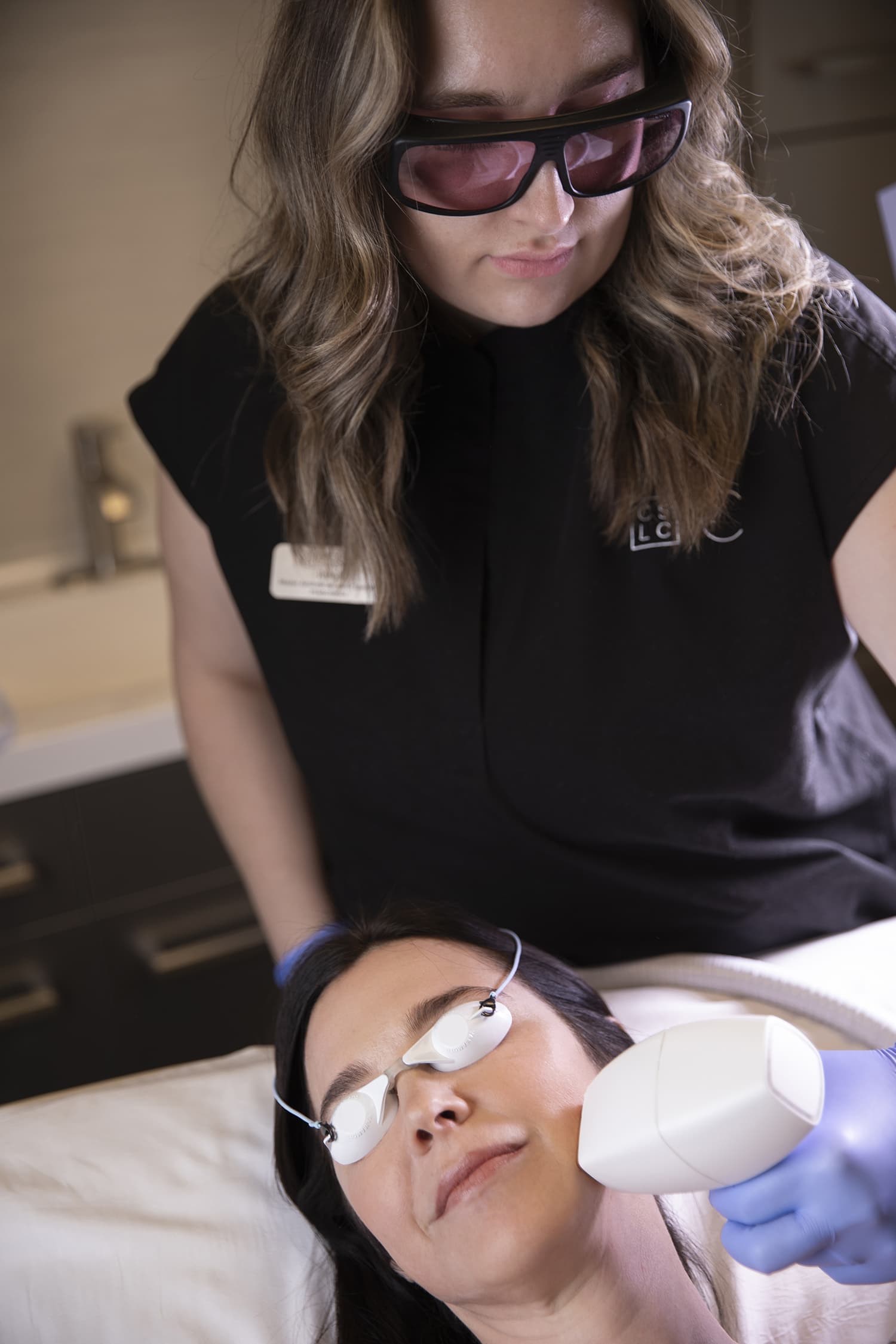 What to expect at a laser hair removal appointment
Ideally, patients shave prior to coming to the office on treatment day. Before the procedure, one of our staff members will apply a topical anesthetic to the treatment area(s) or ice the treatment area to ensure that the patient is comfortable during their session. 
During the treatment, pulses of light will destroy the hair on the treatment area(s). The patient may feel a warm pinprick throughout the treatment – some clients describe the feeling as a light rubber band snapping against their skin. 
When the session is over, some patients may notice that their skin is warm or sensitive to touch following the treatment – this shouldn't last more than a few hours.
Pros and Cons of Laser Hair Removal
✔
Pros 
reduces hair regrowth by 80%

treats multiple areas (face, neck, underarms, back, legs, bikini line, stomach, etc.)

offers long-lasting (and usually permanent) results

provides a big confidence boost

helpful for women with PCOS
✗
Cons 
risk of pigmentation (very, very rare with Diode lasers)

may require more treatments in dark-skinned individuals 

requires multiple sessions spaced over 6 to 12 months for best results
"If you are hesitant at all, don't be! Call these lovely ladies up and get your service done that you've been thinking about! Extremely professional, knowledgeable and kind! Highly recommend the staff, especially Anna for laser hair removal!"

Laser Hair Removal Frequently Asked Questions
Laser hair removal works by targeting and destroying brown pigments at the base of the hair follicle; this is why laser hair removal doesn't work for people with red, light blonde, gray, or white hair.
Yes! Brazilian laser hair removal is one of the most common requests we receive at CSLC. 
Although laser hair removal may cause a bit of discomfort, it's not painful. Some patients say laser hair removal feels as though someone is lightly snapping a rubber band against their skin. Trust us—the discomfort is worth the result!
PCOS (polycystic ovary syndrome) is a hormonal condition, and one of the side effects is excessive facial hair. While CSLC can treat people with PCOS, they may require more maintenance treatments to see the same results a person without PCOS would see.
It's unusual for people with light brown to black hair to see less-than-desirable results. What is common, however, is for other aesthetic or medical offices to use a light system or laser that isn't specifically for hair – which makes it less effective.
The most common system used in medspas for hair removal is intense pulsed light or IPL-which isn't as effective. At CSLC, we have multiple IPL machines and we would never use them for hair removal. Lightsheer and InMode Diolaze lasers are the gold standards in laser hair removal machines.
The timeline varies depending on the treatment area. Facial laser hair removal treatments are spaced more closely than bikini laser hair removal or leg laser hair removal. Generally, patients come in for repeat treatments every 6 weeks to every three months.
Yes, we can remove hair for everyone, everywhere on the body. And we see many individuals who are transgender and transitioning for laser hair removal in Petoskey, Traverse City, and Naples.
CSLC does not and shall not discriminate on the basis of race, color, religion, gender, gender expression, age, national origin, disability, marital status, sexual orientation, or military status, in any of its activities or operations. We are committed to providing an inclusive and welcoming environment for all clients and staff.
Yes! Although it's likely for a patient to grow more hair throughout their life (particular areas include female faces and chins, the bikini line, and male backs) the hairs that are destroyed with our laser are gone for good.
Electrolysis stops hair growth, whereas laser hair removal thins or slows hair growth. Electrolysis can treat any hair or skin type.
Ready to get started?
Book a free consultation today!