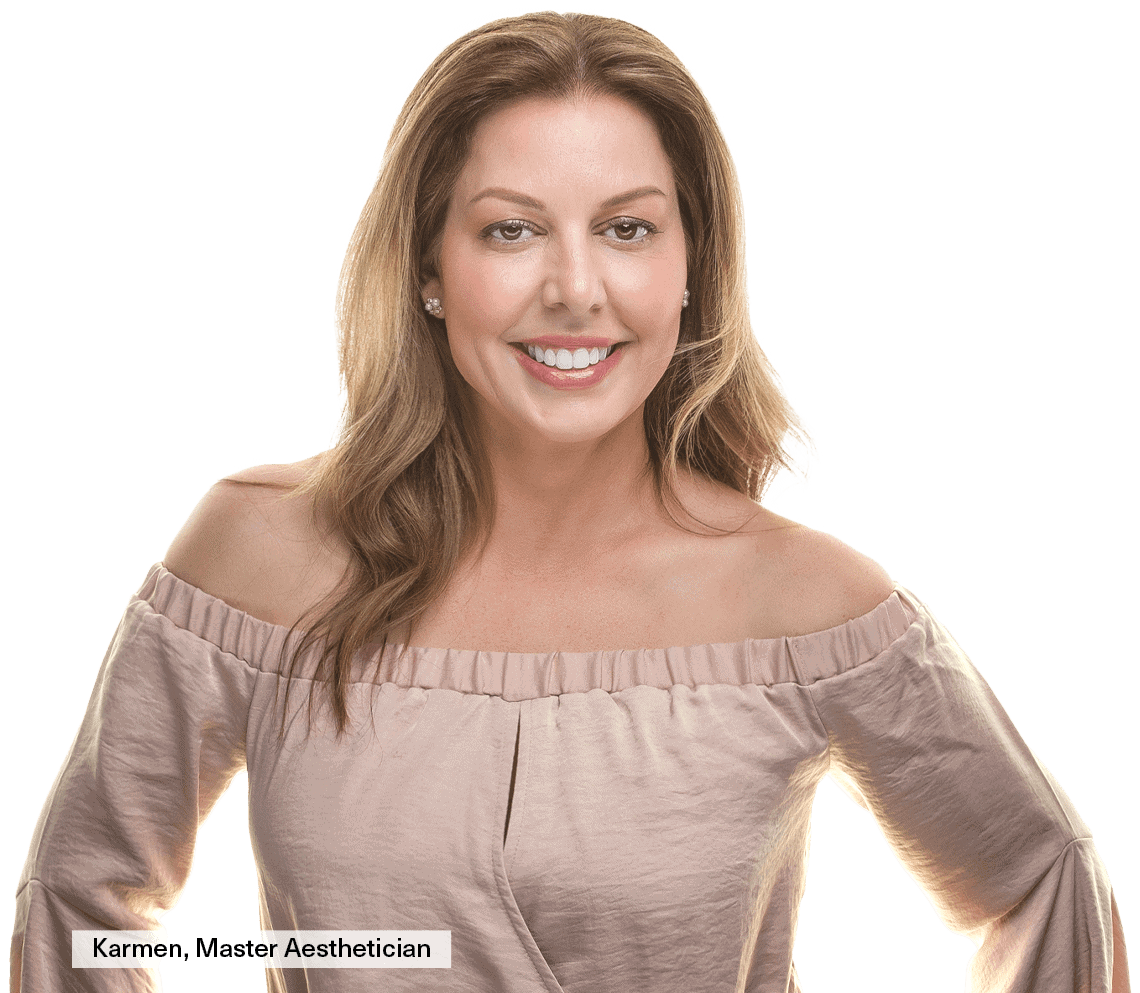 CoolSculpting Elite
Petoskey & Traverse City, MI
Naples, FL
What we tell our patients: CoolSculpting works well on a small bulge you can squeeze. It reduces the bulge by about 20%. Many patients do 2-3 treatments on an area.
The CoolSculpting advantage is that there's no downtime.
Fat reduction has never been easier. One treatment of CoolSculpting Elite can reduce fat by 20 to 25% in the following areas: 
Arms

Love Handles

Stomach

Thighs

Knees

Man Boobs

Bra Fat

Chin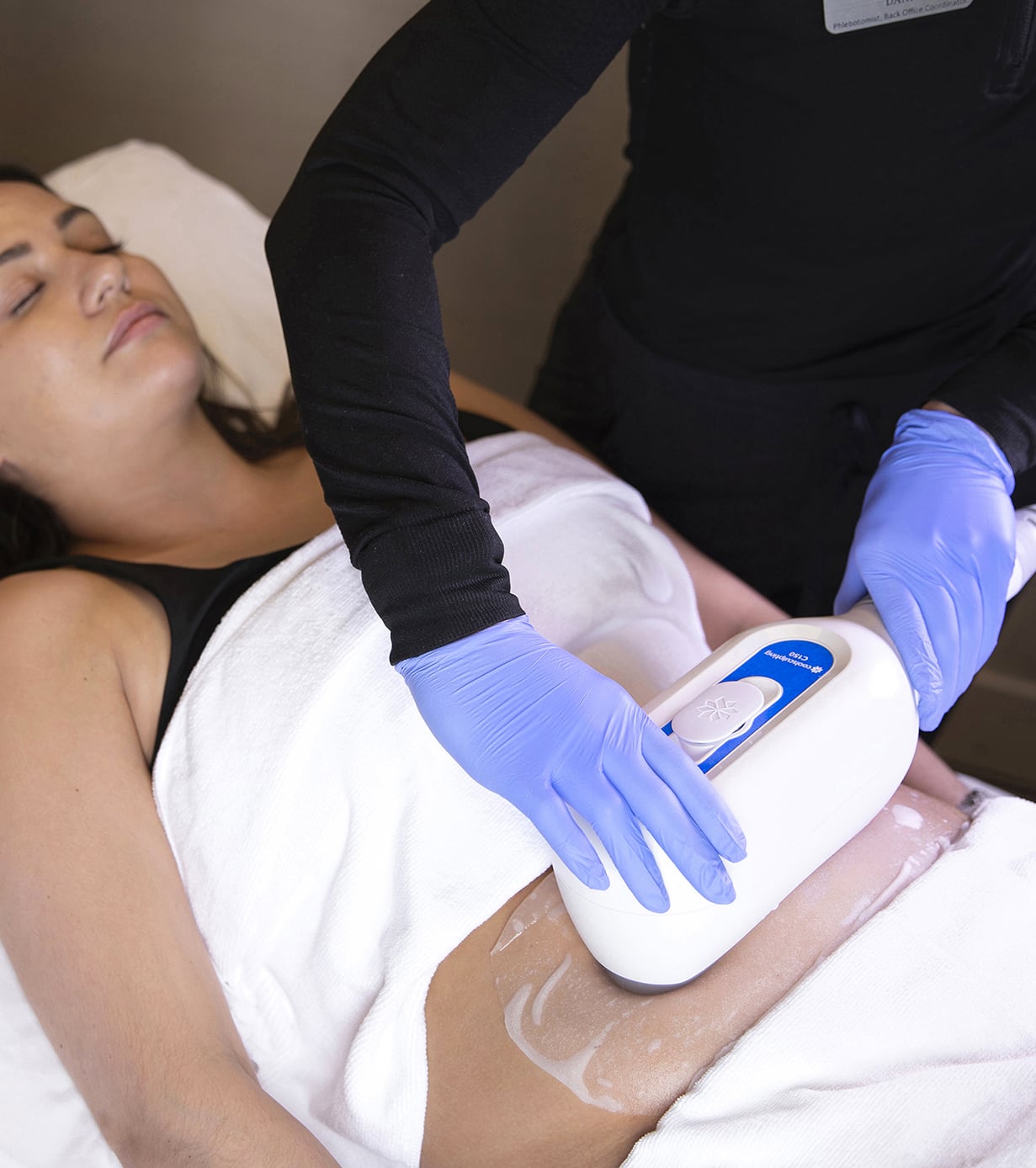 What is CoolSculpting Elite?
CoolSculpting Elite is the newest version of cryolipolysis technology. Often referred to as "the new generation of cool," CoolSculpting Elite offers an enhanced body contouring experience. Thanks to a range of new applicators CoolSculpting Elite patients can receive faster, better, and more consistent treatments. In fact, the Elite Curve 240 applicator treats up to an 18 percent larger treatment area when compared to the Cool Advantage Plus applicator. We have the new CoolSculpting Elite in Petoskey, Traverse City, and Naples. 
CoolSculpting and CoolSculpting Elite are the only FDA-cleared treatments to eliminate visible fat bulges in the following areas: 
thighs (inner and outer)

abdomen 

flanks (love handles)

bra and back fat

below the buttock ("banana roll")

upper arm* 

chin*
*CoolSculpting Elite can be used to treat the upper arm area in patients with a BMI of ≤ 30 and in submental and submandibular areas in patients with a BMI of ≤ 46.2.
CoolSculpting vs. BodyTite
CoolSculpting is an external treatment that "freezes" a fat bulge without damaging the skin. In a 35 minute treatment, the superficial layer of fat is treated with cryolipolysis. After CoolSculpting, the skin may be tender to touch like a mild bruise. Results are visible in 3-6 weeks. CoolSculpting does not tighten the skin. BodyTite contracts skin by up to 40%.
BodyTite is a minimally invasive treatment where the physician places a radiofrequency probe under the skin to heat and liquefy the fat and tighten the skin. Then gentle liposculpture may be performed to reshape the body. The treatment takes about 90 minutes per area and downtime is 2-3 days of sore, puffy skin. BodyTite is more precise than CoolSculpting and it tightens the skin.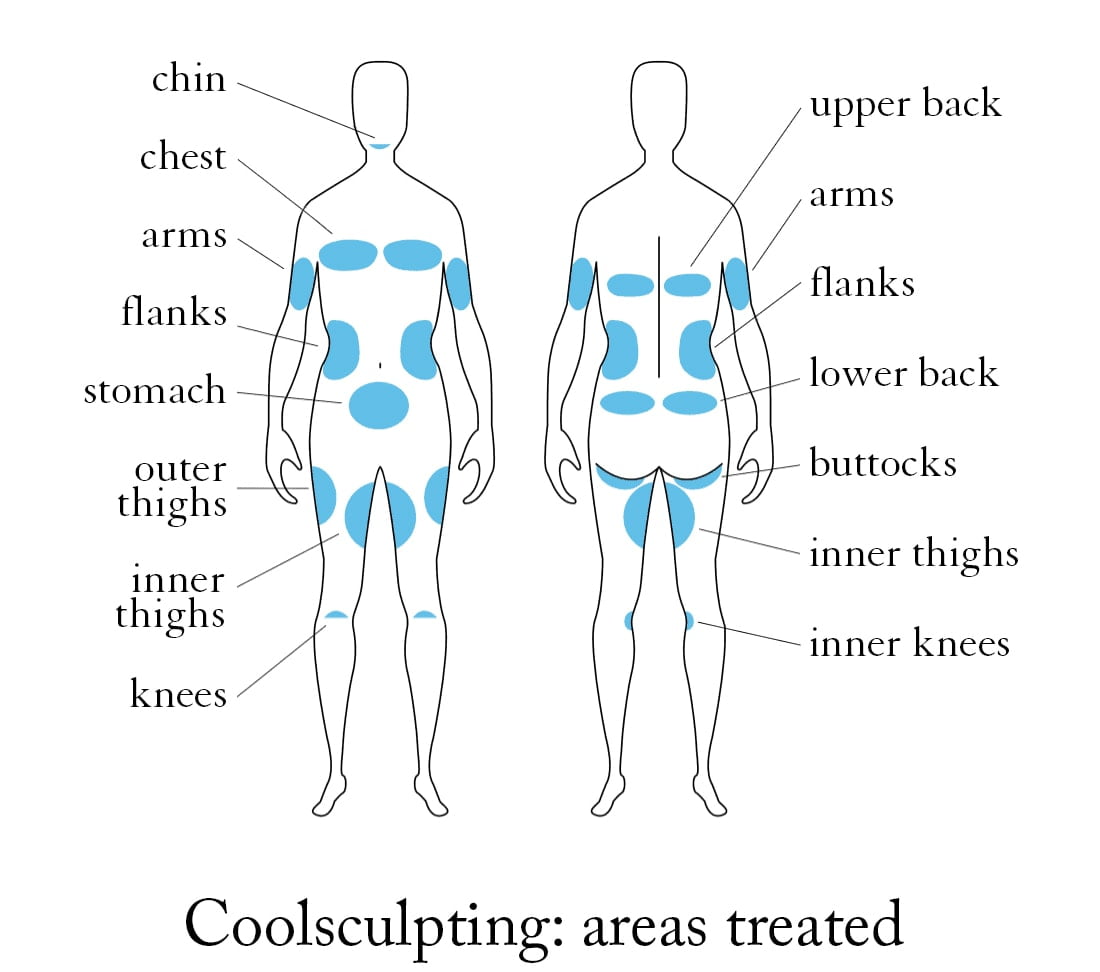 How does CoolSculpting Elite work?
CoolSculpting Elite is an advanced version of CoolSculpting. The concept is still the same: using a technique called cryolipolysis, CoolSculpting Elite destroys fat cells via a "cold applicator." CoolSculpting Elite features a new C-shaped dual applicator for enhanced comfort and fit. During the treatment, our Coolsculpting master provider applies the applicator on your skin to freeze and destroy fat cells within the treatment area. After treatment, the fat cells die and are naturally eliminated from your body. 
Most CoolSculpting sessions can be completed in 35 minutes or less. What's more, patients can return to work immediately after treatment – no downtime required!   
We've treated thousands of patients with CoolSculpting. Patients notice their stubborn bulges shrinking within just a few weeks. The best results from CoolSculpting are in a couple of months and more treatments results in more fat reduction! 
Pros and Cons of CoolSculpting Elite
✔
Pros 
targets an 18 percent larger cooling area

dual applicators make CoolSculpting Elite the quicker and more effective option 

noninvasive, in-office procedure 

no downtime 

measurable, long-lasting results 

enhanced comfort thanks to superior gentle vacuum technology
✗ Cons
temporary pulling, tugging, pinching, or slight discomfort 

temporary swelling, bruising, and numbness in targeted areas

hyperpigmentation (uncommon)

Paradoxical Adipose Hyperplasia (PAH)*
*Reports of PAH occur 1 in every 4,000 sessions. 
Would CoolSculpting work for me?
Good CoolSculpting and CoolSculpting Elite candidates are of almost normal body weight and the desired treatment areas are soft and squeezable. Also Coolsculpting patients should understand that the treated area reduces by 15-25% with each treatment so the results take time.
When a patient is considering CoolSculpting, it is important to get a consultation by a certified Coolsculpting specialist. An medspa that also offers cosmetic surgery will be able to compare fat reduction treatments in detail.
CoolSculpting Elite vs. laser assisted liposuction
CoolSculpting uses cryolipolysis to freezes a stubborn fat bulge. Common areas include the love handles, abdomen, arms and thighs. In 3-6 weeks, patients notice the excess fat on the treated area shrinking. You can expect to see about a 20% reduction in fat with CoolSculpting Elite.
Laser assisted liposuction is a minimally invasive liposuction treatment that is performed in the office. The laser ensures a smooth result and some skin tightening after the treatment. At Cosmetic Skin & Laser Center Dr. Gustav Lo uses the Smartlipo laser. We see about an 80% reduction in a fat bulge of a person of normal weight after one treatment.
Traditional CoolSculpting vs CoolSculpting Elite
Traditional CoolSculpting uses one applicator to target one treatment area at a time. With CoolSculpting Elite, patients can treat two areas at once. 
CoolSculpting Elite features re-engineered applicators and larger cooling panels for faster, more enhanced fat reduction. CoolSculpting Elite applicators are designed to better conform to a patient's natural curves – making the procedure more comfortable than a traditional CoolSculpting procedure.
CoolSculpting Elite Before and After Photos at
Cosmetic Skin & Laser Center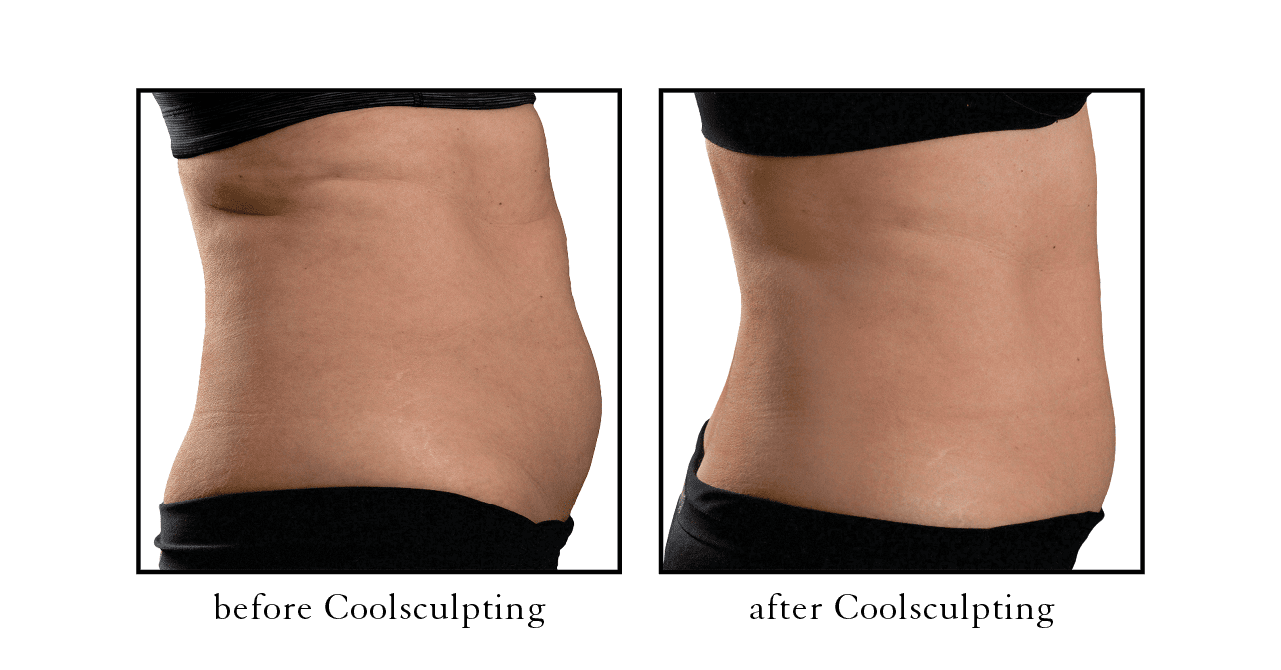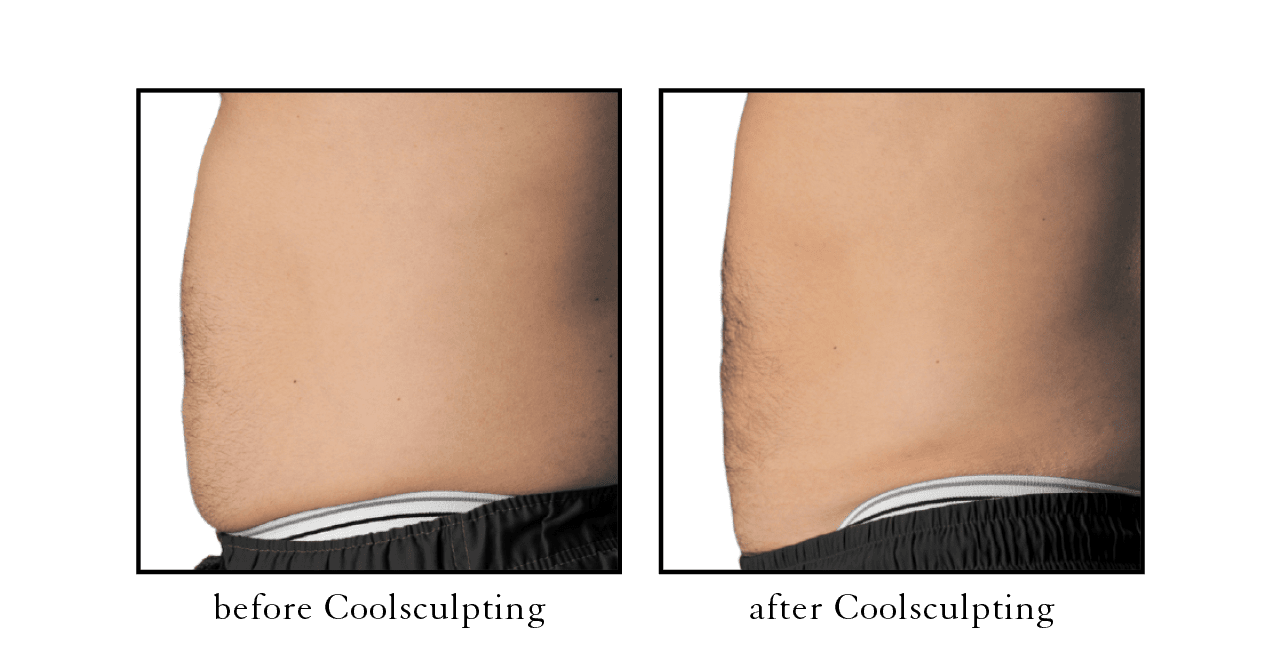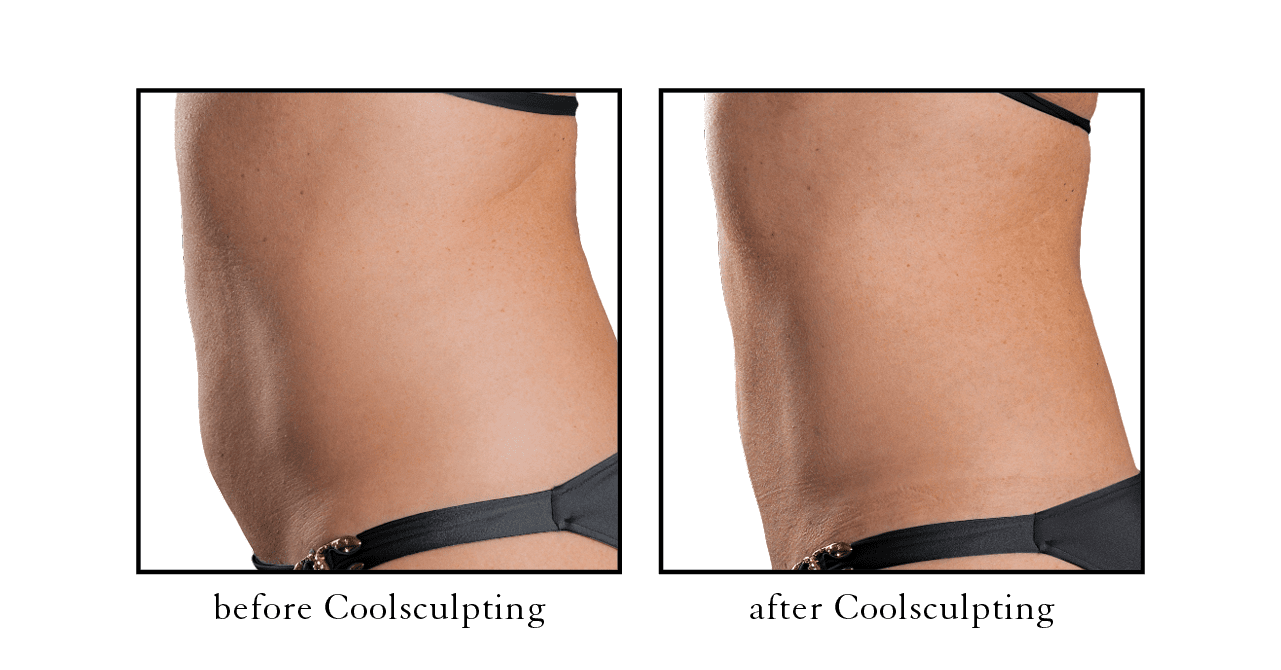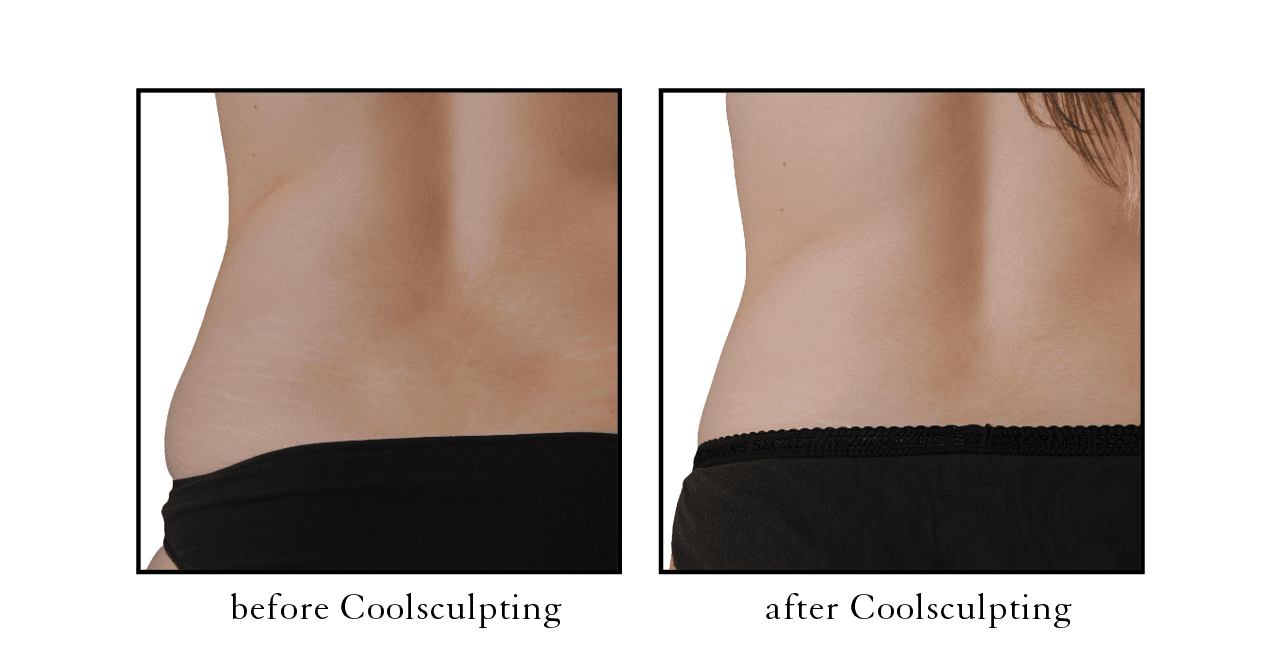 "So professional, result driven treatments – I really cannot say enough good about the practice and staff!"

CoolSculpting Frequently Asked Questions
Yes, CoolSculpting really works. One treatment of CoolSculpting Elite can reduce fat by 20 to 25 percent. With that being said, most patients shouldn't expect to see immediate results. For some, it may take two to three months for CoolSculpting to show noticeable results. For further reductions, many patients opt for retreatment four weeks following their first procedure. 
Absolutely. CoolSculpting received approval from the FDA in 2010. According to Dermatology Research and Practice, CoolSculpting "is safe and effective in reducing the fat layer and improving body contouring."
CoolSculpting is an ideal treatment option for a person who is close to their ideal weight. CoolSculpting and CoolSculpting Elite are contraindicated in people with cryoglobulinemia, cold agglutinin disease, or paroxysmal cold hemoglobinuria. CoolSculpting is not recommended for people who are pregnant or breastfeeding. 
Prospective patients book an introductory consultation to see if CoolSculpting is the best treatment option for them. Consultations are complimentary with our Coolsculpting specialists in both our Traverse City and Petoskey locations. Those who are unsure can opt to take the candidacy quiz on the CoolSculpting website to see if they're a good fit before booking an appointment. 
Laser liposuction gives more dramatic results than CoolSculpting While CoolSculpting reduces fat bulges by about 20% with each treatment, laser liposuction reduces fat by up to 80% and it also tightens sagging skin on the body.
We offer both liposuction and CoolSculpting in Petoskey and Traverse City and we offer BodyTite and liposuction in Naples. During your complimentary consultation, we can explain both options in detail.
According to the CoolSculpting website, a personalized treatment plan typically costs between $2,000 and $4,000. At Cosmetic Skin and Laser Center, our price is similar to the national average although for a small area, the cost is less. The cost is determined by the body area you want to treat and how many sessions you need.
Yes! The belly is the most common area for Coolsculpting.
Yes! CoolSculpting destroys fat cells within a specific treatment area. Once destroyed, these cells cannot grow back. However, with weight gain, additional fat can appear in other parts of the body. That's why it's imperative for patients to maintain a healthy lifestyle post-treatment.
Yes! The new Elite makes it easier to treat double chins. The best treatment for a double chin is laser liposuction because the results are dramatic and the laser tightens the skin. At Cosmetic Skin and Laser Center we offer Kybella, CoolSculpting, Laser Lift (Smartlipo), and FaceTite to reduce double chins.
Wondering what the best treatment is for your double chin? Our providers will help you decide during a consultation - each of the 4 treatments has its advantages and disadvantages. Book online by clicking here.
According to research published in Dermatologic Surgery, CoolSculpting has been proven to tighten skin. This study won CoolSculpting its newest FDA clearance: to improve skin laxity in patients with submental fat or a double chin. In our experience, skin tightening after CoolSculpting is modest; where this is an important goal, we have other options that work better, such as Smartlipo and RFAL.
While each individual's pain threshold is different, most people feel little to no pain at all during their CoolSculpting session. Some patients claim to feel temporary numbness or a slight pinching or pulling during the procedure.  
Book a CoolSculpting treatment in Petoskey & Traverse City, MI.
Consultations are always complimentary!