The chemical VI Peel dramatically improves your skin in one week: acne, aging, scarring, & melasma.
What we tell our patients: Looking for the best bang for your buck? This is one of the top 5. After just 2-3 days of peeling (like a sunburn), your skin will be renewed and glowing.
Unlike most of our chemical peels, the VI Peel usually has active, visible peeling skin.
This active chemical peeling helps with:
Tone & Texture

Discoloration

Pore Size

Fine Lines

Acne-prone Skin

Age Spots / Melasma
"Results-driven chemical peels are the best bang for your buck for overall brighter, smoother, lighter skin."
Bryanna, CSLC Aesthtician & Chemical Peel Specialist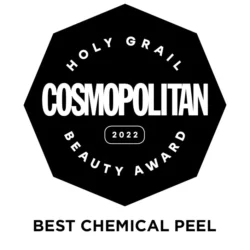 Chemical peels & VI Peels in Petoskey, Traverse City, & Naples
Your skin is prepped for the Chemical peel
After a consultation and history, your facialist esthetician or nurse will cleanse your skin. Then the VI Peel, a solution of acid and other active chemical peeling ingredients, is applied.
The second step of your VIpeel
The first phase of applied solution helps penetrate surface-level skin cells. A second phase of the VI Peel is then applied and goes into the deeper layers of your skin to remove toxins and dead skin cells.
VIpeels can be used on face, neck, or chest. 
This chemical peel is fast and relatively painless (really, no one complains of pain). You'll be done in under 30 minutes Keep the peeling agents on for 5 hours and usually you will have visible skin peeling 3-4 days later.
Post-treatment results and skin care
Once your skin finishes peeling, full results take about 2-3 weeks to appear. You can do another chemical peel in just 2-3 weeks if you want more results. This chemical peel improves skin texture, melasma, acne and sun damage.
VI Peel Before and After Photo at
Cosmetic Skin & Laser Center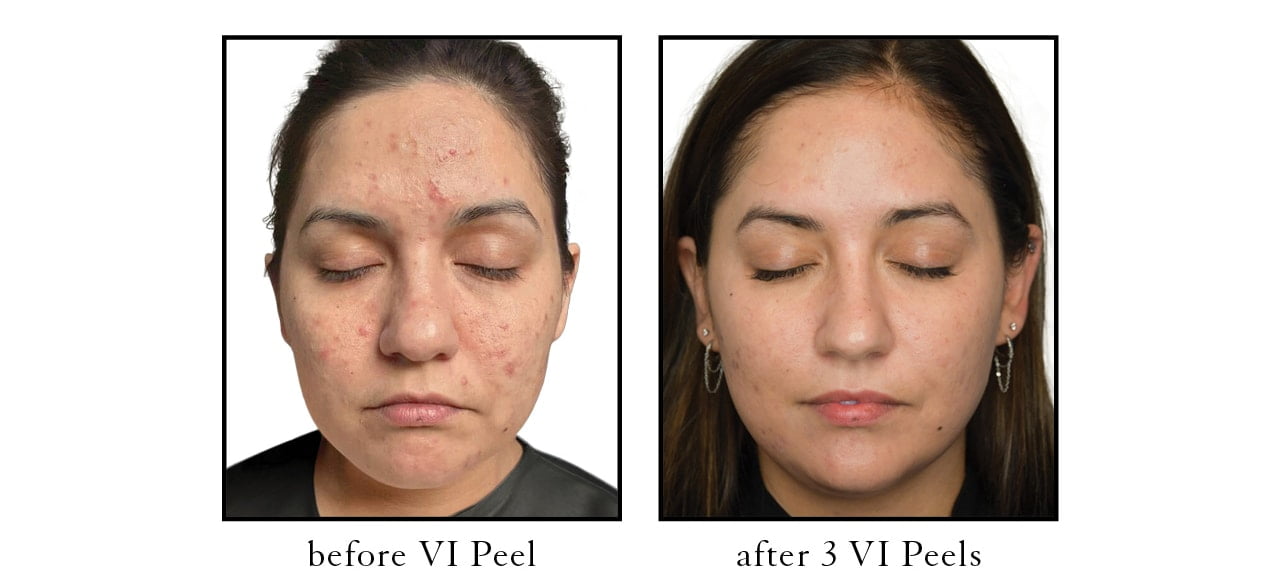 One VI Peel alone gives dramatic results, but 3-4 peels a year help continually stimulate collagen and elastin, eliminate unwanted pigmentation, and help keep fine lines from becoming deeper wrinkles. 
At our Naples, Petoskey, and Traverse City medspas we have multiple chemical peels to choose from. Many chemical peels accomplish similar results without downtime but require more visits. 
"I love CSLC. It's been a long journey from treating acne in my early twenties to cutting edge technologies to help me stay ahead of wrinkles and recover from hormonal changes and pregnancy masks in my mid 30s. It's been over a decade and I am always excited to see the staff and grateful for the newest technologies that they have on hand!"

FAQ: Chemical peels in Naples, Petoskey, and Traverse City
At our medspas, we have multiple chemical peels from SkinBetter, Skinceuticals, and ViPeel.
The best chemical peel depends on your skin type, your age and your skin goals.
Chemical peels are a very effective treatment for skin aging, scars, active acne, and melasma.
Our estheticians are highly trained from each company and outside sources to become a chemical peel specialist and can help customize your skincare program.
No. Most chemical peels in our Traverse City, Naples and Petoskey medspas are downtime-free and leave skin glowing immediately.
The VI Peel does have 3-5 days of actively shedding skin (that can be trimmed with cuticle scissors - don't pick as picking could cause scarring). The results are worth it and best results are after a series of three. Check out the results above.
Your esthetician can review all of your options and discuss the goals of your chemical peel. Peels are effective treatments for anti-aging, melasma, acne, acne scarring, and congested pores.
One step of the Hydrafacial is a no-downtime chemical peel and the Hydrafacial is a hydradermabrasion treatment that doesn't have any downtime.
The Cosmetic Skin and Laser Center medspa Signature Facial also includes a no-downtime peel. Your CSLC facialist and medical aesthetician will customize your facial treatments and at-home skincare regimen to help you achieve the best results attainable.
Yes, no downtime peels like alpha hydroxy peels and salicylic acid peels are offered with our Signature Facials.
ViPeels can not be combined with a facial.
Yes extractions are included with our medspa facials.