Liposuction, BodyTite, & Coolsculpting get clothes to fit better & help you lose belly fat fast.
What we tell our patients: No matter how many crunches you do, you can't lose fat exactly where you want to. That's what modern body sculpting treatments do.
Choosing a body sculpting or body contouring treatment
Traverse City and Petoskey, MI and Naples, FL
Choosing the best body contouring treatment for your concerns is balancing your expected results, your body type and your ability to have social downtime. Come in for a complimentary consultation to discuss our most popular body sculpting treatments as follows.
Coolsculpting Elite is the most popular body sculpting treatment. It permanently eliminates fat on the body with cryolipolysis. Coolsculpting is a noninvasive treatment that freezes fat cells to death. Theres no downtime and patients generally return to work the same day. Treatments take about 45 minutes. Biggest downsides of Coolsculpting are no skin tightening and 2-3 treatments for best results.
BodyTite is a body contouring treatment that tightens aging or stretched skin by up to 40% and it permanently eliminates fat. This minimally invasive procedure allows Dr. Gustav Lo, a BodyTite Expert, to be very precise when removing fat and reshaping or contouring the body. BodyTite recovery is generally 2-3 days of soreness and swelling. Best skin tightening results are at 6-12 months. BodyTite is a revolutionary treatment to tighten "flapping" arms, loose abdomens, bra fat and knees.
Laser liposuction or Smartlipo has virtually replaced traditional liposuction due to the smooth results and added skin tightening. At CSLC, the treatment is performed in our office surgical room with just local or tumescent anesthesia. Fat reduction is dramatic – up to 80% in someone close to normal body weight. The key to good laser liposuction results? Being confident the physician or surgeon is using the laser to heat the entire area thoroughly, which takes 1-2 hours.
Choosing a body contouring medspa and surgery center
An experienced body contouring provider. Cosmetic Skin & Laser Center opened in 2001 and we've been the market and regional leaders with laser technology and body sculpting. We were the first in the area to do Coolsculpting well over a decade ago. Dr. Gustav Lo has also been offering laser assisted liposuction since 2008.
Training and expertise. Dr. Gustav Lo trains with national BodyTite and Smartlipo leaders including Dr. John Millard, Dr. Stephen Mulholland, Dr. Barry DiBernardo, and Dr. Christopher Chia. These leaders are passionate about patient safety and getting the best results with minimally invasive body contouring treatments. They are cutting-edge with the latest techniques to reshape and tighten bodies.
Caring and time. Laser-assisted liposuction and BodyTite are minimally invasive body contouring procedures that take time. The skin has to be heated evenly and precisely for maximum skin tightening and guaranteed smooth results. By far, this is where Dr. Lo shines above his peers. Many plastic surgeons are used to a procedure taking an hour. Laser liposuction and BodyTite RF take 2-4 hours if the treatment is done thoroughly.
How does body sculpting work?
Body sculpting treatments use extremely cold temperatures, radiofrequency (RF), laser, or ultrasound energy to destroy unwanted fat cells. With surgical body sculpting, fat is removed from the body during the procedure; nonsurgical body sculpting encourages the body to get rid of damaged fat cells naturally.
Body sculpting can reduce fat in the following areas: 
neck, chin, or jawline 

arms 

abdomen 

love handles 

back 

thighs 

pubic area

bra fat
What are the different types of body sculpting?
There are several body sculpting procedures to choose from including non-surgical cryolipolysis (CoolSculpting), microneedling RF (Morpheus Body and Venus Legacy), minimally invasive laser lipolysis (Smartlipo), and RF lipolysis (FaceTite, AccuTite, and BodyTite) among others.  
Here's an overview of each:
According to the American Society of Plastic Surgeons, CoolSculpting is one of the most popular nonsurgical body sculpting procedures on the market with more than 450,000 procedures performed worldwide. 
CoolSculpting was first approved by the Food and Drug Administration (FDA) in 2010. Similar to other forms of cryolipolysis, CoolSculpting is a noninvasive procedure that uses freezing temperatures to break down and destroy fat cells. 
During the procedure, a vacuum applicator is applied to the surface of the patient's skin. The applicator then delivers controlled cooling to the targeted areas, freezing and destroying unwanted fat cells. On average, most patients see their treatment areas shrink by approximately 20 percent. With additional treatments, the treated area can shrink even more.
One CoolSculpting session can take 35-60 minutes, depending on the person, treatment area, and desired effect. Unlike traditional liposuction and Smartlipo, CoolSculpting requires zero downtime. Most patients see results within two to three weeks.  
We've been performing CoolSculpting procedures since it was approved in 2010 and have completed more than 1,000 treatments!
Body sculpting or body contouring is a cosmetic procedure designed to reshape a specific area of a person's body. Depending on the procedure, body sculpting may also involve getting rid of excess skin or eliminating excess fat, or tightening loose skin.
Body sculpting isn't a weight loss solution. Instead, body sculpting treatments reshape the body in areas where diet and exercise are not effective.
Is BodyTite better than liposuction?
BodyTite tightens skin more than liposuction. Traditional liposuction offers very little skin tightening and dramatic fat reduction but the result is commonly uneven. Laser assisted liposuction dramatically reduces fat (by up to 80%), tightens skin by about 20% and because the laser liquefies the fat prior to liposuction, the result is very smooth. Bodytite is a minimally invasive liposuction and body contouring treatment that liquifies fat with radiofrequency energy so it can easily be removed by suction while simultaneously heating the skin inside and out. BodyTite tightens loose skin by about 40%.
CSLC offers both laser assisted liposuction (Smartlipo) and BodyTite. BodyTite is the treatment of choice when the patient would benefit most from lots of skin tightening and a little liposuction. For larger volume cases where dramatic fat reduction is needed, we recommend laser assisted liposuction aka Smartlipo over BodyTite. We'll help you choose what would help you achieve the best results at your complimentary consultation.
Laser assisted liposuction vs Coolsculpting
Laser assisted Liposuction and Coolsculpting are two different very popular body sculpting treatments that permanently get rid of fat in the treated areas. Both liposuction and coolsculpting help patients lose belly fat fast, reduce inner thigh and outer thigh fat, get rid of love handles, and reduce fat under the chin.
Liposuction that is assisted with laser is a minimally invasive treatment performed under local anesthesia.  Using a laser to heat and liquefy the fat prior to suction guarantees a smooth liposuction results and tightens the skin by about 20% simultaneously. Dr. Gustav Lo is a trusted laser assisted liposuction expert. He started offering laser assisted liposuction in 2008 and has performed thousands of cases.
Coolsculpting is a noninvasive external treatment that destroys fat using cryolipolysis. The skin is not damaged and there is no downtime. How much fat do you lose from one Coolsculpting treatment? About 20%. Coolsculpting does not tighten the skin like laser assisted liposuction and the results are less dramatic but there's no recovery with Coolsculpting and repeat treatments offer more fat reduction.
Pros and Cons of Body Sculpting
✔
Pros 
can choose between non-invasive and minimally invasive

zero to minimal downtime

gradual, yet permanent results 

minimal pain 

smoother skin
✗
Cons 
not designed for people who are severely overweight 

possible side effects (swelling, bruising, or reduced sensation in the targeted areas)
Body Sculpting Before & After Photos at
Cosmetic Skin & Laser Center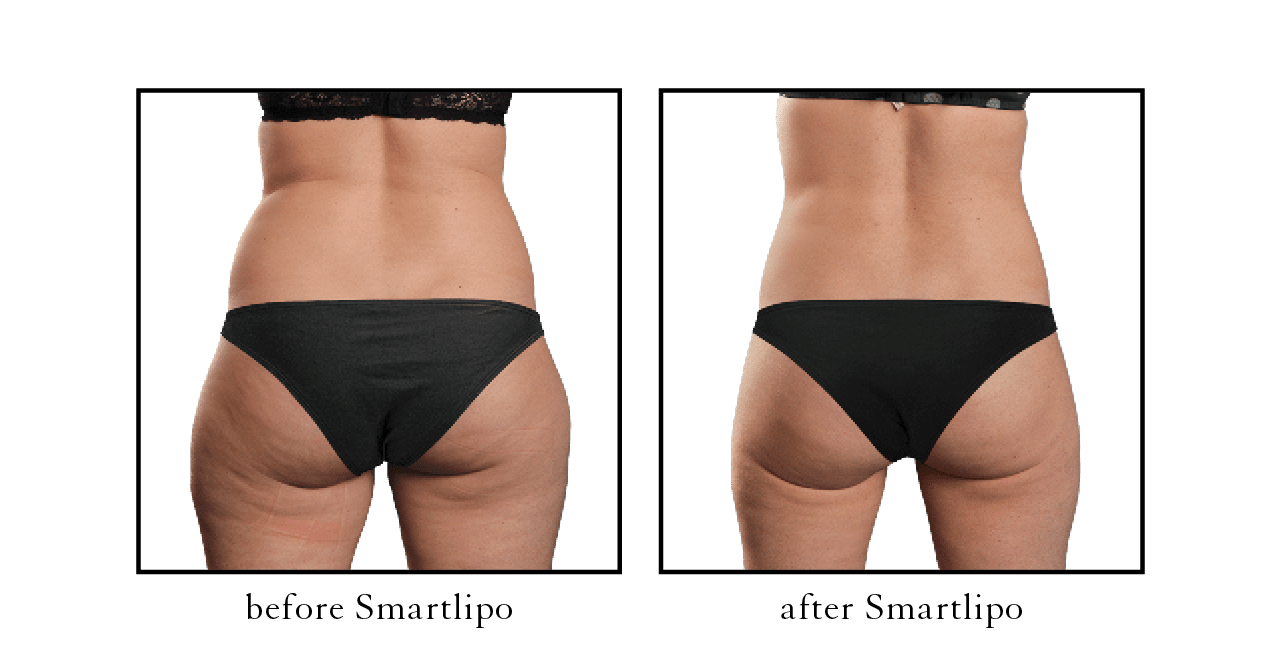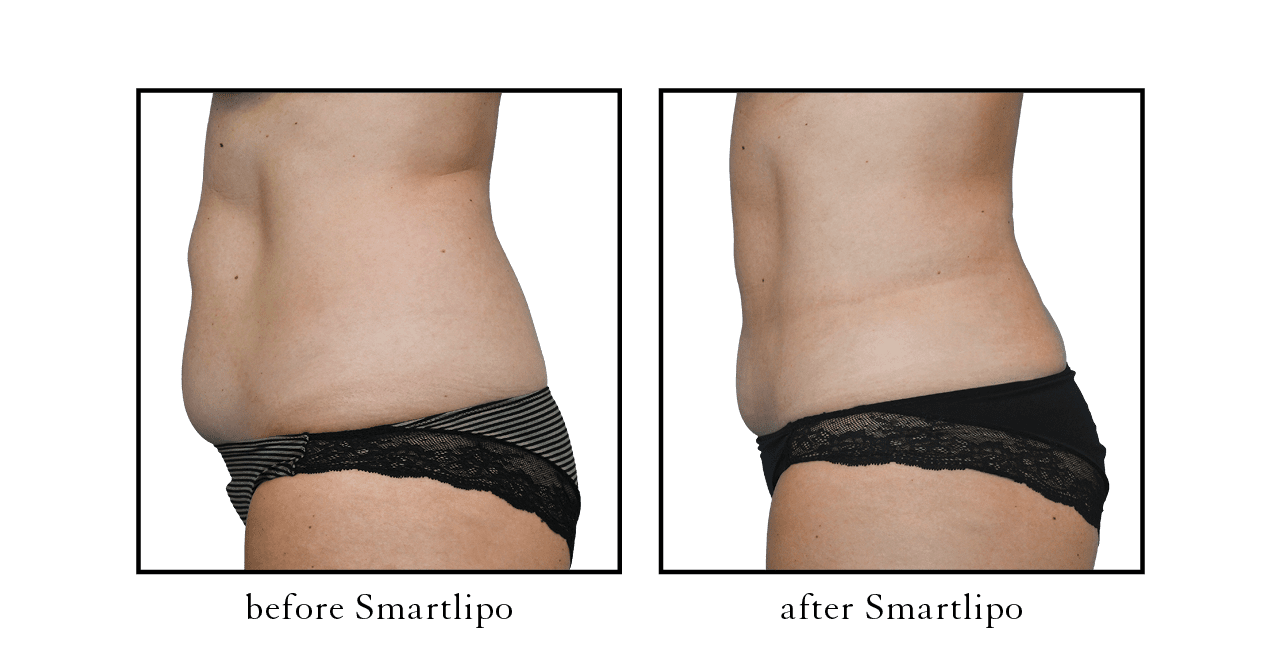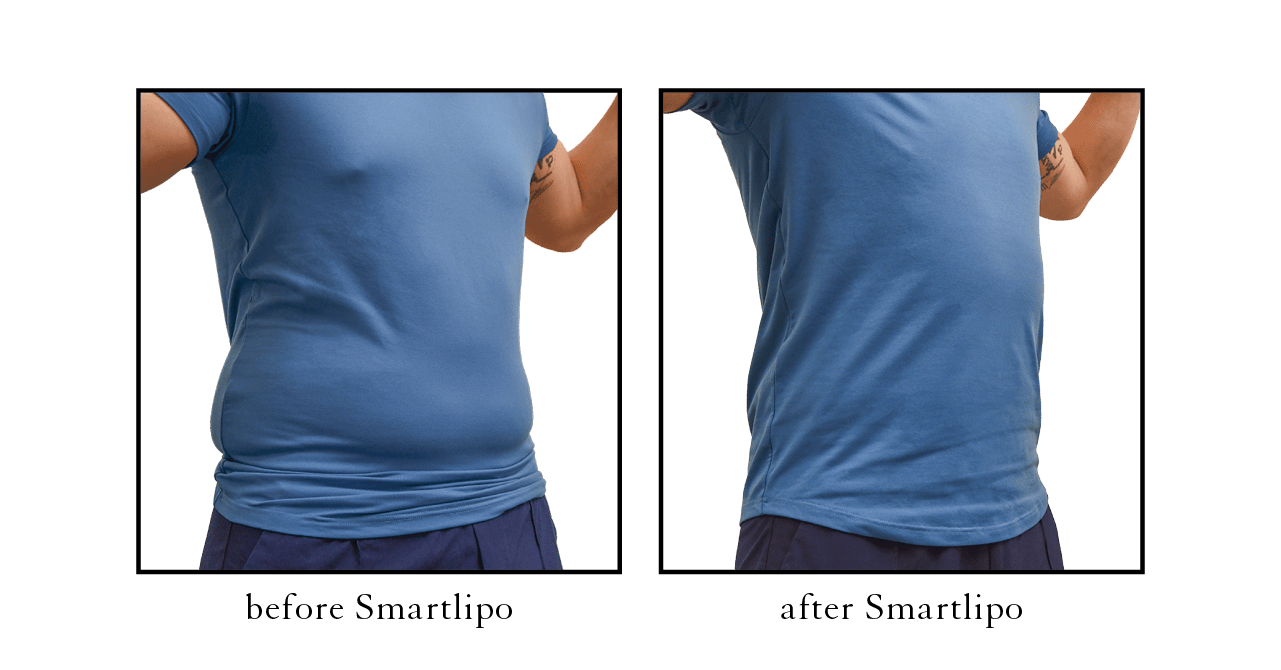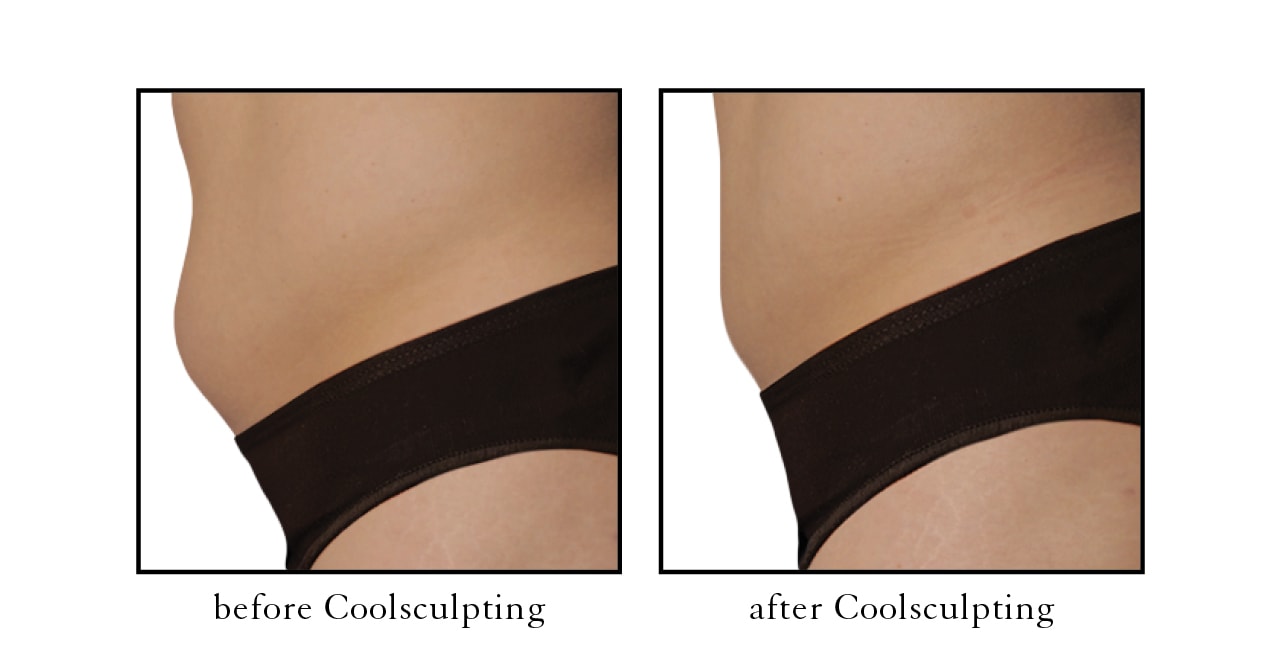 Body Sculpting: Frequently Asked Questions
Body sculpting treatments are a safe alternative to liposuction or surgical tummy tucks. With that being said, no procedure is risk-free. Body sculpting may lead to temporary aching or stinging at the treatment site or temporary irritation (e.g. swelling, bruising, or skin sensitivity). 
Body sculpting is an ideal treatment option for a person who exercises regularly, follows a well-balanced diet, and is close to their ideal weight. Prospective patients who are obese are not ideal candidates for body sculpting, but can still be treated successfully. At Cosmetic Skin and Laser Center, many patients are perimenopausal or post-menopausal and struggling with a new distribution of fat around their beltline.
The results of a body sculpting session depend on the specific treatment method, patient, and treatment area. Most body sculpting procedures produce results that last indefinitely.  
It depends on the procedure you choose. Every individual has a varying level of sensitivity and pain tolerance. Most patients experience minimal to moderate discomfort. At Cosmetic Skin & Laser Center, we have a variety of methods to make sure the procedure is very tolerable and patients are comfortable.
Coolsculpting is a brand name for cryolipolysis or "fat freezing". Coolsculpting is a noninvasive cosmetic treatment that permanently removes excess fat. During a treatment excess fat is vacuumed up into a hand piece that chills or freezes the fat without damaging other tissues. There is no downtime after coolsculpting elite. Patients usually see Coolsculpting results in 3-4 weeks and results continue to improve for 3-4 months. Each Coolsculpting treatment removes about 20% of the fat bulge.
Coolsculpting is a noninvasive treatment to contour the body and remove excess fat in stubborn areas. No downtime. No scars. No needles. Coolsculpting treatments remove about 20% of a fat bulge with each treatment.
Morpheus8 Body is a radiofrequency microneedling treatment performed to the external skin. This minimally-invasive treatment is customized by the provider at each visit to treat different skin depths. Morpheus8 Body smooths aging, thin skin when treatment depths are superficial. At deeper levels, Morpheus Body tightens skin, liquefies fat, and reduces the appearance of cellulite, all while improving the overall tone and texture of the skin.
After Morpheus Body skin is pink and dry. Some small microneedling marks may be visible and sometimes there is bruising.
BodyTite is a minimally invasive treatment that uses radiofrequency energy to contour the body and shrink fat bulges. Bodytite simultaneously heats both external skin and the fatty layer for the most effective way to reduce fat and tighten skin. Bodytite is a solution to tighten skin after pregnancy or after weight loss. BodyTite is an excellent treatment to tighten sagging arm skin, bra fat, and skin on the back.
BodyTite is a cosmetic body contouring treatment that dramatically tightens sagging skin. During treatment, the tissues are heated both internally and externally to contract skin then liposculpture or gentle liposuction is performed. Results last for years.
Smartlipo is a minimally invasive liposuctionprocedure the uses the Cynosure Smartlipo triplex machine to heat and liquify fat. Smartlipo is performed in 3 steps: first tumescent anesthesia is infused to numb the areas, then laser energy is delivered to heat beneath the skin and the fat layer, then the liposuction is performed. Smartlipo is gentler than traditional liposuction and it tightens the skin at the same time. Laser assisted liposuction dramatically reduces fat bulges by up to 80%. After Smartlipo patients will be required to wear a compression garment for 2 weeks. Most patients return to work within 3 days. Results are visible almost immediately and improve for 6-12 months.
Laser assisted liposuction with the Smartlipo laser dramatically reduces fat in the abdomen, flanks, thighs, and arms (up to 80%) Smartlipo Liposuction results very smooth dramatic body contouring. Smartlipo is performed under local anesthesia by Dr. Gustav Lo in the office.
Ready to get started with body sculpting?
Book a free body sculpting consultation today!