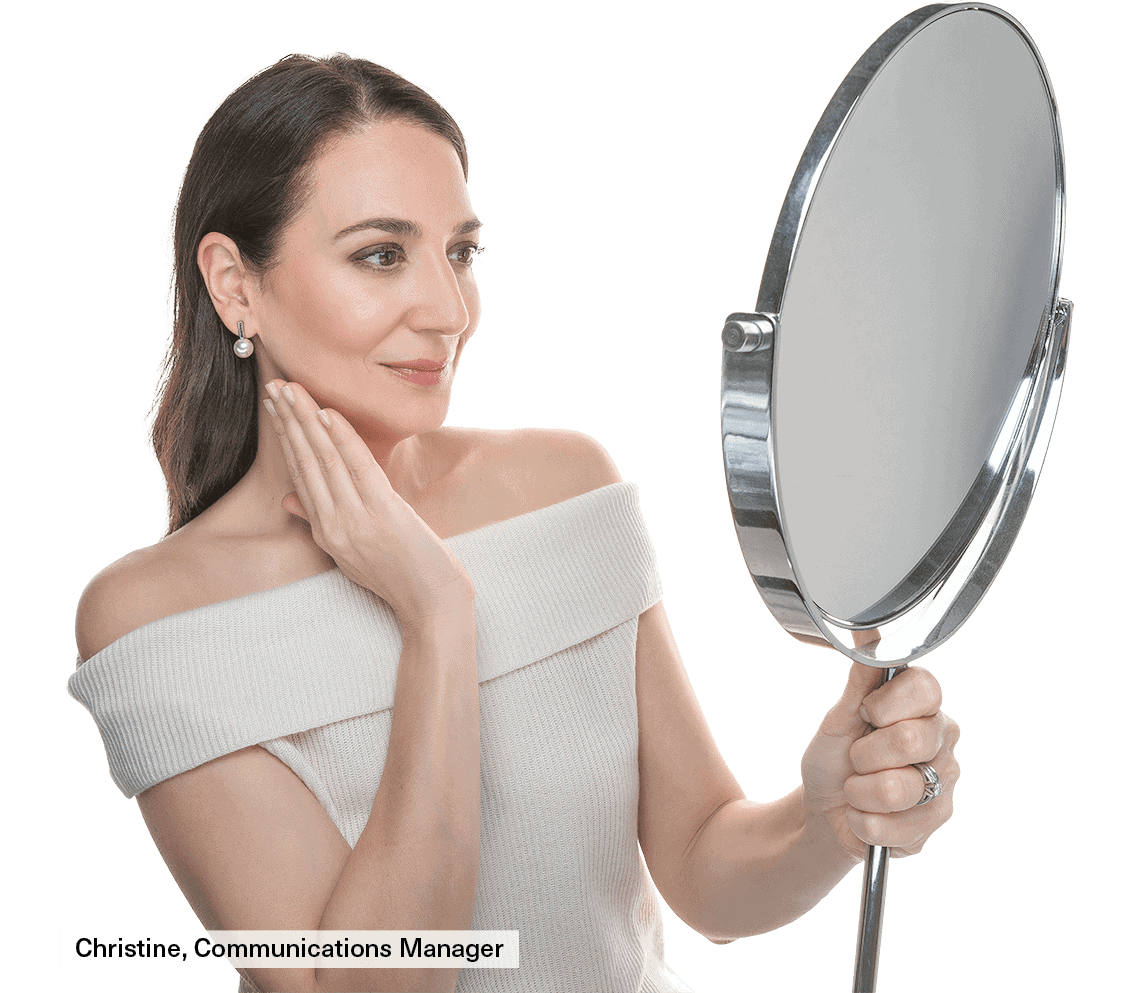 Threadlifts lift sagging skin without surgery and stimulate collagen in aging skin.
Threads provide immediate lift and improve thin aging skin.
"Threads are one of the most versatile options to improve skin integrity and facial structure and contour."
– Kelly, Aesthetic Consultant
Want an instant facelift without surgery?
Lifting sagging aging skin on the face without having a surgical facelift is a request we hear every day. Many want just a little perk-like what they do in the mirror. The good news is that thread lifts are better as long as you're getting the right threads! The lifting power of MINT threads is better than any of the previous threads and the lift lasts longer, too.
Brow

Jawline

Forehead

Jowls & Neck

Midface
A thread lift is a minimally invasive alternative to facelift surgery. Instead of surgically removing a patient's loose or "sagging" facial skin, thread lifts use uniquely designed sutures to elevate and tighten the skin, providing lift and renewing youthful shape and contour. Threads can also be used to lift the brow.
According to Clinical, Cosmetic, and Investigational Dermatology, thread lifts have been around since the 1990s – though the process and materials used have changed over the years. In their early days, thread lifts were often one-directional, resulting in an unnatural, two-dimensional appearance. Thanks to advancements in technique and materials, modern-day thread lifts often combine two or more facial rejuvenation treatment options to ensure that the patients' aesthetic needs are met.
At CSLC, we primarily use MINT threads to preserve the youthful "V-shape" of the face.
Thread treatments are customized at complimentary consultations and usually include more than one type of thread.
MINT threads are the new preferred PDO thread due to the strength and variety – they're sturdier than other lifting threads, provide more support and lift, and last longer than other threads. Unlike most PDO threads where the thread is cut to form the small barbs that elevate the skin, the barbs on MINT threads are molded. They're also available in a variety of types and lengths and can be used in several areas including the face, neck, chin, jawline, and around the eyes.
MINT threads come in both barbed and smooth versions and are inserted with small needles or a cannula (a special type of hollow needle). With so many options to choose from, MINT threads give the provider greater control over a patient's treatment areas and overall results.
How does a thread treatment work?
On the day of the procedure, the provider accesses the patient's skin and decides on which threads to use. Threads can be chosen for an overall lift, a brow lift, lip definition, or collagen stimulation and can be placed on the face, neck, or body.
After the threads are selected, the provider cleans and preps the patient's skin for treatment. To ensure a painless procedure, lidocaine is used to numb the insertion points of the sutures. 
Once the area is numb, the provider uses a thin needle or cannula to insert the threads underneath the patient's skin. This can take anywhere between 15 and 45 minutes. 
During this time, the provider uses specially designed sutures to reposition and elevate the patient's skin for a more youthful and contoured appearance. The sutures are absorbed while simultaneously stimulating collagen for long-lasting results.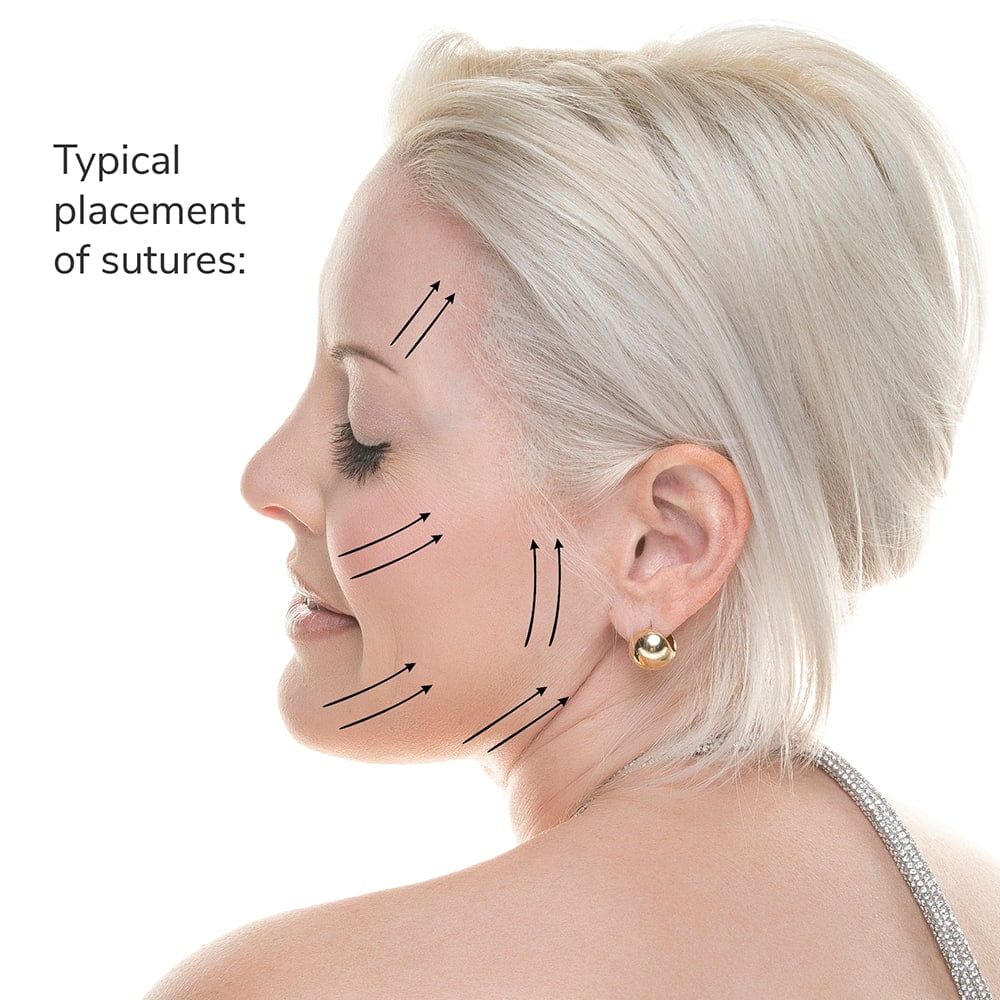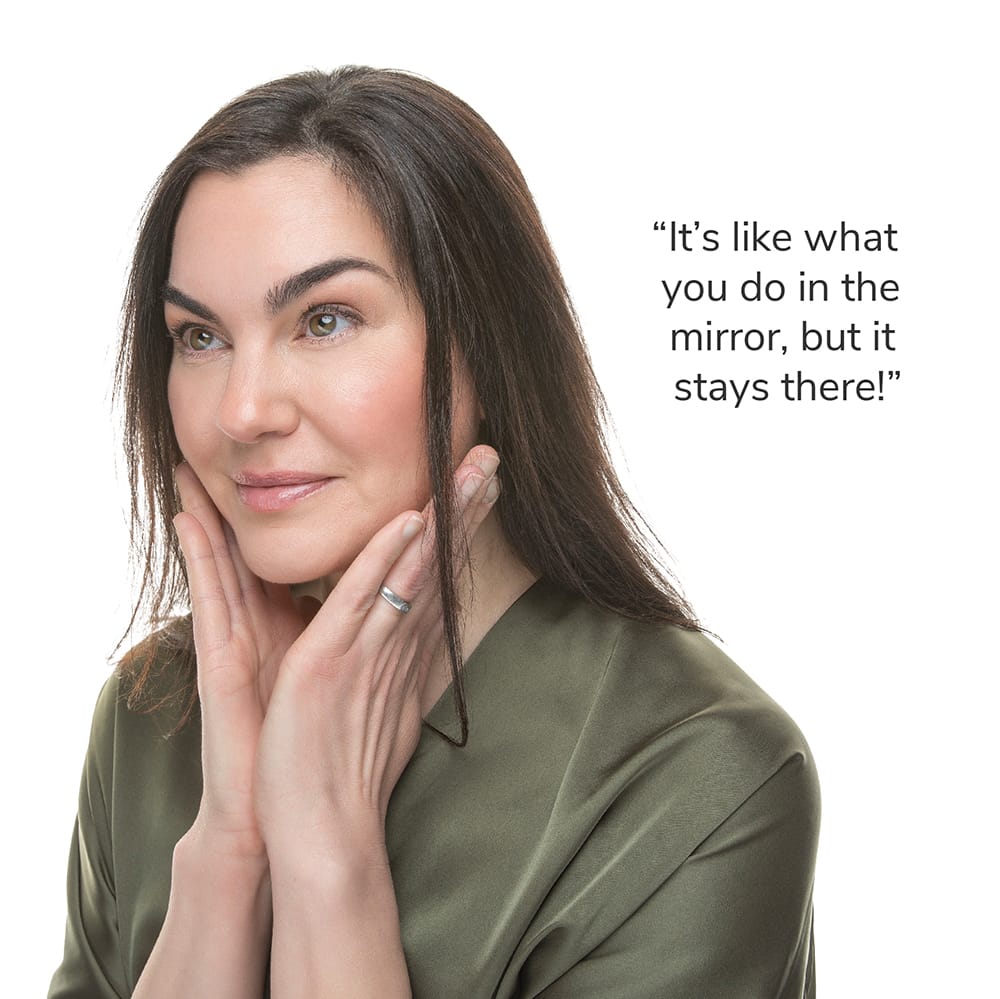 Post-Procedure
Patients may experience minor swelling or bruising. It's common for patients to feel occasional tugging or soreness as the treated area heals; these feelings should go away within a week or two and rarely require any pain-relieving medication.
Patients can participate in everyday activities such as driving, walking, and taking trips to the store immediately after the procedure. 
However, patients may be advised to:
avoid rubbing and touching their face for 48 hours

ideally sleep on their back for three to five days following the procedure 

avoid dental work for up to four weeks 

wait 24 hours post-treatment before using skincare 

apply antibiotic ointment on the thread insertion points for two days
Pros and Cons of a Threadlift
✔ Pros
quick procedure, instant results  

minimally invasive 

no anesthesia required

long-lasting results
✗ Cons
not permanent

not suited for patients with excessive skin sagging

may produce a tingling sensation or remain tender to the touch for a few weeks
While both a thread lift and a facelift can improve the appearance of sagging skin on the cheeks, jowls, and neck, the differences between the two are vast. During a facelift, a plastic surgeon removes excess skin from target areas while tightening the facial muscles. Facelifts are available in levels depending on the patient's needs. A "mini-lift," for example, focuses on reversing early signs of aging in the jowls and lower face, whereas a "deep plane lift" rejuvenates a patient's jowls, jawline, midface, cheeks, and neck.
Ready to see real-life results? Check out our before-and-after gallery.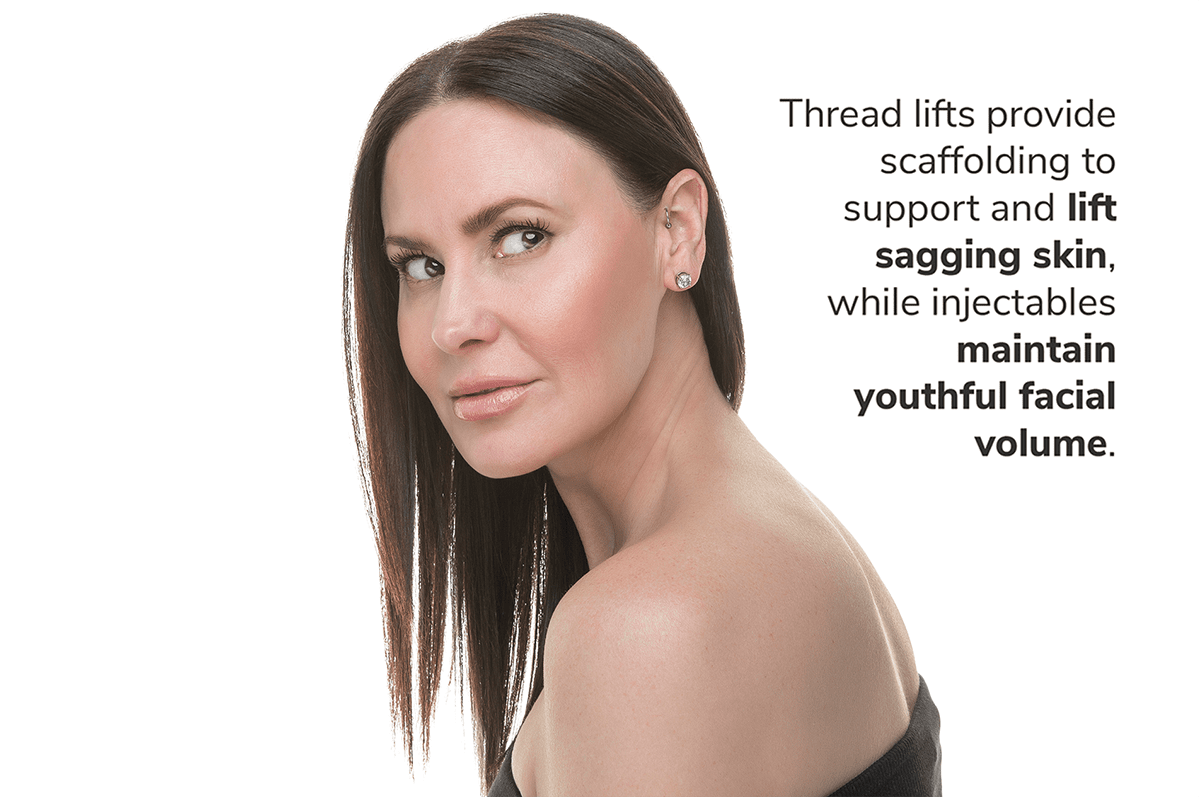 Threadlift Before & After Photos at
Cosmetic Skin & Laser Center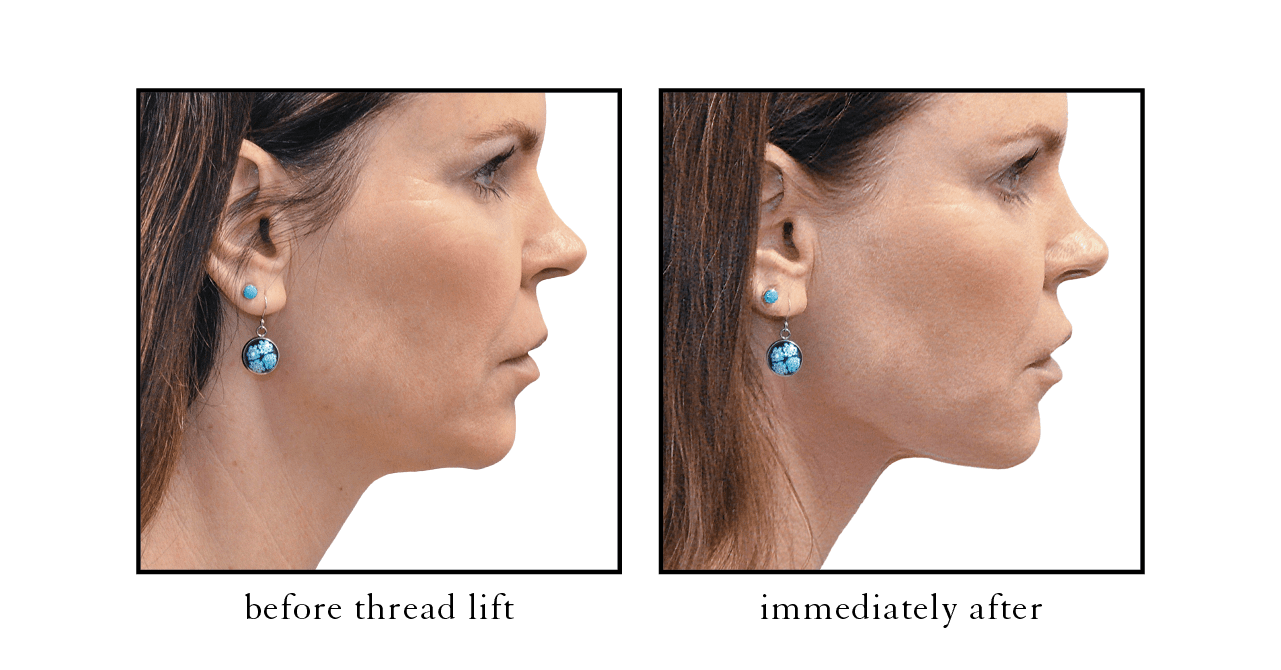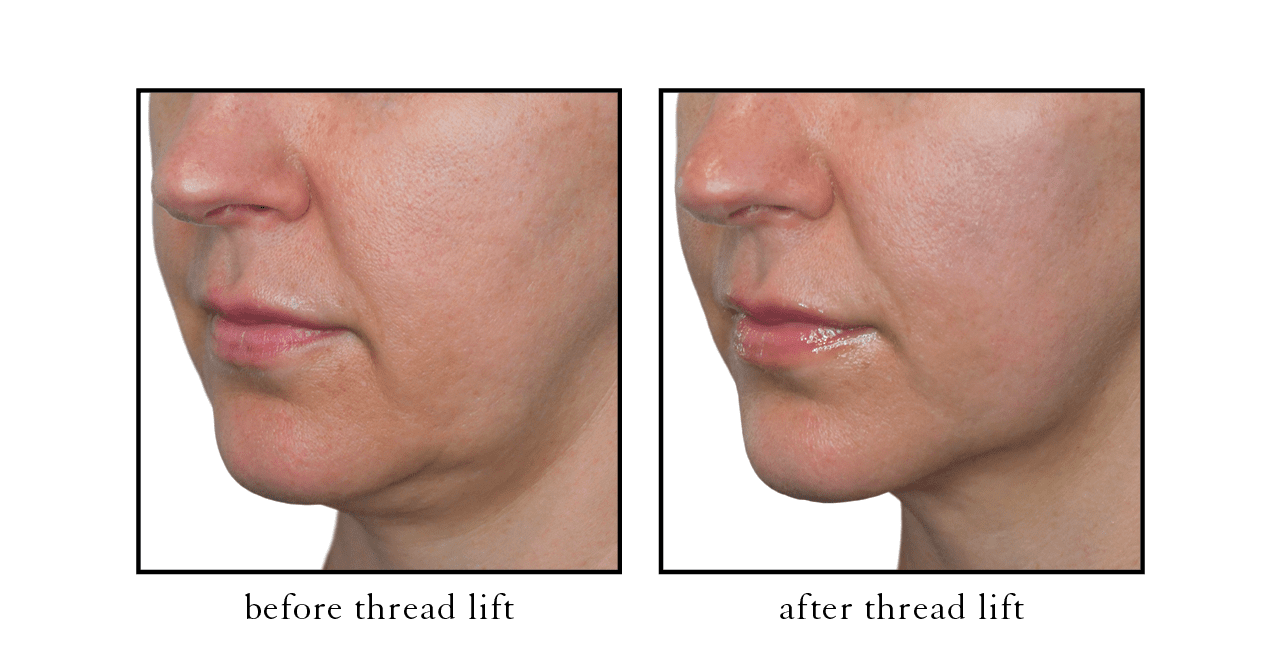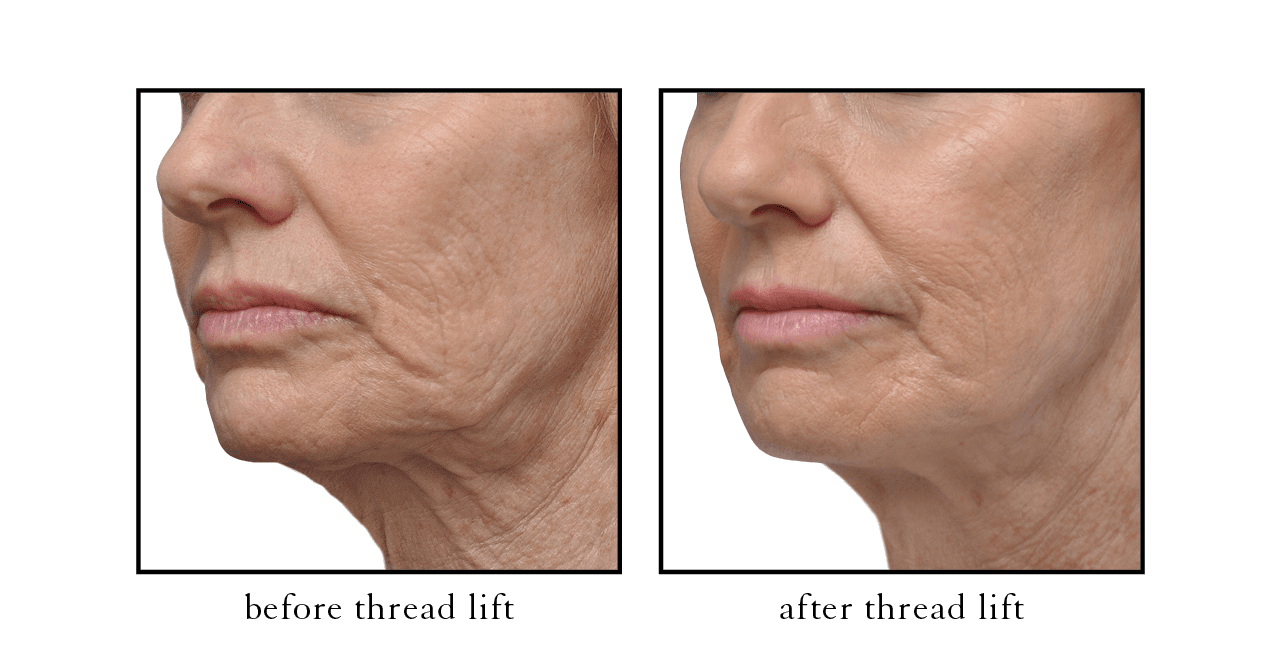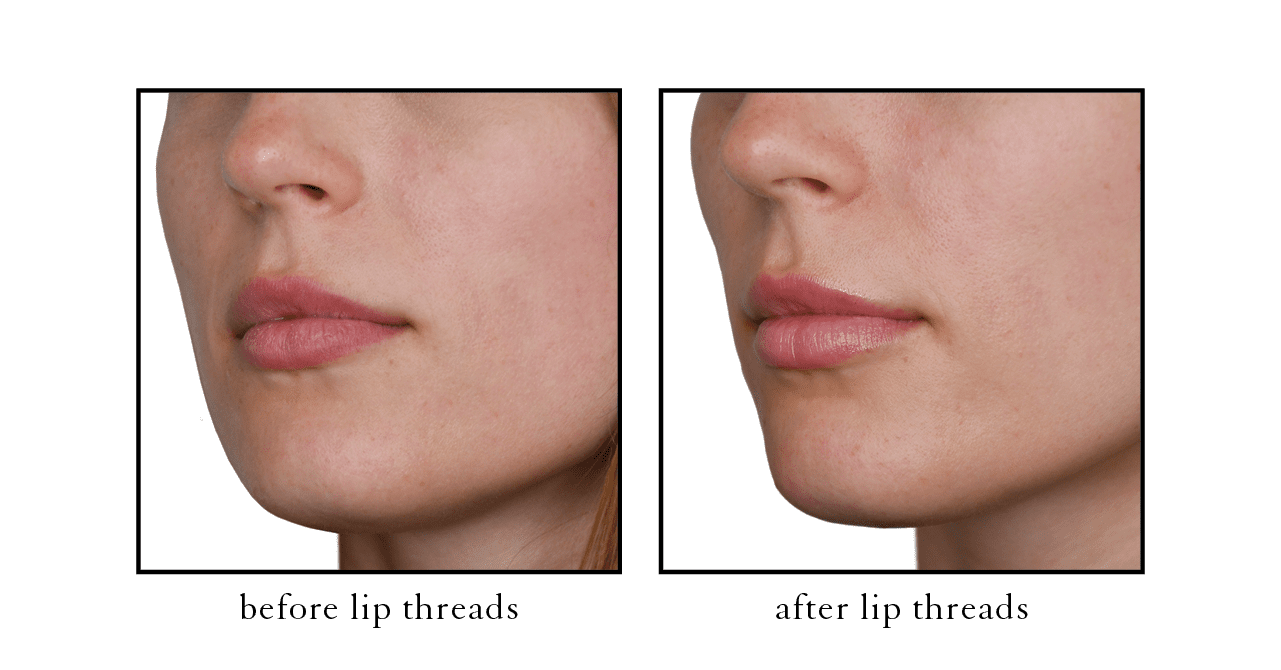 "René is so informative and gave good advice. The process and procedure were excellent!"

Threadlift Frequently Asked Questions
Threadlifts are great for all ages and especially helpful for those with mild to moderate loose or sagging skin. Men and women from the ages of 30s to 80s enjoy the perk of a thread lift. Threadlifts are not a good option for individuals with severe skin laxity.
Most threadlift patients can expect to see results for up to two years. Threads are reabsorbed over 3 months but collagen forms where the threads are barbs were placed allowing for a longer lasting result. Threadlifts are therefore a long-lasting but temporary solution used to enhance the appearance of one's face. Many use threads to lift sagging skin on their face and neck without a surgical face lift.
At CSLC we often combine liquid lifts and threadlifts. Liquid lifts replace lost volume where fat pads have depleted in the face like the cheeks, temples, and under eyes. Threads actually reposition the skin to a more youthful elevated position on the face and neck.
A threadlift is better for elevating and repositioning sagging skin on the face and neck. Laser Lift actually shrinks sagging skin and works very well under the chin and on the neck. Many patients get both as part of an overall rejuvenation plan. We can customize and discuss the best treatments for skin tightening and lifting at your complimentary consultation.
We would prefer to wait 3 months between thread lifts at minimum. MINT threads are more robust and we see a much better lift compared to our previous versions of threads.
Very, very rarely you will see a temporary mild skin irregularity from the threads. The knots are buried so there is no visible thread outside the skin.
The 3 main ways to tighten and lift skin are with RF heat like Morpheus8 or FaceTite which shrinks the skin, with laser like CO2 lasers and Laser Lift, and with ultrasound technology like Ultherapy.
These technologies are great for overall tightening and specific tightening along the neckline but if you want lifted cheeks and jowls without surgery, the threadlift is a likely solution. If you want to avoid seeing a plastic surgeon for a facelift, we offer many skin tightening options at CSLC.
Patients may also be advised to avoid taking any Aspirin-based or anti-inflammatories as they increase the risk of bruising.
Thread lift patients should avoid wearing makeup, making extreme facial expressions, and sleeping on their stomach or side immediately after the procedure. To ensure the best results, patients will receive a post-procedure and aftercare instruction list.
Threadlifts can be used to treat a person's neck, jowls, jawline, brow area, undereye area, cheeks, lips, and crow's feet. Threads can also be used on the body.
There are many different lengths and sizes of threads. Although some are excellent for lifting jowls and sagging cheeks, the smaller threads are strategically placed to define lip borders and induce collagen production providing stronger, smoother skin. 
As threads are reabsorbed by the body, new collagen is produced surrounding the threads which provides long-term results of up to two years.
Absolutely! We use lip threads alone or in addition to dermal filler to enhance the outline of the lips, giving definition along the vermillion border (or lip line) which can fade due to natural aging.
Ready to get started?
Book a free consultation today!