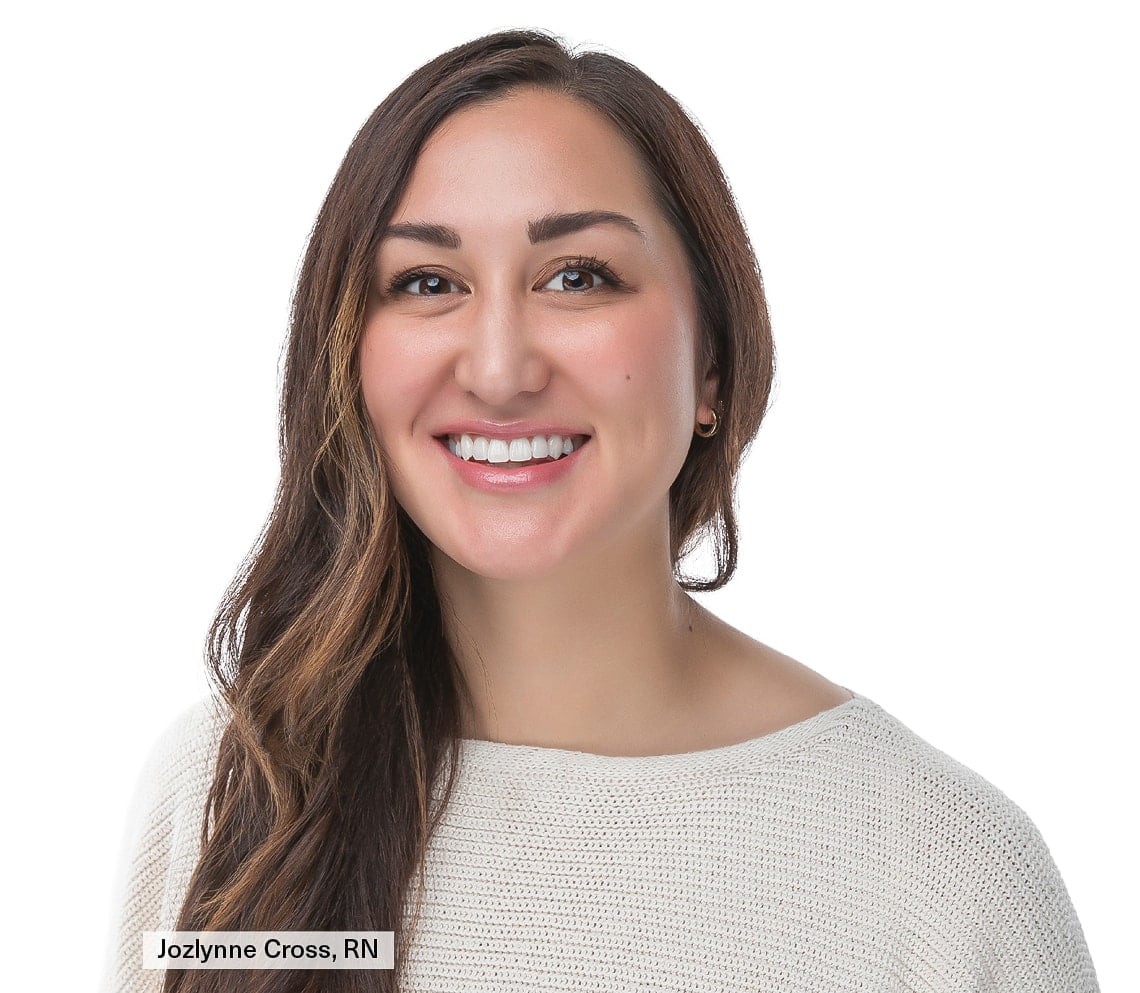 What we tell our patients: One treatment lifts, firms, and tightens skin on the face, neck, chest, brows, or body. Ultherapy offers long-lasting results with no downtime.
Ultherapy is an FDA-approved, nonsurgical treatment to lift and restore skin. The treatment is commonly performed to lift the brows and cheeks, tighten skin on the neck and décolletage, and to smooth lip lines. Ultherapy is used off-label to tighten skin on the body. Ultherapy is offered in Petoskey, Traverse City, and Naples, FL by our experienced, highly trained Ultra Premiere Ultherapy Premiere providers.
"Ultherapy is my treatment of choice to maintain my collagen bank and firm up my skin."
Jette, CSLC Master Injector and Provider
Ultherapy is the only FDA-approved non-invasive treatment for skin tightening.
Eye area
& brow

Cheeks
& jawline

Jowls
& neck

Chest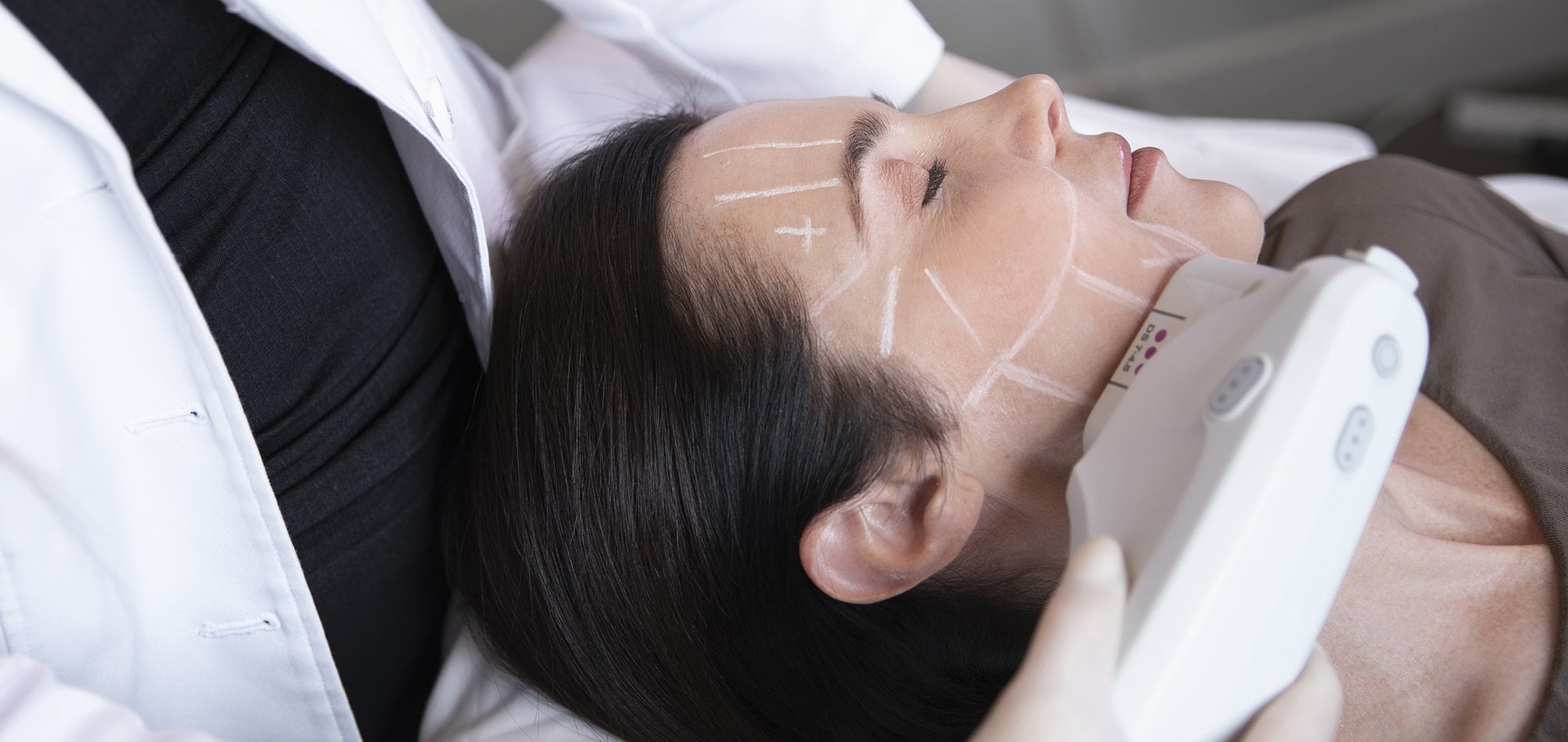 If you've been thinking about Ultherapy but worried about the pain, you'll be happy to know that Ultherapy treatments (and any treatment you've been worried about, for that matter) are much easier now that we offer ProNox, an in-office laughing gas. We can also prescribe a pain medication prior to the treatment. There is no pain after an Ultherapy treatment.
Ultherapy or Ulthera® uses ultrasound technology to see below the surface of the skin, down to the area of the soft tissue. Then the provider directs ultrasound waves. The ultrasound stimulates your body's own collagen production and over several months, results in a face and brow that is visibly lifted. An Ultherapy treatment takes 1-3 hours depending on number of areas treated. There is no downtime after treatment.
How we make it more comfortable
If you've researched Ultherapy, you may have read or heard it's uncomfortable. We used to prescribe painkillers to take during treatment, but with our in-office laughing gas (Pronox) and more advanced techniques, medication is no longer necessary! Ultherapy is easily tolerated.
45 to 90-minute procedure
Treatments take 45-90 minutes to complete. Rectangular boxes are drawn on the skin, and a precise number of pulses are performed in each rectangular box. The following day you can return to daily activities or work. Most patients experience some soreness (and occasional bruising) in the treated areas.
Collagen stimulation over time
Many patients see a tightening "boost" immediately and the best results are at 3-6 months when the skin-firming collagen stimulation is complete. Results are proven to last well over a year since new, healthy collagen has been established.
Utilizing ultrasound energy along with your body's own natural healing process, Ultherapy focuses energy into the deep support layers of your skin, which respond instantly by contracting (shrinking) the tissue, then firming and smoothing over time. Click to the right to watch an Ultherapy procedure in action at Cosmetic Skin & Laser Center.
Before Ultherapy 
Over time, changes to the skin tissue result in lines, wrinkles and sagging skin and weakened collagen fibers.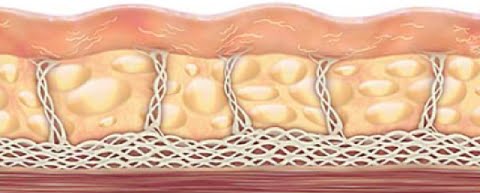 The Ultherapy treatment 
Ultrasound energy is delivered noninvasively, triggering a natural response that stimulates new collagen growth.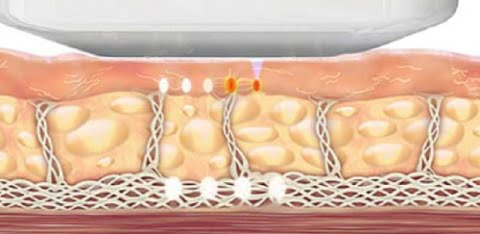 Tighter skin in 2-3 months
Results appear gradually over 2-3 months and improvements can continue for up to 6 months post-treatment.

Ultherapy Before & After Photos at
Cosmetic Skin & Laser Center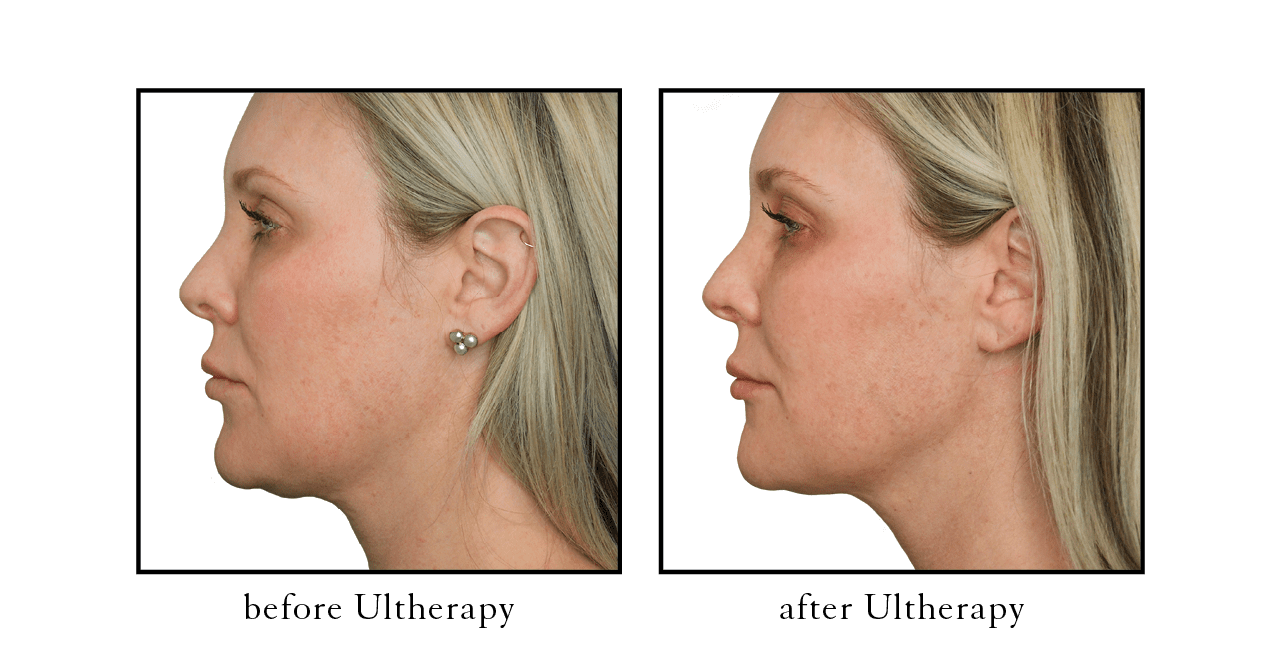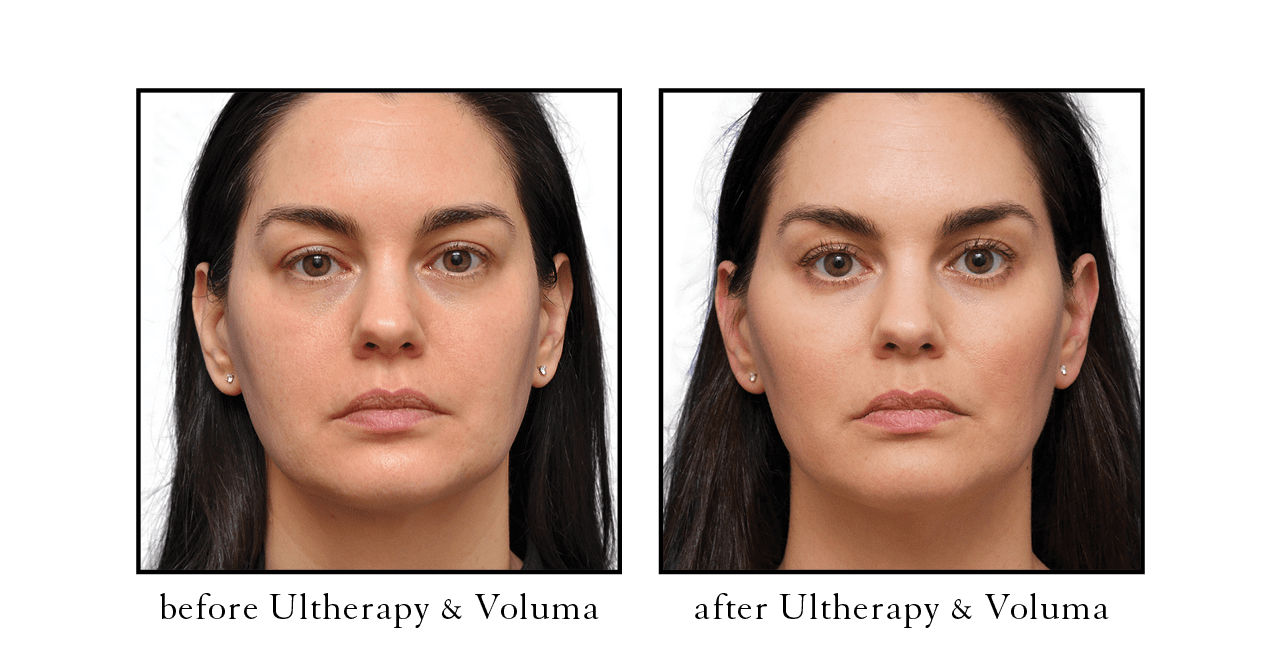 Book your complimentary Ultherapy consultation or treatment here:
"From check-in until treatments are completed, every staff member is professional, compassionate, informative, personable and courteous. They are all wonderful!"

Ultherapy Frequently Asked Questions
Cosmetic Skin & Laser Center offers Ultherapy for individuals who want to achieve the results of a facelift -- without surgery or downtime. Ultherapy is a non-invasive ultrasound treatment that tightens and lifts the skin while boosting your collagen simultaneously. This non-surgical alternative to a facelift provides dramatic results.
Ultherapy works by targeting the deeper tissues of the skin for lifting, and the superficial tissue (outermost layer of the skin) for tightening. The ultrasound energy produces heat to the skin and stimulates the formation of new collagen. It's an FDA-approved treatment for skin tightening on the face, neck and chest. Most individuals notice a lift shortly after treatment, however, the skin tightening results show three to six months after treatment.
Ultherapy is the only non-invasive procedure that targets the SMAS layer – the same layer surgeons tighten during a facelift. With an ultrasound scan, Ultherapy accurately locates the SMAS to tighten it and stimulate new collagen. Ultherapy treatments are customized to lift sagging brows, smooth lines and wrinkles on the decolletage, firm loose neck skin, and tighten sagging jawlines. Ultherapy can even tighten skin on the body.
Cosmetic Skin & Laser Center was among the first in the nation to offer Ultherapy treatments. We've performed thousands of treatments and our providers are highly trained to customize treatments for lift and skin rejuvenation.
We are known as the place to go for nonsurgical "facelifts" and commonly combine Ultherapy with other treatments to restore facial shape, skin firmness and give an overall more youthful look.
Most patients see immediate skin tightening and firming after Ultherapy. Results continue for 2-3 months and last for 1-2 years.
Ultherapy was initially cleared to address sagging skin in three key areas: eyebrows, under the chin, and on the neck. Later, the FDA also approved Ultherapy for reducing deep wrinkling on the décolletage (the area below the throat at the top of the chest).
Cosmetic Skin & Laser Center in Naples, Petoskey, and Traverse City has offered Ultherapy since it was released. Our providers have had ongoing training in the most advanced Ultherapy techniques and customize your treatment to achieve the most natural results in your most troublesome areas.
Yes! Ultherapy is a treatment that improves mild skin sagging on the face and neck as well as the body. Ultherapy is commonly used to tighten skin on the stomach, knees, and buttocks. We also offer Morpheus Body, Venus, AccuTite and BodyTite. What's the best skin tightening treatment for the body for you? Come in and we can go through all the options (we have all of them!) and we'll choose your best investment together.
The loose skin where the eyebrows sit can give the whole brow a "heavy look", creating a constant look of concern or exhaustion. Tightening the skin in the eyebrow area with Ultherapy can reduce the "heavy look" and open up the eyes, allowing a more alert and pleasant natural look.
Yes! While excess fat is frequently the cause behind a double chin, loose skin can also hang down and create the appearance of a bulge. Whether this sagging skin is a result of natural aging or significant weight loss, Ultherapy effectively tightens the skin under the chin.
Yes! Wrinkled and sagging skin on the neck, or commonly known as "turkey neck" is an area that is visible at all times. Rejuvenating the collagen on the neck with Ultherapy creates more definition, giving patients a youthful silhouette. This is sometimes called a non-surgical neck lift.
Yes! Since the chest area is frequently exposed to the sun, the ongoing breakdown of collagen and elastin in the skin can lead to the development of deep wrinkles and crepey skin. Ultherapy can smooth out deep wrinkles on the chest.
Many ask about the pain associated with Ultherapy. The extent of discomfort can depend on a few things and honestly, the discomfort varies tremendously. The ultrasound device rests on the surface of the skin but the energy penetrates deeply into the skin-- that's why it's so effective. We offer in-office Pro-Nox, or laughing gas, to help ease the discomfort.
Ultherapy targets deeper tissue that lasers and other non-invasive treatment options are unable to reach. In fact, Ultherapy targets the same depth a surgeon would go to for a facelift - the SMAS. Because of this, it can be painful in brief spurts. At our medspa and laser center we offer in-office laughing gas (Pro-Nox) that makes Ultherapy a breeze for most patients.
For the right candidate - ABSOLUTELY. Ultherapy is a favorite treatment among our staff because it's only one treatment with no downtime and the results last up to two years. Ultherapy at Cosmetic Skin & Laser Center medspa is a perfect fit for those who want to give their face, neck, and chest an overall, global lift. Schedule your complimentary consultation or book your Ultherapy treatment today! We will always go through all of the options at your consultation to make sure you are making the right investment for you.