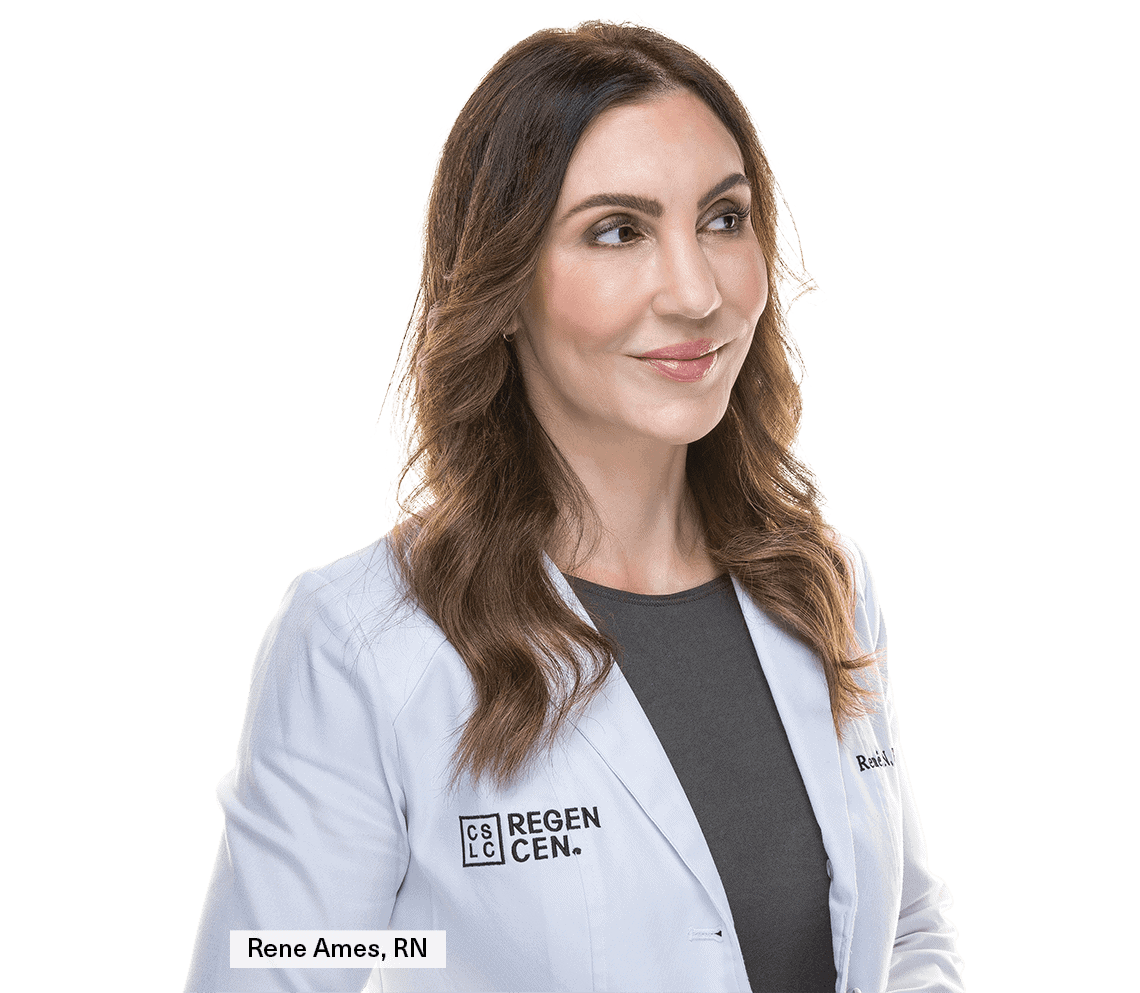 Platelet-rich plasma and platelet-rich fibrin injections improve skin texture, acne scars, and volume loss similar to filler but with your own regenerative growth factors extracted from a simple in-office blood draw.
A natural alternative to dermal fillers. The future is here.  
PRF and PRP injections are performed with almost identical techniques to dermal fillers. PRF and PRP rejuvenate new youthful cells and skin.
Acne scars

Fine lines

Improving skin integrity

Under eye hollows

Hand rejuvenation
Our favorite places to use PRF injections for cosmetic treatments are the hands and the under eye area where skin is very thin. PRF improves skin integrity and acts as a 100% natural filler from your own body. 
PRF injections heal aging tissues, and not just for cosmetically:
sexual rejuvenation
erectile dysfunction
improved bladder control
hair loss
breast rejuvenation
osteoarthritis
tendonitis
What is platelet-rich fibrin?
Platelet-rich fibrin (PRF) is the second generation of platelet therapy. Unlike platelet-rich plasma (PRP), PRF stays in the area injected for a number of days, allowing a better and longer-lasting result.
PRF and PRP facial treatments and injections
At CSLC, we use 100% PRF injections due to its superior results compared to PRP. After a simple blood draw and topical anesthetic, the PRF is injected with a very small needle in to specific scars or depressions, and it can simultaneously be infused into the skin with SkinPen microneedling (also known as microneedling or PRP Facial).
We offer PRF and PRP in Naples, Harbor Springs, Boca Grande, Traverse City, and Petoskey at both CSLC and our regenerative medical clinic RegenCen. PRF is the work horse of regenerative medicine – it's much easier than stem cells with similar results and it offers much better results than the previous cousin, PRP.
Once we decide where to inject your PRF, we draw your blood and spin it in a specialized in-office centrifuge. Once injected, PRF releases growth factors, which turn on dormant cells and attract stem cells to grow new tissue.
At CSLC, we've perform platelet injections daily. Since CSLC and RegenCen are in the same building, patients can combine regenerative medical treatments and regenerative aesthetic treatments on the same day.
Fun fact: Dr. Gustav Lo has been performing platelet injections for regenerative purposes since 2005. CSLC has been performing platelet injections since 2017.
PRF / PRP before and after results at
Cosmetic Skin & Laser Center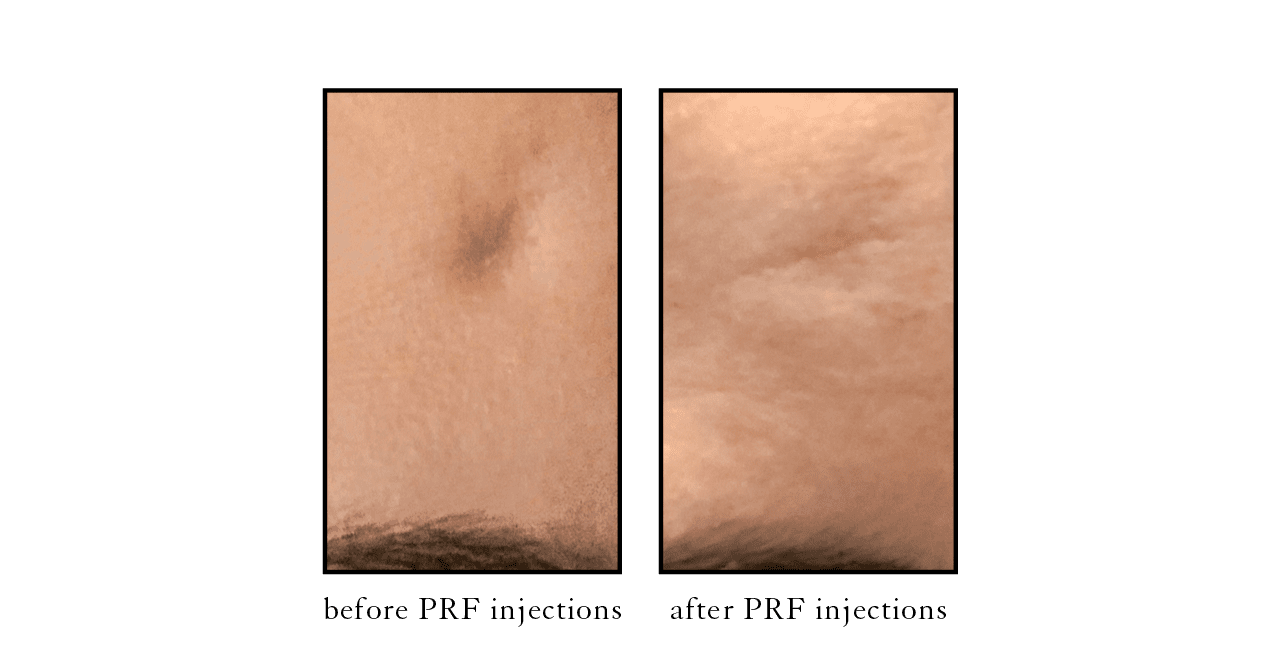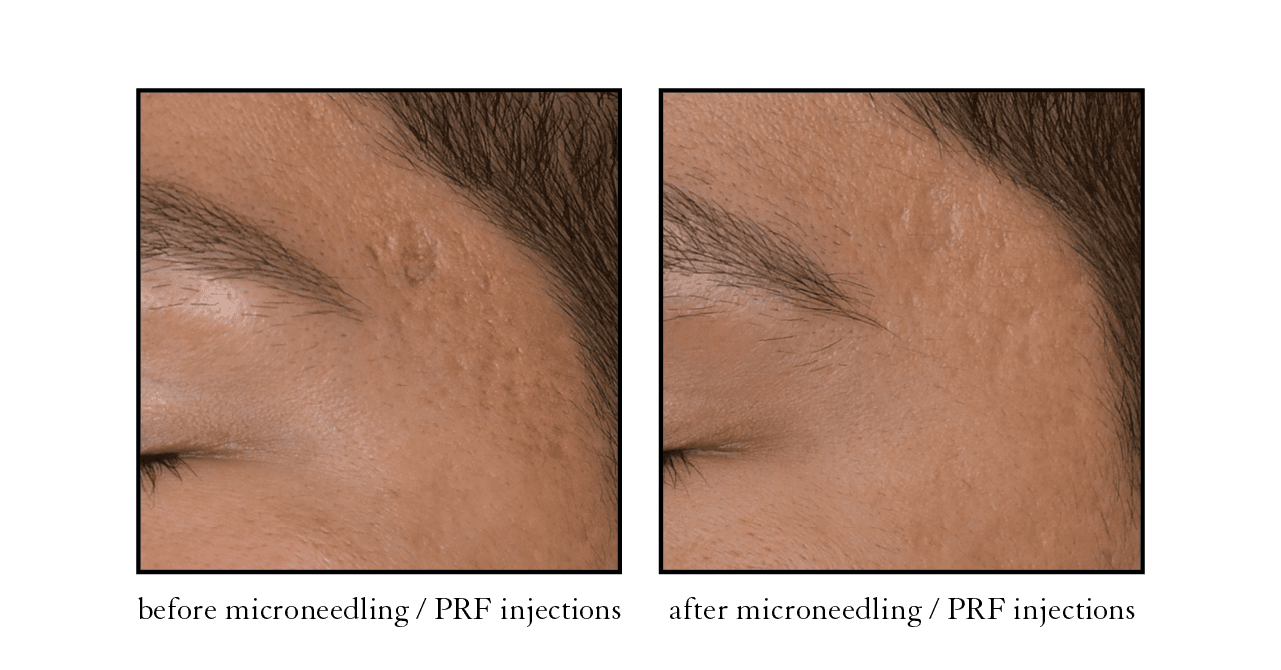 When PRF and PRP are injected for cosmetic purposes, the results are partially visible immediately and they continue to improve for 4-6 weeks. We repeat platelet injections at 4 weeks for more improvement. PRF results are long-lasting. Medical studies show improvement for over a year for many conditions including scarring, osteoarthritis (treatment available at our regenerative medical division RegenCen), and hair loss.
Are PRF or PRP injections better for acne scar treatment?
PRF injection results are superior to PRP. After a simple blood draw and topical anesthetic, the PRF is injected with a very small needle in to specific scars or depressions and it can simultaneously be infused into the skin with SkinPen microneedling (aka PRF/PRP facial or microneedling/PRF/PRP).
✔
Pros 
longer-lasting than PRP
superior results to PRP
natural product
quick with minimal recovery
awakens dormant cells
long-lasting results
"I have been receiving care for years and am always impressed with the service, professionalism, care, and high quality customer service."

PRF & PRP Injection Frequently Asked Questions
Yes! As Northern Michigan and Southwest Florida's premiere cosmetic medical spa clinic, we commonly mix PRF (the superior platelet product to PRP) with dermal fillers to achieve the most natural, smooth result.
Initially we offered the O-Shot and we were trained by Dr. Charles Runels in 2017. We've advanced our treatment for orgasms and pelvic rejuvenation vastly since then. We now primarily recommend the "Oh! Shot", which is the same treatment but with PRF.
Our regenerative medical division, RegenCen,  offers many very effective treatments to improve sexual enjoyment, orgasms, and vaginal lubrication.
Hand injections are one of the easiest places to get dermal fillers, PRP, or PRF as most of the product is placed utilizing a painless cannula. We do place PRF with tiny needles for improvement in skin integrity and to improve thin skin.
Yes, this is one of our favorite concerns to correct. We have improved the appearance of scars and indentations to nearly invisible and the results oftentimes last years.
Both are platelet products from your own blood that we get from a simple blood draw. PRF is spun differently in a specialized centrifuge so the product turns to a gel or fibrin matrix which stays where it is injected for longer to recruit more growth factors and get a better response - and better results.
Ready to get started?
Book a free consultation today!