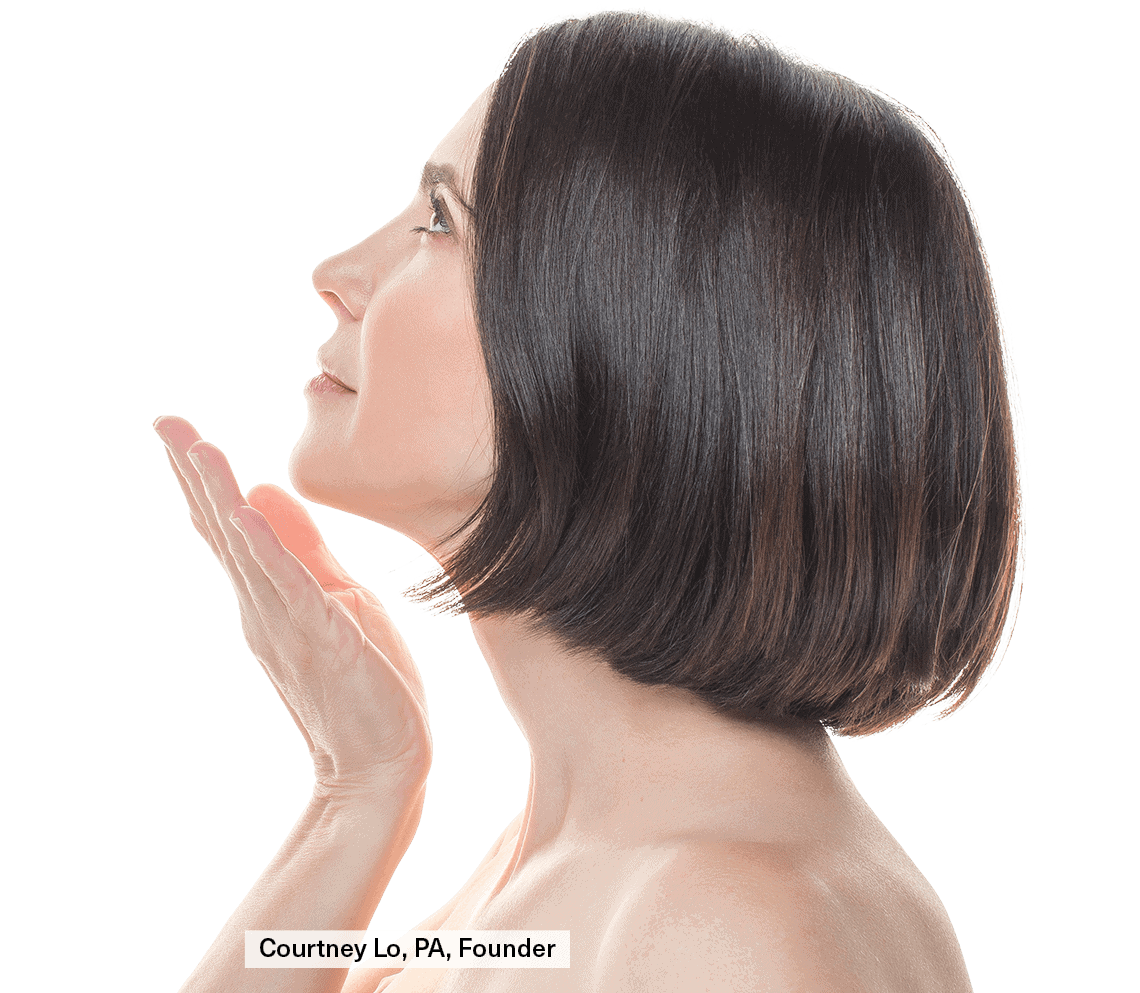 Laser Lift: the best nonsurgical alternative to a facelift
Laser Lift reduces volume, lifts, and tightens skin on the lower face, along the jawline, and under the chin.
"My sagging jawline was inherited. Laser Lift tightened my jaw and chin and restored a youthful face shape." – Karmen, CSLC Master Aesthetician
Completely transform your chin, jowls, and neck in one 30 to 45-minute, in-office visit 
Whether you've got a double chin, sagging neck, or jowls due to the inevitable side effects of aging, Laser Lift is the best treatment option for reshaping a person's jawline with little to no downtime.
Reduce
Volume

Lift

Restore
"V shape"

Tighten
Skin

Reduce
Double Chin

Eliminate
Jowls
A Laser Lift (sometimes referred to as LazerLift) is a minimally invasive, in-office treatment designed to reduce many signs of aging including, sagging skin, jowls, "turkey neck," double chin, and excess neck fat. After this skin tightening treatment, patients often feel they've turned back the clock 10 years- see for yourself check out our before and afters of Laser Lift in our gallery.
Tighten your jawline and completely transform your chin, jowls, and neck in one 45-minute, in-office visit.
Pros and Cons of Laser Lift 
✔
Pros 
quick and efficient; most sessions can be completed in 45 minutes or less 

minimal discomfort 

reduced recovery time

minimal aftercare

fewer risks vs a surgical facelift 
✗ Cons
may need follow-up or touch-up appointments over time 

temporary swelling or bruising 

possible changes in skin pigmentation 

low chance of possible bacterial infection
Laser Lift vs Facelift Surgery vs FaceTite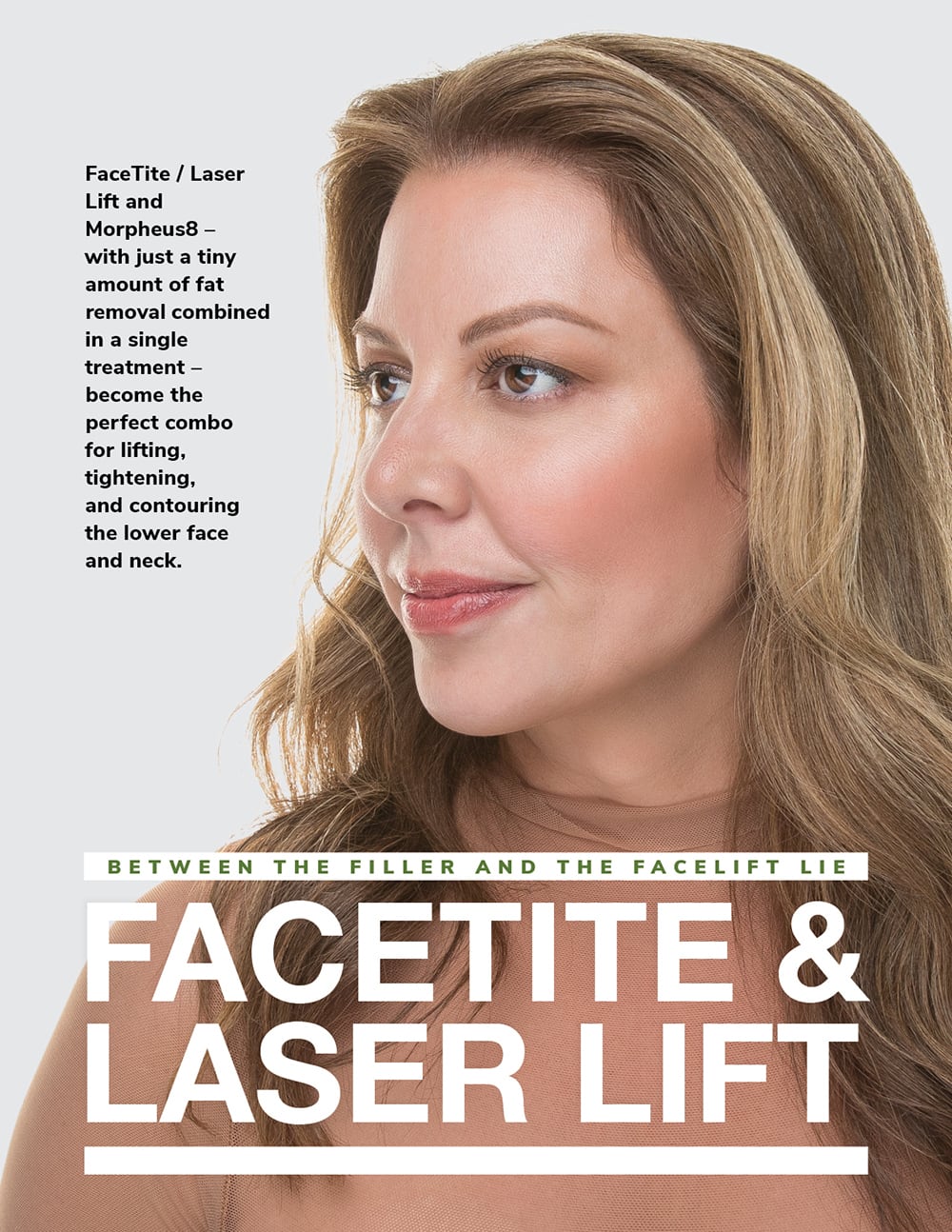 Traditional surgical facelifts require hospitalization, anesthesia, and weeks of downtime, whereas the Laser Lift nonsurgical face lifting treatment is an in-office procedure that can be done in 45 minutes or less to tighten sagging skin on the neck or under the chin.
Featured on "The Doctors," Laser Lift treatment gives patients dramatic tightening that lasts five years or more and permanent fat reduction under the chin and in the jowls. Most patients notice improvement within just a few days. Dr. Gustav Lo has more than a decade of experience performing Laser Lift procedures and has restored jawlines for over a thousand patients in Northern Michigan.
FaceTite by InMode also tightens facial skin without surgery with results that lasts five years or more. When combined with liposculpture or liposuction, permanent fat reduction under the chin and in the jowls is achieved. The primary difference between Laser Lift and FaceTite is the energy. FaceTite is a radiofrequency (RF) treatment instead of laser treatment. There are important but subtle differences which is why we offer both FaceTite and Laser Lift in Petoskey, Traverse City, and Naples.

Laser Lift Before & After Photos at
Cosmetic Skin & Laser Center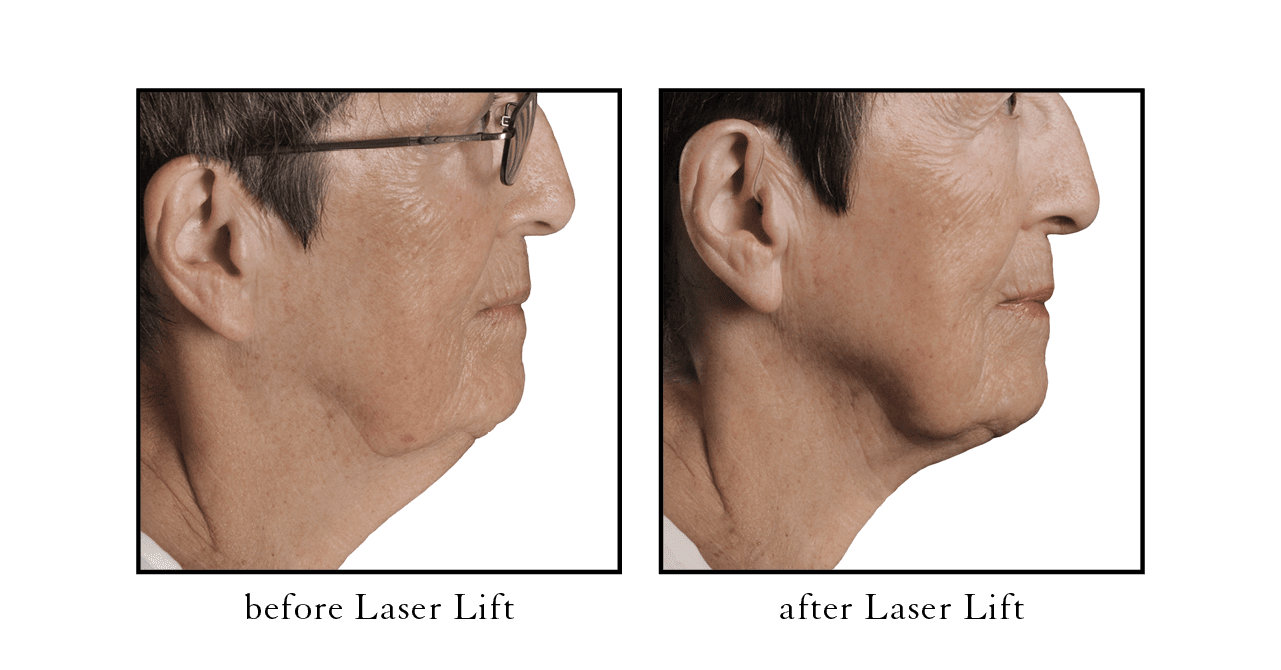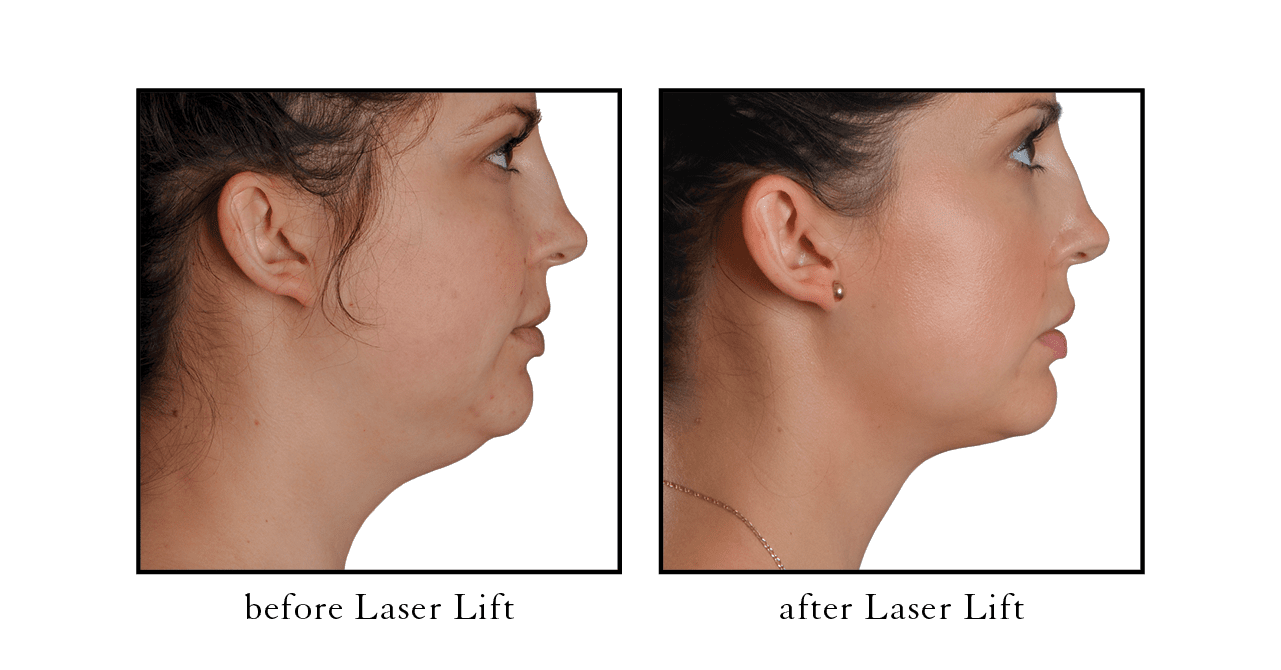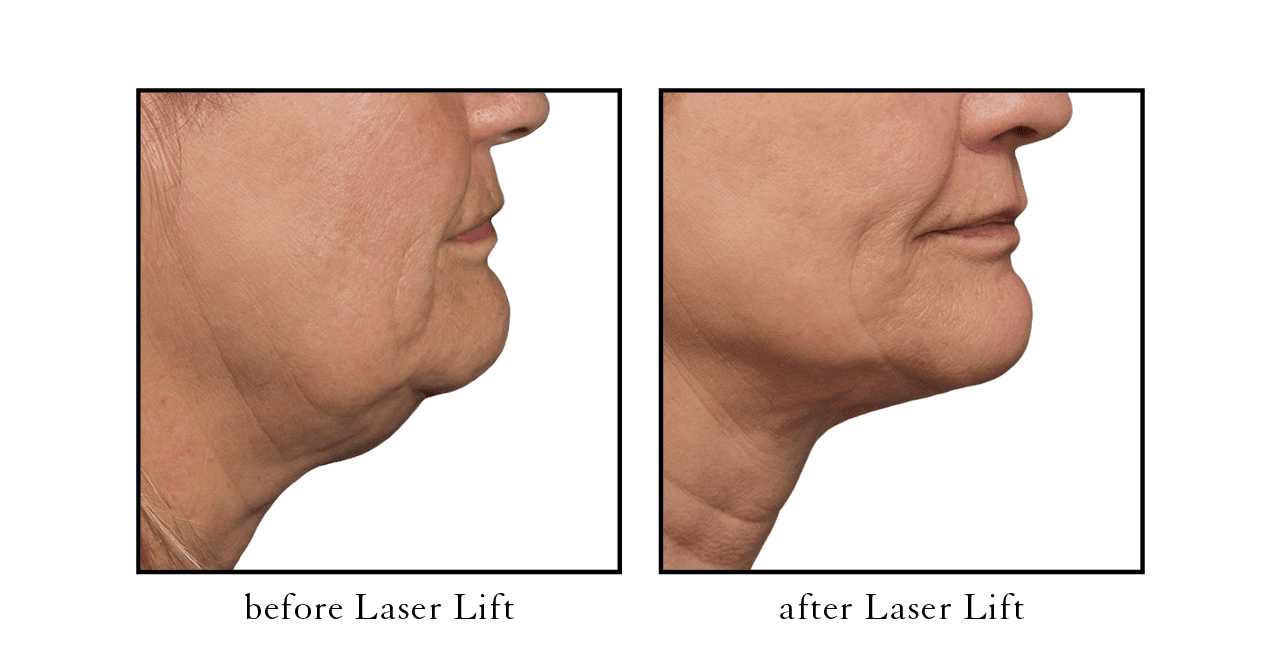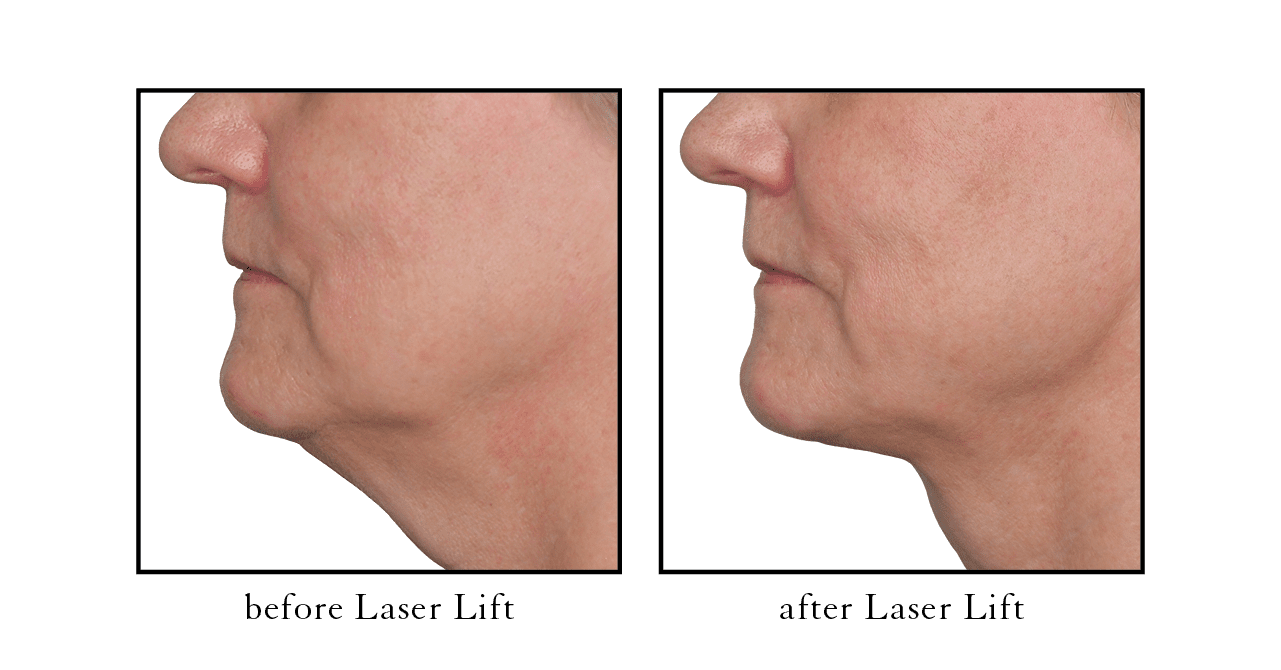 "I love everything about my experience at Cosmetic Skin & Laser Center! The staff displays professionalism, knowledge and good old kindness! Dr. Lo and Courtney lead by example – they are personable and engaging. Plus… I look AMAZING after having a laser lift. Just call, you are worth it!"

Laser Lift Frequently Asked Questions
Many patients don't want plastic surgery but still want to tighten and lift facial skin. A "nonsurgical facelift" combines treatments to achieve a natural but noticeable result that is long-lasting. At Cosmetic Skin and Laser Center, we customize your nonsurgical facelift depending on your concerns, goals and expectations. Commonly performed treatments for the nonsurgical facelift include Sculptra for volume loss, dermal fillers, thread lifts, Laser Lift or FaceTite, and/ or CO2 laser resurfacing. We proudly specialize in nonsurgical facelifts.
Laser Lift is a minimally invasive procedure used to reduce fat and tighten skin on the face and neck. Laser Lift is often referred to as Lazerlift for marketing purposes.
LazerLift or Laser Lift is laser-assisted liposuction on the face and neck with the Cynosure Smartlipo Triplex laser. The Laser Lift treatment takes about 45 minutes. During Laser Lift, the laser heats beneath the skin and liquifies the fat layer. Then, gentle suction is used to remove the fat. Laser Lift dramatically reduces fat under the chin and can turn the clock back by 10 years.
Liposuction under the chin is permanent and skin tightening lasts 5-10 years.
FaceTite is a minimally invasive radiofrequency treatment that tightens skin on the jawline, neck, and under the chin.
FaceTite simultaneously heats both the external and internal tissues for dramatic skin tightening. FaceTite is often performed as a facelift alternative or a "no scar" facelift.
After FaceTite, patients may be required to wear a compression wrap for up to a week. FaceTite may be performed with simultaneous liposuction under the chin. FaceTite results are visible within a few weeks and the best results are at 6 months.
FaceTite is a minimally invasive radiofrequency treatment that is used as a "facelift alternative". It contracts skin by up to 40% by heating external skin and internal tissues simultaneously. FaceTite results last years.
AccuTite is the smallest most precise radiofrequency skin tightening device.
AccuTite by InMode is used to tighten small areas of the face, neck, and body. AccuTite is commonly performed on nasolabial folds, jowls, under the chin, and bra fat. A minimally invasive skin tightening procedure, it is performed with tumescent or local anesthesia. Liposculpture may be performed to remove fat after the AccuTite heats the skin with radiofrequency which results in skin contraction and tightening.
After AccuTite, compression may be required and some bruising is expected. The best results from AccuTite are at 6 months post treatment.
AccuTite reshapes and contours: bra fat, tail of spence, nasolabial folds, hanging elbow skin, and loose skin under the chin.
Liposculpture or mini lipo may be performed with AccuTite.
Dr. Gustav Lo has treated many patients who have already had a surgical facelift and want tighter skin on the neck and face.
Patients who've already had plastic surgery can use FaceTite or Laser Lift treatment to restore tightness and lift without going through another invasive surgery. We can discuss your concerns at a complimentary consultation for skin tightening in either Petoskey or Traverse City offices in Michigan or our Naples or Boca Grande offices in Florida.
Yes! Laser Lift is one of the few procedures that can restore a "V-shape" to the face. Unlike other treatments for jowls and double chin (CoolSculpting, Kybella, etc.), Laser Lift also tightens the skin. Patients who have a round face can achieve a slimmer-looking jawline with Laser Lift.
A person with extreme skin laxity and significant drooping in the jowl and neck area may be a better candidate for a surgical facelift. Prospective patients should book an introductory consultation to determine whether or not they're a good candidate for Laser Lift treatment.
There isn't an age that is too old. And as people age, they tend to want to avoid the risks of plastic surgery. At Cosmetic Skin & Laser Center, we've performed Laser Lift and FaceTite on people in their 80's successfully. Every case is unique, of course, so skin tightening consultations are complimentary in either of our Traverse City or Petoskey northern Michigan locations and our Naples and Boca Grande Florida locations.
The results of a successful Laser Lift treatment can last for five years or more. At Cosmetic Skin & Laser Center, we have patients who are still happy with their Laser Lift results 12 years later. Because Laser Lift permanently eliminates fat cells in the face and jowl area, it's considered one of the longest-lasting treatments in facial rejuvenation. Patients can help maintain their Laser Lift results by participating in annual Ultherapy or Morpheus8 treatments, which also tighten and smooth the skin on a person's face and neck.
After treatment, patients are sent home with a medical ace wrap. Patients should wear this wrap for 72 hours following the procedure, and then at night for another four nights. Most patients can return to work after one weekend of rest (versus the weeks of painful recovery following a traditional facelift). 
Patients should wait at least 24 hours following the procedure before washing their face. 
Most patients notice skin tightening quickly. Within days, they see improvement in volume and they see continued tightening for six months to one year following the procedure. At Cosmetic Skin and Laser Center, we do follow up appointments for FaceTite, Laser Lift, and our nonsurgical facelift patients in Petoskey, Traverse City, and Naples at no charge. Most of the before and after photos of FaceTite or Laser Lift in our gallery were taken around 3 months.
Ready to get started?
Book a free consultation today!