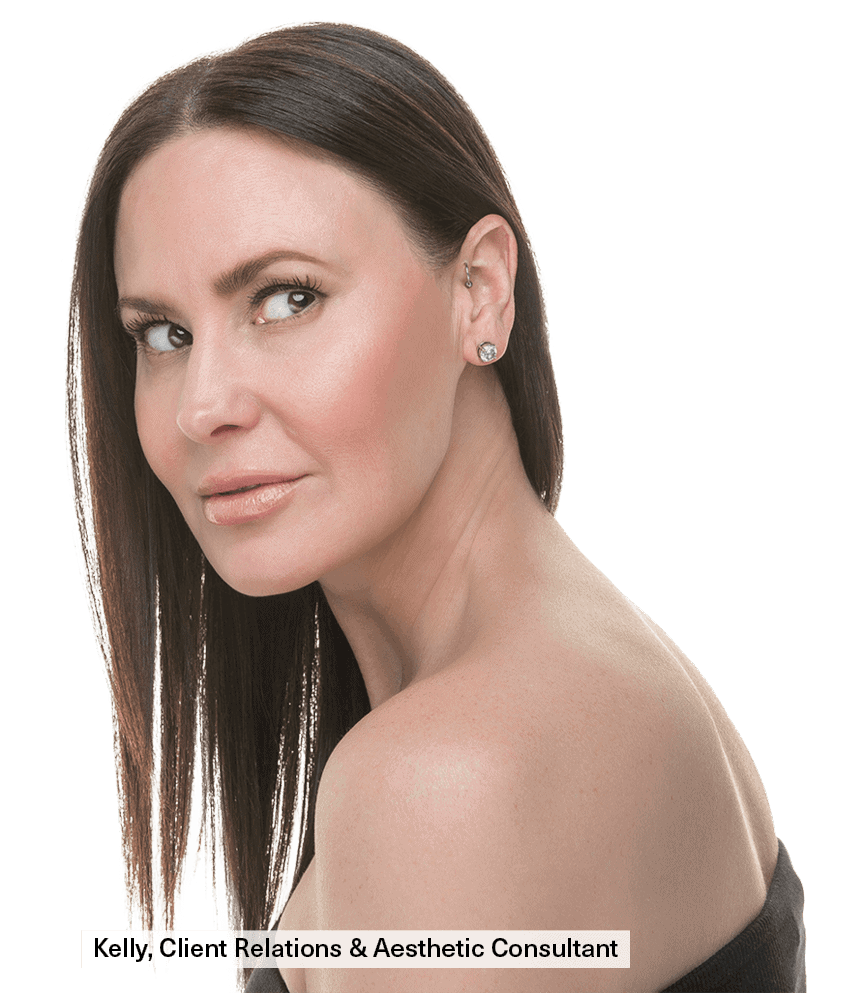 What we tell our patients: Evoke is a groundbreaking treatment that slims, sculpts, and tightens the lower face and jawline. It restructures adipose tissue and tightens skin on the lower face and under the chin with zero pain and zero downtime. A patient favorite!
Evoke is a non-invasive facial remodeling technology that uses radiofrequency energy to lift and tighten skin. Over time and with a series of treatments, the radiofrequency energy internally contours and restructures skin and fat tissue in targeted areas like cheeks, jawline and the under-chin (submental) area.
Evoke heats the skin and underlying tissues over a few minutes and then maintains the temperature constantly throughout the entire treatment. At this temperature Evoke stimulates new collagen production and tightens skin at the cellular level. Evoke can also be customized to destroy fat in the jowls and under the chin for a more defined jawline.
The steps of Evoke skin tightening in
Traverse City, Petoskey, or Naples
Come in for a complimentary consultation. Our aesthetic consultants will personalize your plan and help choose the best treatment to slim your jawline or reduce skin sagging or fullness under the chin.
Schedule your appointments. Evoke treatments are scheduled about every week for 3-6 weeks. Treatments take 30-45 minutes. Most patients say their skin looks tighter immediately. The skin relaxes after 24 hours and then wait for the results.
How long do Evoke results take? The results are most visible at 3 months – that's when you notice a more defined jawline and slimmer lower face. And then you get Evoke treatments as needed for maintenance.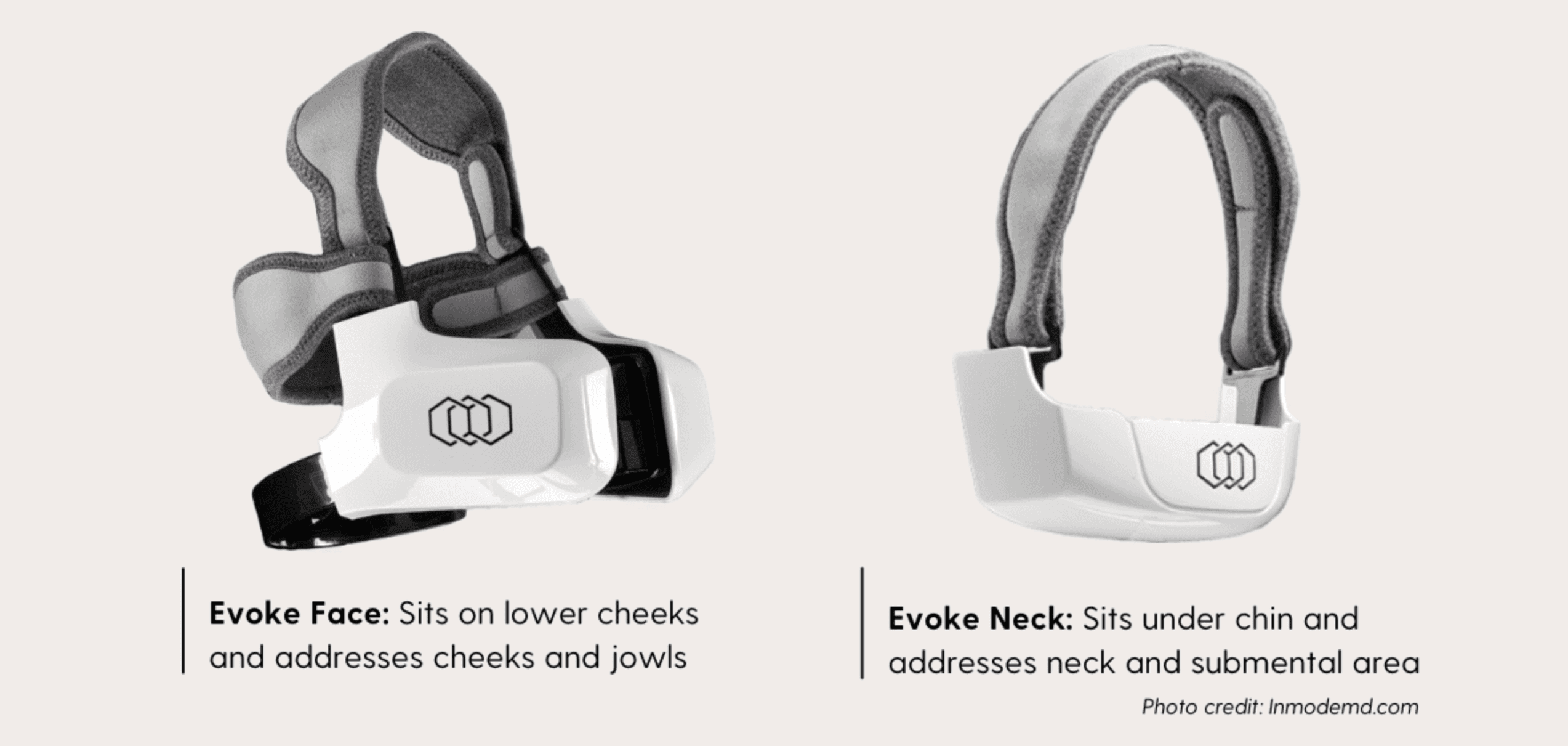 Ways to tighten skin without a facelift
The easiest way to slim and firm your jawline.
- Best for mild skin laxity
- 3-6 treatments
- No downtime
- Hands free
- ZERO discomfort
- Moderate skin tightening
- Reduces fat
Ultherapy is a noninvasive cosmetic treatment using ultrasound technology to lift, firm, and tighten skin. This one time treatment is popular on the upper face, full face, chest, and even body. Evoke is a radiofrequency treatment is performed in a series specifically to firm and slim the lower face and/or the submental fullness (under the chin). We offer Ultherapy and Evoke in Traverse City, Petoskey and Naples Florida.
 The Cosmetic Skin & Laser Center advantage
With age, we all battle a fuller lower face. Evoke is often our treatment of choice to slim and slenderize the lower face. But one advantage of our medical spa is that we have multiple treatments for skin tightening. There are benefits and downfalls to them all. Our goal is help you get the results you desire. So if you're debating between Ultherapy, Morpheus, FaceTite, Coolsculpting or Laser Lift, we encourage you to come in. We have them all and we can help you invest wisely. It's complimentary and it's fun! We're in this together.
Evoke is an advanced treatment that is performed topically on the skin to tighten and destroy excess fat. Evoke can be performed in two areas: the lower cheeks or under the chin and it has no downtime. Morpheus8 is a radiofrequency microneedling technology that can be performed on the face, neck, or body to firm and smooth aging skin. After a Morpheus8 treatment, the skin is dry and pink for 2-3 days. Topical application of PRF or PRP speeds the healing process.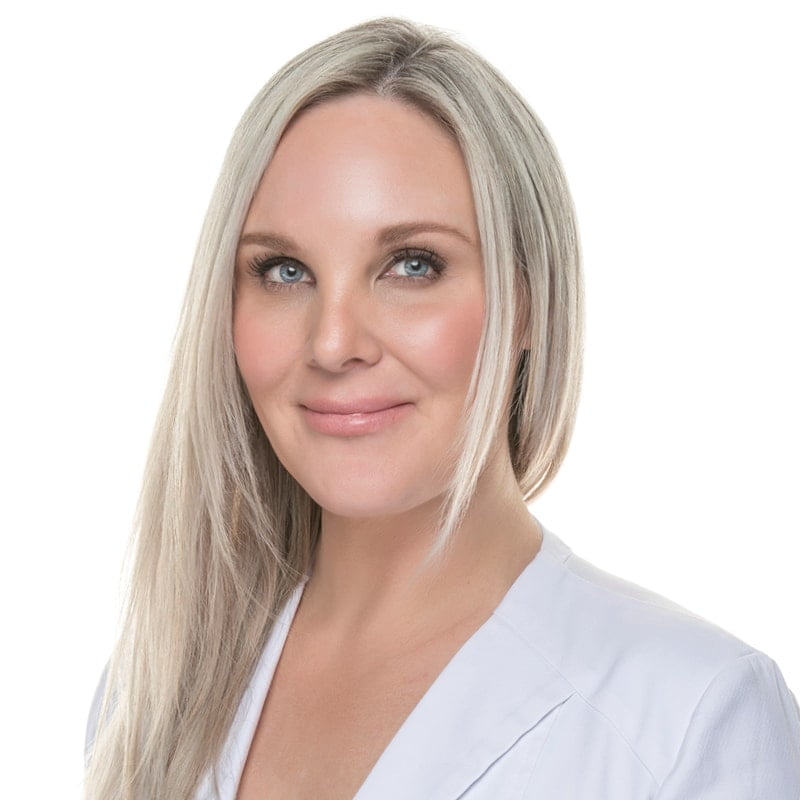 "Evoke is the most exciting jaw slimming technology to date. Our patients start to notice laxity in their 30s and this is the most effective noninvasive way to snatch the jawline. We have multiple patients who bring their computers or a book and relax through the treatments – and they leave looking better!"
Jette, CSLC Master Injector and Provider
"So professional with result driven treatments. I really cannot say enough good about the practice and staff!"

Evoke Frequently Asked Questions
Evoke is better than CoolSculpting. Evoke is a cosmetic treatment that reduces fat under the chin and in the lower face and simultaneously tightens the skin.
CoolSculpting permanently reduces fat under the chin but it does not slenderize the lower face or tighten skin. Cosmetic Skin & Laser Center offers CoolSculpting Elite and Evoke. As technology has advanced, we rarely recommend CoolSculpting instead of Evoke. 
Evoke is better than Kybella if patients want both fat reduction and skin tightening. And Evoke has no downtime, no bruising, and no swelling. In fact, patients look immediately better after Evoke treatments. Kybella permanently destroys fat under the chin but it doesn't tighten the skin. At Cosmetic Skin & Laser Center, Kybella is rarely recommended over Evoke. 
Evoke is better for patients who want moderate skin tightening with no downtime. FaceTite is better for patients who want maximum skin tightening and can plan 3 days of social downtime. Dr. Gustav Lo offers FaceTite in Naples, Traverse City, and Petoskey. 
Evoke is offered in Petoskey and Traverse City, MI and Naples, FL by our talented and welcoming Cosmetic Skin and Laser Center aesthetic providers.
No! Not one bit. InMode Evoke is a completely pain-free treatment for the face and neck.
In our experience, Morpheus8 generally helps acne and acne scarring. Unlike microneedling, Morpheus uses radiofrequency (RF) combined with the physical injury caused by the microneedles.
Think of it this way: Microneedling works like a roller, whereas Morpheus8 penetrates the skin like a single stamp.
After the gold-coated pins (microneedles) penetrate the skin and create controlled micro-wounds, RF (via heat) is released into the skin. This double mechanism of action stimulates collagen for tighter, smoother skin and injures the pilosebaceous unit to reduce active acne. As the skin heals, it stimulates collagen and the integrity and structure around the scar improve.
After a series of four treatments, many report improvement in active acne (even deep cystic jawline acne) for years to come. Commonly, a single Morpheus8 treatment offers overall anti-aging benefits and reduced scarring. We see cumulative and more dramatic results with a series of three to four monthly treatments.
Our aesthetic experts say the best completely pain free, no downtime and results driven treatments for maintaining a refreshed appearance are Hydrafacials with dermaplaning for refreshed and glowing skin, Venus or Forma facials for collagen stimulation, ThermiSmooth for crepey wrinkled skin around the eyes and Evoke for jawline tightening. Cosmetic Skin & Laser Center offers dermaplaning, Hydrafacials, Forma, Venus and ThermiSmooth in Petoskey, Naples and Traverse City.
Ready to get started?
Book a free consultation today!