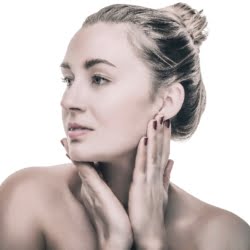 If you're familiar with us here at Cosmetic Skin & Laser Center, you know that we can address facial rejuvenation in the categories of tone & texture, wrinkle smoothing, replacement of lost volume, and skin tightening. But while wrinkles, brown spots, and lost volume can be treated with existing procedures, until now there hasn't been a minimally invasive way to lift the deeper layers of skin, which contributes to an aged or tired appearance.
NOW, with Instalift, we offer the first minimally invasive way to target and create lift within DEEPER layers of skin for a more youthful appearance without undergoing the pain, danger, or recovery time of a facelift.
During the 45 minute, in-office procedure, Dr. Lo will use sutures with bidirectional cones to reposition and elevate the skin on your face for a more youthful and contoured appearance. And even better, you'll get results immediately and with minimal downtime.
Over time, the sutures will be naturally absorbed by your body while stimulating collagen at the same time.
Interested in Instalift or have any questions? Call us for a consultation – they are always complimentary.