InMode Morpheus8: The Treatment of Choice for All Ages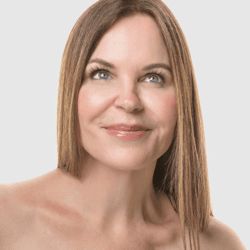 Why is Morpheus8 the skin tightening treatment of choice for celebrities, grandmothers and millennials alike?
Because it's the easiest, most effective way to achieve younger looking skin without injections or downtime (ok, maybe a little pink skin for 2-3 days). This treatment is THE most versatile aesthetic treatment by far and can be customized not only to take a few years off faces but to firm lax tummy skin, neck skin, aging knees and even to reduce fat under the chin. And when we combine Morpheus8 with Morpheus Resurfacing, we can treat those imperfections at the skin surface (the fine little details) and leave skin with a fresh radiant glow.
What kind of results can I get with Morpheus?
Morpheus is my treatment of choice this year…in fact I've had it on my face, neck, chest, hands, and knees. And on my 2nd treatment I added in Morpheus Resurfacing and was amazed at the additional results and surprised that there was hardly any more redness. What do I notice? My skin is smoother and bouncier. I literally feel like I can feel the collagen improvement in my skin (although I don't really know if that's a thing!). I notice it most on my neck. Neck skin is tough to treat because it's so much thinner than facial skin and Morpheus has made a nice improvement in the lines and loose skin. Patients like Morpheus for contouring skin everywhere – from smoothing backs of thighs to jawlines. One treatment is helpful and a series of 3 offers the most dramatic change in skin.
What is Morpheus8?
Morpheus8 combines the power of microneedling and RF (radiofrequency) heat to transform any skin – nearly anywhere. Deeper settings treat fat and transform jowls, bra rolls, and lax abdominal skin, medium depth stimulates collagen in the dermis, and the most superficial setting – Morpheus Resurfacing – leaves skin smoother and more radiant. So Morpheus8 is great but combining Morpheus8 with Morpheus Resurfacing treats all layers so we can tighten, reduce fat if necessary, and smooth all in one 45 minute treatment.
Does it hurt?
The description of Morpheus sounds painful but the treatments are comfortable using a combination of Pronox laughing gas and an awesome topical anesthetic which are included with your treatment. We've got this covered! Want to see a treatment? Watch a treatment on instagram…. Guess where Morpheus doesn't hurt? Down there! Yes, we do Morpheus vaginally with MorpheusV and there's no Pronox required. And the results are AMAZING for bladder control and bedroom pleasure.
What Are The Benefits Of Morpheus8 RF Microneedling?
– Improves skin tone and texture
– Induces collagen production
– Reduces wrinkles, fine lines, acne scars, and stretch marks
– Improves active acne – yes really!
– Versatile – can be used almost anywhere – face, neck, and body (and MorpheusV transforms vaginal skin)
– Little to no downtime
– Safe for all skin types and tones
– Customizable for smoothing, fat reduction, or tightening/firming (and MorpheusV for vaginal rejuvenation!)
Is there downtime?
In general, there's little to no downtime with Morpheus. The skin is pink when you leave but within 24 hours most can apply a nice moisturizer and tinted sunblock and go about their normal social activities. We do see occasional bruising around the eyes.
Join me on my Morpheus for better skin journey :).
Take us up on one of our complimentary consultations to see if Morpheus is right for you.
Sincerely,
Courtney Lo, Founder and Artistic Director CSLC