The Battle of the Thread Lift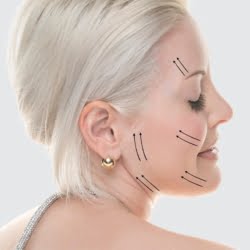 Whether you've been waiting to try threads, or just due for your next perk, there might not be a better time. The next advancement in threads has arrived, and we are stoked about the results! In fact, Dr. Lo, Courtney and Lee have all had them in the last month.
The history of threads:
At CSLC, Dr. Gustav Lo started performing thread lifts in 2016; it was an exciting time because we were already offering Laser Lift with liposuction under the chin. The thread lift gave us an additional tool to lift sagging facial and neck skin and even smooth wrinkles. But the best news is that threads have continued to advance. From Instalift to NovaThreads to the newest advancement – MINT threads.
Why are we so excited about new threads?
We recently upgraded to MINT threads because the lifting power of the barbed MINT threads is better. MUCH better. These more robust threads lift more and last longer than other PDO threads.
How do threads work?
Threads lift and hold skin up by tiny barbs on the suture. Most thread barbs are created by cutting into the thread which actually weakens it. MINT uses advanced manufacturing – the threads are molded, so the "barbs" and the thread are a solid unit. The thread stays intact longer, so the nonsurgical thread lift result with MINT lifts better (since the suture is stronger, we can lift more) and lasts longer (the thread isn't weakened by cuts).
Brands DO matter.
Ultimately, the brand of threads used in thread lifts do matter. And in the hands of experienced providers, thread lifts are an excellent way to lift sagging skin and give you that little perk when everything seems to be falling. If we haven't seen you recently, we hope to see you soon for a little spring refresh and perhaps a spring lift!