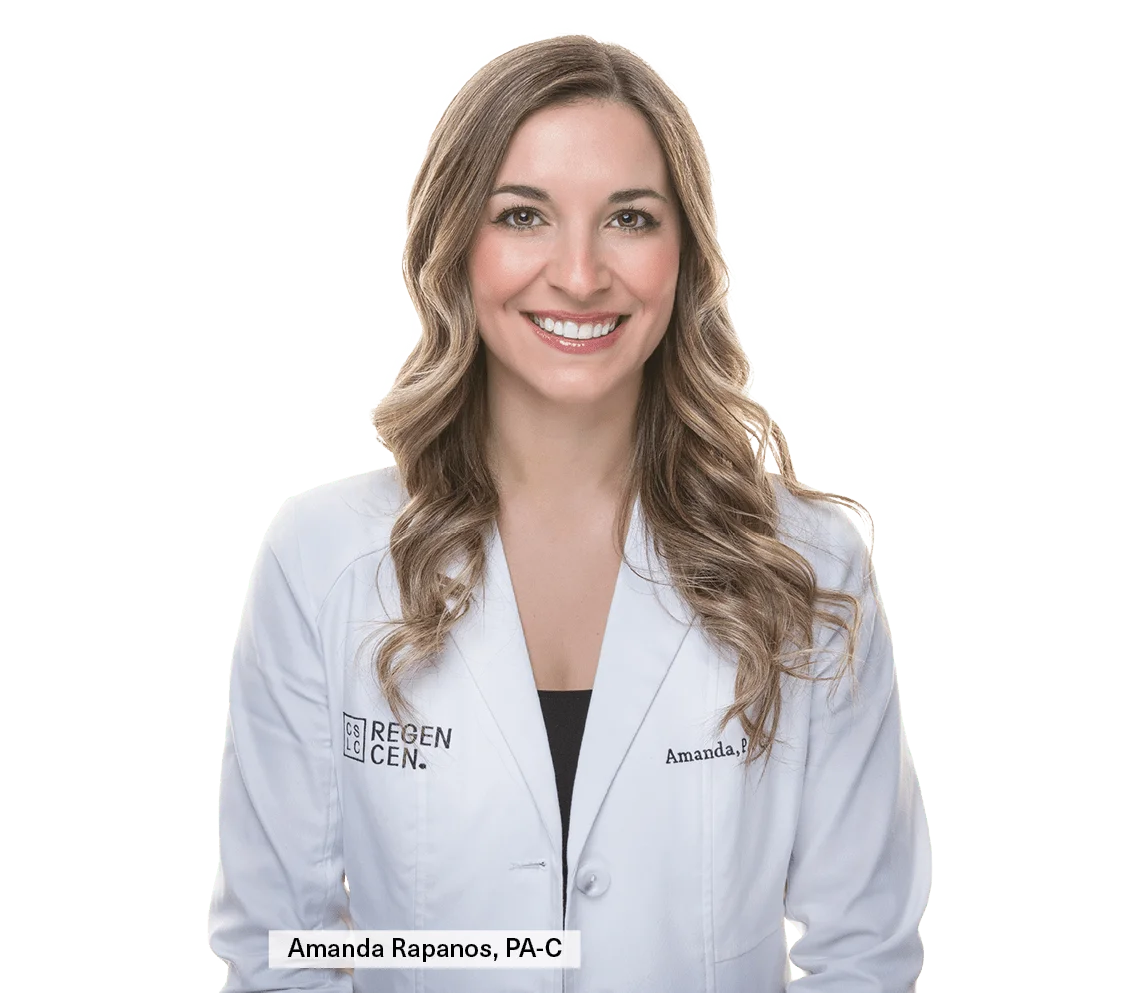 What we tell our patients: Natural Botox results are our niché. Cosmetic Skin & Laser Center is part of Galderma Top 15 Injectors in the nation for injectables (Dysport) and offers the advanced Botox in Naples, FL.
Our Botox injectors are trained in all aesthetic treatments and are committed to helping you reduce wrinkles, forehead lines, eye wrinkles, neck lines, TMJ pain, and hyperhidrosis.
Botox is a very exciting treatment that can help reduce the appearance of wrinkles and fine lines on the face. When injected into the skin, it works by blocking the signals that cause muscles to contract, which in turn helps to smooth out wrinkles and give the skin a more youthful appearance. It's a very popular treatment that can be done quickly and safely, and the results can last for several months. So if you're looking for a way to refresh your appearance and achieve a more youthful look, Botox may be just the treatment for you! It is commonly injected to soften wrinkles on the forehead, around the eyes and between the brows.
Botox is the brand name of a toxin produced by a bacteria called Clostridium botulinum. It has been in medical use for decades and was discovered almost 100 years ago. Based on the specific type used, the toxin has different medical purposes ranging from type A to type G. Type A brand names include Botox, Daxxify, Dysport, Xeomin, and Jeuveau.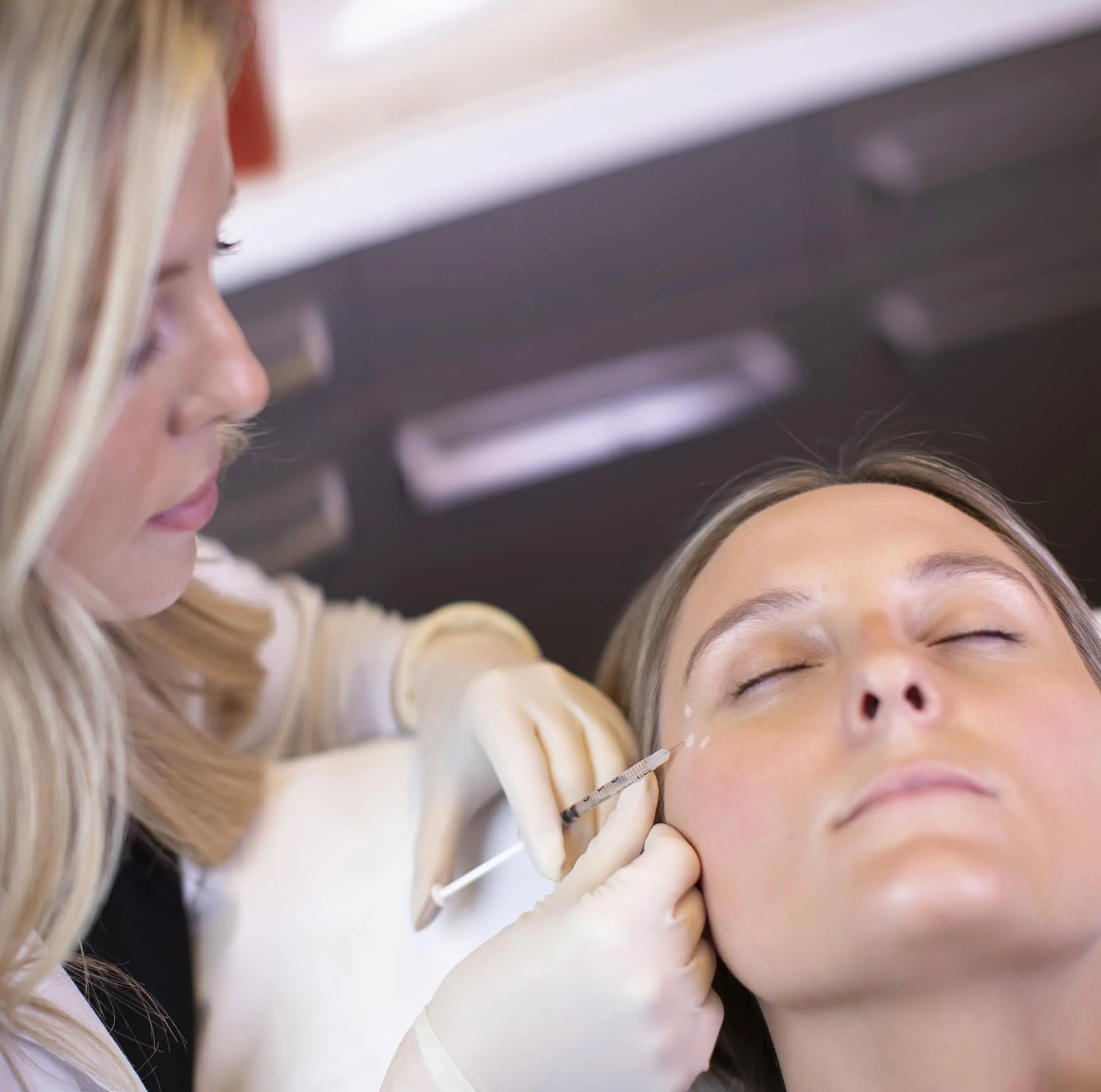 Botox at Cosmetic Skin & Laser Center in Naples
At Cosmetic Skin & Laser Center, you can be assured your Botox treatment in Naples will be personalized and administered by a highly trained injector. Our injectors are committed to natural, beautiful results from Botox injections.
Our Botox injectors in Naples and aesthetic providers have a reputation for being experienced, highly skilled and trustworthy in Botox, Dysport and Xeomin.
Dr. Gustav Lo, Courtney Lo, PA, and their team have attended multiple high level trainings and the skilled injectors are all PAs, NPs or nurses with experience and extensive training.
At our Naples medspa and laser center, we are consistently ranked by Allergan as a Platinum Plus Botox provider in Naples and provide Botox, Daxxify, and Dysport treatments to thousands of patients yearly. They also inject dermal fillers, Sculptra and platelet-rich fibrin (PRF) all day, every day.
Botox appointments in Naples can be booked online or at cslconlinebooking.com or by calling or texting 239.367.7353. Most of the time we can see patients the same day or next. During your visit at our medspa and laser center in Naples, we customize your treatment for any neuromodulator (such as Dysport, Botox, or Xeomin).
Results from Botox are visible within a few days and optimal results are at two weeks. Please call us at 239.367.7353 and see if a Botox appointment is available with top Botox providers in Naples.
What happens during a Botox appointment?
Prior to Botox treatment in Naples, your experienced provider will do a thorough consultation. During your consultation, you will discuss your concerns, budget and goals with the provider.
Botox treatments take around 15 minutes. Results from your Botox will appear gradually in 5-7 days. We live in a world where medspas are opening up on every corner, but our 20+ years of expertise and experience will put you at ease.
The steps of Botox treatments:
Assessment by a skilled injector
Photos and consents
Injections take 10-15 minutes
Gradual results set in
Recheck in 2-3 weeks
Our experienced, Platinum Plus Injectors in Naples at Cosmetic Skin & Laser Center aim for natural results with each patient. Botox treatment results set in gradually and fade away gradually. To maintain results, Botox injections are performed every 3-4 months and sometimes even 1 or 2 times a year. Consistency helps slow down and soften wrinkle formation. Most Botox injections result in little to no visible bruising, however some may experience occasional bruising at the injection site.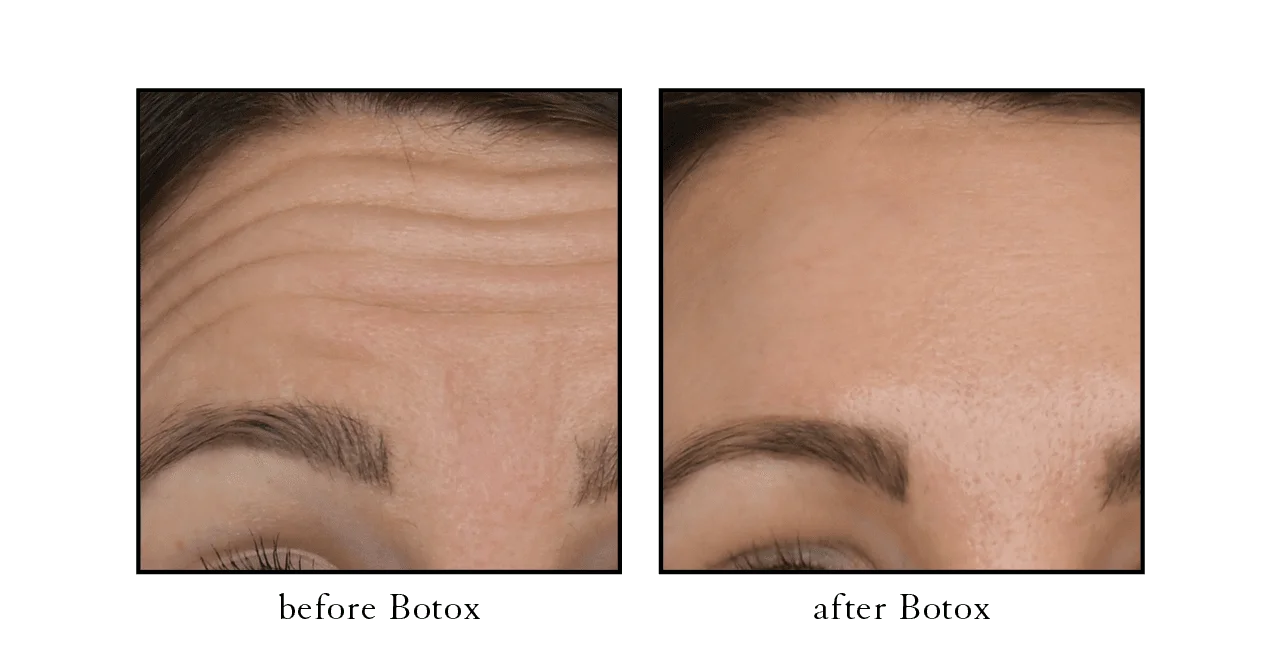 Booking your Botox treatment in Naples is easy! Book online or text or call 239.367.7353 to schedule.
Can Botox and dermal fillers be done at same appointment?
Yes. Botox and dermal fillers are commonly performed at the same treatment visit in our Naples location. Botox injections smooth lines of expression and provide you with a rested look while dermal fillers are used to replace lost volume (aka Liquid Lift) in the face, reduce the bony, veiny appearance in hands and smooth deep lines.
Cosmetic Skin and Laser Center provides advanced Botox treatments:
Botox is most often used to reduce the appearance of wrinkles. Other common uses for Botox injections include improving or treating:
How does Botox reduce the appearance of face wrinkles?
Botox injections disable the facial muscles and areas of expression that cause wrinkles. Common areas are frown lines between the eyes, and crow's feet (which are the wrinkles at the corner of your eyes). Cosmetic Botox injections in Naples block the nerve signals in the muscles, and this does not allow the muscles to contract. 
Once the area is injected with Botox, the muscle is paralyzed and the wrinkles, or so-called "dynamic wrinkles," are soley present when the muscles contract. 
How effective is Botox? Botox injections in Naples, Florida are very effective, especially in areas such as the corner of the eyes and the wrinkles around the cheeks and mouth.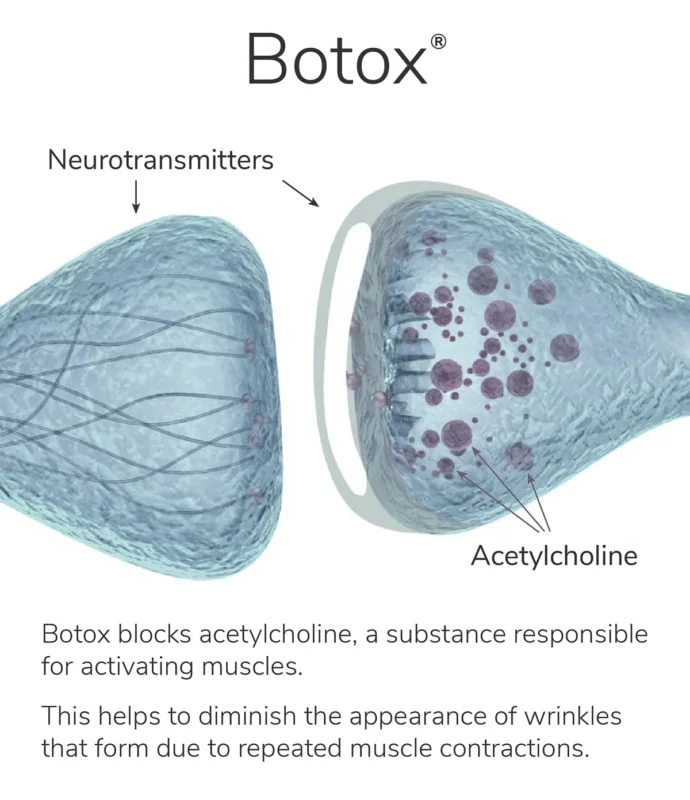 What are the most common Botox areas and benefits?
Botox helps soften lines from areas of expression in the neck and face, relaxes platysmal bands, and turns up a downturned mouth. Botox injections in Naples helps with gummy smiles, skin rejuvenation, underarm sweating, and puckered chins. Are you looking for a fuller-looking upper lip without the use of filler? You need the Botox lip flip in Naples.
Forehead lines
Frown lines
Crows feet
General wrinkles
Neck, lips, chin
Creates natural lift around the brow
Softens fine lines and wrinkles
Pain-free injections
Results last 3-4 months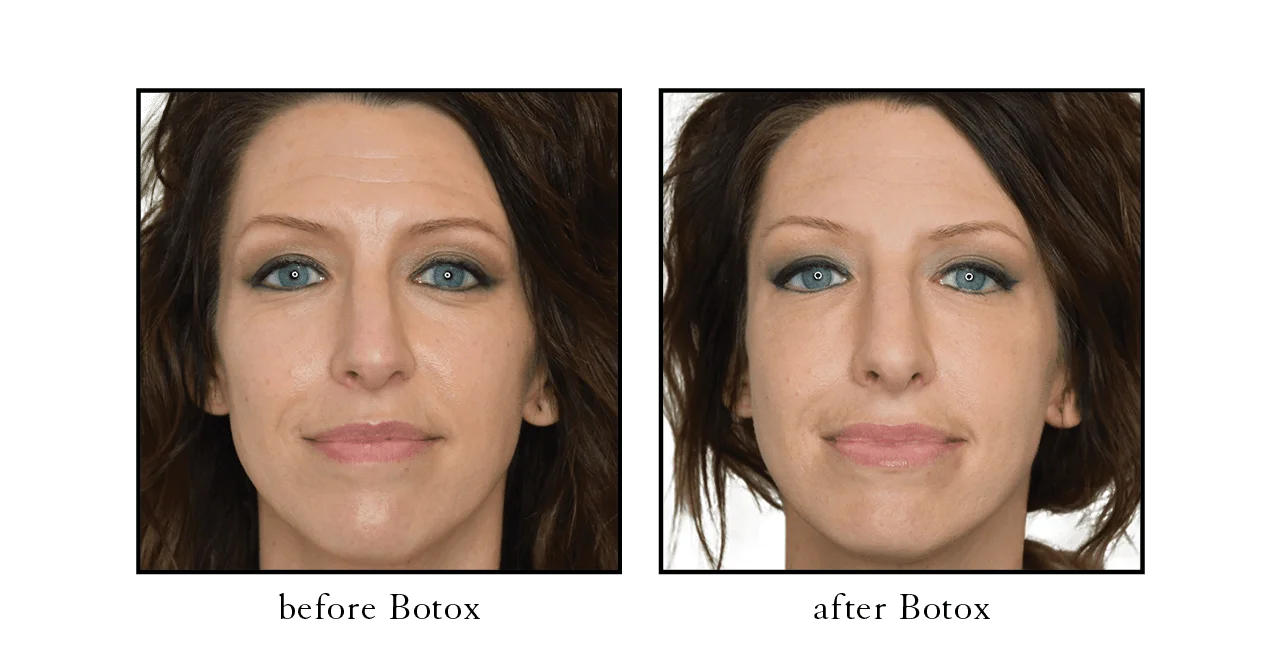 Dysport and Daxxify in Naples – of course!
Botox and Dysport are both well known brands of neuromodulators. Dysport is the most cost effective Botox injection brand, and it diffuses more than other brands. Daxxify is the newest neuromodulator which can last up to six months. At CSLC, we are not loyal to one brand of Botox injection. We inject both Botox and Dysport in Naples, Florida. Dysport and Botox have the same benefits and at your appointment, the provider will discuss the many benefits of both.
 Downtown Naples location for Botox
Cosmetic Skin & Laser Center provides Botox in Naples, FL at 700 2nd Avenue North. We are nearly next door to Wynn's grocery and across from the hospital.
From the north or south, take US-41 to the intersection with 2nd Avenue North. Turn east onto 2nd Avenue North and continue for about three blocks. The location will be on your right, just before the intersection with 7th Street North.
If you're coming from the east, take 5th Avenue North west until you reach the intersection with US-41. Turn left (south) onto US-41 and continue for about one block to the intersection with 2nd Avenue North. Turn right (west) onto 2nd Avenue North and continue for about three blocks. The location will be on your left, just after the intersection with 7th Street North.
The location is in a central area of Naples and can easily be accessed by car or public transportation. If you have any difficulty finding the location, feel free to contact us.
Botox Naples before & after results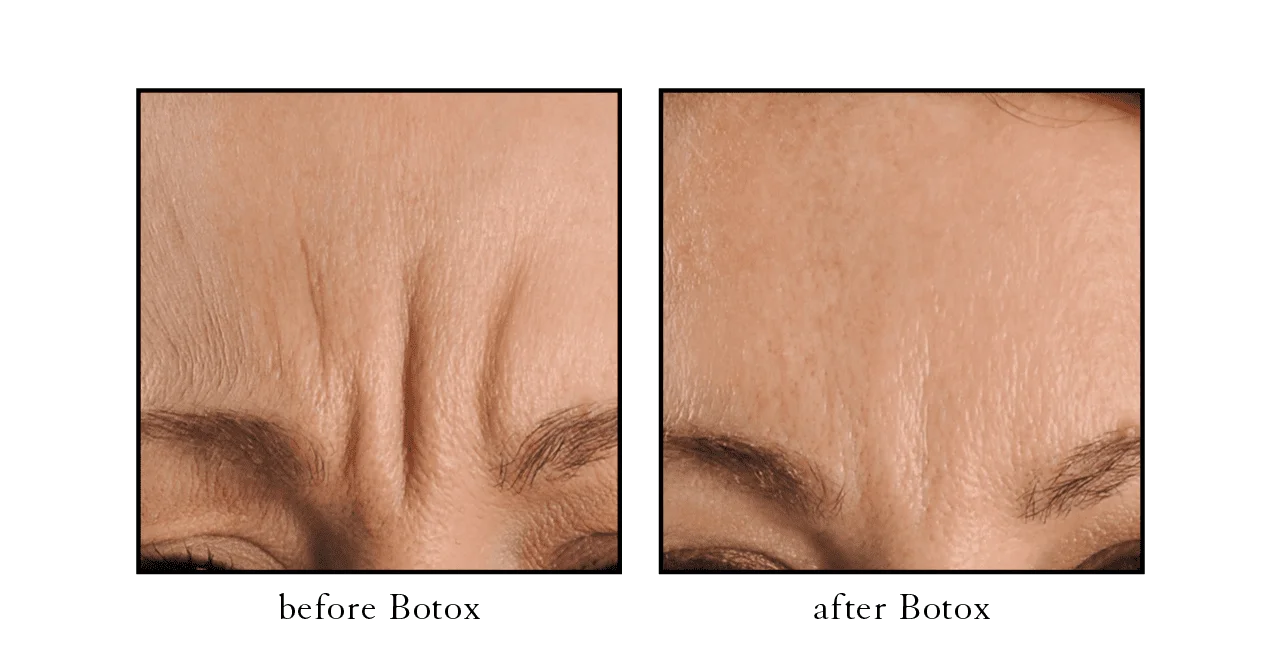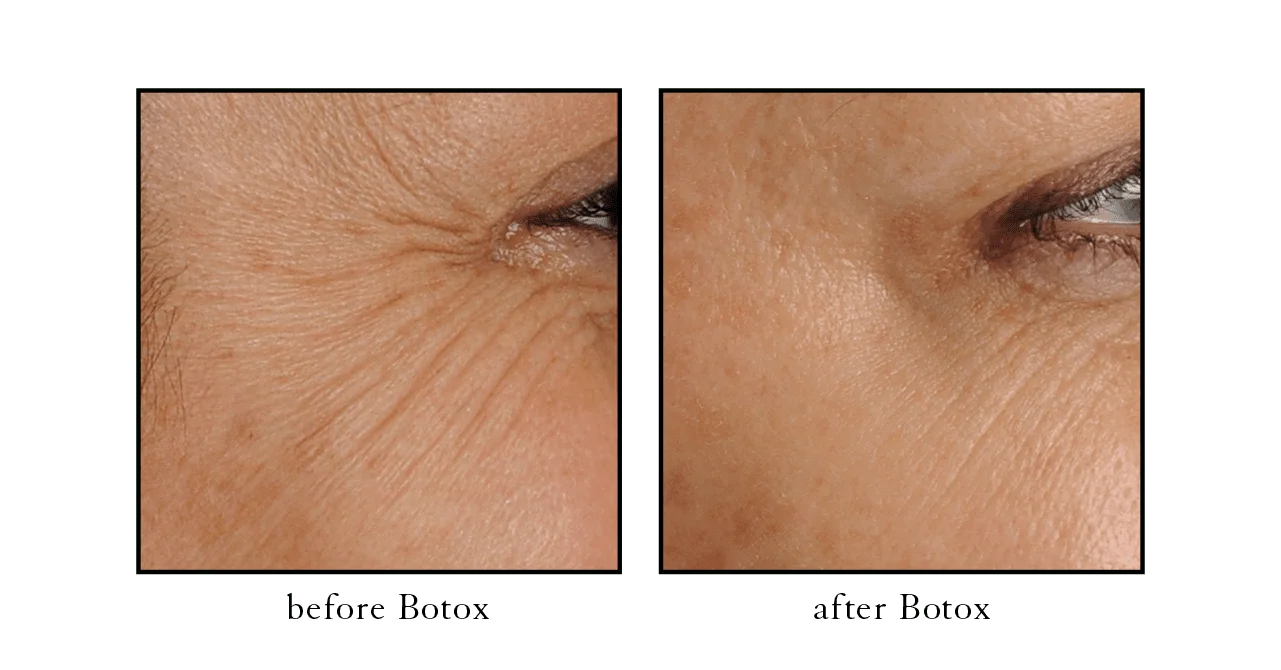 "Neuromodulators are the 'hair color' of aesthetics. There's no better pick-me-up and at Cosmetic Skin & Laser Center we guarantee a naturally refreshed result."  
René, RN and Injection Specialist
Experienced and Skilled Providers: Our team of licensed and trained professionals is highly experienced and skilled in administering Botox injections. We use the latest techniques and safety measures to ensure that our patients receive the best possible care and results. We attend workshops, have national leading trainers come in and work together as a collaborative team to make sure you are receiving the best possible outcomes.

Personalized Treatment Plans: We are warm, understanding, mature human beings and understand that every patient is unique, with different concerns and goals. That's why we create personalized treatment plans for each patient, tailored to their specific needs and preferences.

Safe and Comfortable Environment: At Cosmetic Skin and Laser Center, we take every precaution to ensure the safety and comfort of our patients. Our facilities are state-of-the-art, and we follow strict safety protocols to minimize any risks.

Results: We all have Botox or Dysport and you can see live, natural results in addition to our before and after botox pictures.

Positive Patient Reviews: Our patients have consistently given us positive reviews, highlighting our friendly and professional staff, high-quality care, and excellent results.
For most patients, Botox injections last 3-4 months. However, some Botox results may last up to 6 months. At Cosmetic Skin & Laser Center in Naples, some patients believe one brand of Botox injection lasts longer than others, or has a faster onset of action. Each patient's anatomy is unique, and that is why our providers will discuss options with you during your consultation. 
At Cosmetic Skin & Laser Center, the cost of Botox injections in Naples, Florida is always a common question. 
The cost of Botox varies based on the number of units used and the areas treated. Our Platinum Plus Botox providers in Naples will discuss the cost of Botox during your complimentary consultation. Cosmetic Botox treatments can start at the price of $150 and go up from there.
A "neuromodulator" is a term that describes a category of natural substances that affect nerve function. These substances can include dopamine, acetylcholine, and serotonin, or medications. 
In aesthetic medicine, neuromodulators relax the facial muscles and soften lines by restricting the muscles from contracting. Neuromodulators in Naples at Cosmetic Skin & Laser Center erase and reduce wrinkles, improve facial contouring, decrease oil production, and provide a refreshed, younger appearance. 
Neuromodulators (such as Botox) are different from dermal fillers, which are gel-like substances that restore facial volume. Dermal fillers also help reduce the appearance of fine lines, facial wrinkles and folds in the skin.
Good Botox injections in Naples, Florida do not make you look different than yourself. After Botox injections, you'll look refreshed with softer lines and have smoother skin. 
Results from Cosmetic Botox last about 3-4 months and take two weeks to fully set in. 
Yes. At CSLC most of our patients get dermal filler and Botox at the same appointment in Naples, Fl. Dermal filler elevates sagging cheeks, improves under-eye hollowing and fills deep lines. Whereas Botox injections soften wrinkles by relaxing the facial muscles. 
The Physician Associates (PA's) and Nurses in Naples at Cosmetic Skin & Laser Center use four popular brands of Botox injections: Botox, Dysport, Daxxify, and Xeomin. 
Several patients in Naples submit rave reviews about Dysport: a newer Botox injection brand that spreads easily and covers more space in the area it's injected. Additionally, patients have experienced faster results with Dysport in Naples.
Daxxify is the newest neuromodulator on the market with long-lasting results (up to six months). You don't have to choose - we'll help you decide the best product for you. 
Botox injections, or neuromodulators relax your muscles for months. At CSLC, Botox injections in Naples are used to reduce wrinkles and fine lines in the face. 
Our Platinum Plus Botox Providers inject Botox daily for brow lift, lip flip, neck rejuvenation, and TMJ. 
Yes, Botox is a type of neuromodulator in Naples. When using the term "neuromodulator" in aesthetics, it refers to botulinum toxin A. 
Daxxify (or "Daxi") is the newest FDA-approved neuromodulator made by Revance, with results that last up to 6 months. We offer Daxxify in Traverse City and Petoskey, MI and Naples and Boca Grande, FL.
Daxxify cost varies depending on the areas we're treating and the number of units injected. To obtain an accurate Daxxify cost, we recomment having a complimentary consultation with a CSLC provider in Petoskey, Traverse City, Naples, or Boca Grande to go over budget. Your expert injector will customize your treatment just for you.
Daxxify is different from Botox in that it works faster and for a longer period of time—most people will notice a major decrease in movement in two days with Daxxify, versus the usual 5-7 days with Botox. Daxxify, at CSLC, wears off after six months (on average), in comparison to Botox's average of three to four months.
BOTOX®, Dysport, Daxxify, and Xeomin are the top brands of Botox injections.
Botox specialists in Naples Florida will help you choose what Botox injection brand is right for you. Many patients at CSLC experience great results with all three brands. 
Dysport and Botox are both brands of neuromodulators in Naples. Dysport has an improved formula, which results in patients experiencing quicker results. 
Yes. After Botox, you can return to work and/or normal day activities after your Botox treatment in Naples. After injections, you may have some redness and small bruising near the injection site, but it will subside quickly. 
No preparation is needed prior to your Botox injections in Naples, Fl at CSLC. Botox treatments are quick and simple sessions.
Do you want Botox before your wedding or special event? At CSLC we treat several brides-to-be before their wedding day with bridal Botox in Naples. 
Botox injections for brides enhance their wedding day look. At our medspa and laser center in Naples Florida, we recommend Botox injections four-to-six weeks prior to a wedding. This time gives brides settled results and allows time if minor tweaking if desired. 
No, Botox is not painful in Naples at Cosmetic Skin & Laser Center. We've treated thousands of patients over the years and we take every measure to make sure you are comfortable during your Botox treatment in Naples.
Prior to treatment during your consultation, express to the provider if you are concerned about discomfort. Many patients feel nothing more than a small, pinching sensation from Botox. 
Most patients have little to no swelling after Botox lip flip in Naples at Cosmetic Skin & Laser Center. The Botox lip flip is one of the most popular treatments at our medspa and laser center, and swelling is always a common concern.
However, some may experience some minor swelling and redness at the injection site after a lip flip. This minor swelling will subside in a few hours. 
Yes. Botox appointments can be booked online in Naples, Fl. To book online for Botox injections in Naples at CSLC click here www.cslconlinebooking.com.
After Cosmetic Botox in Naples, our Platinum Plus Botox providers will discuss post-care instructions with patients. If there's some minor discomfort, patients may take Tylenol. Patients are advised to not take aspirin or ibuprofen, which may increase bruising. 
Botox injections are very safe and effective. In our 20+ years and tens of thousands of injections at CSLC, we have never seen a severe side effect of Botox injections. However, we do see the occasional bruising from Botox.
Deaths from fake or counterfeit Botox injections have been reported, but it has never been reported from a brand name manufacturer.
Cosmetic Skin & Laser Center offers Botox injections at four locations - Naples and Boca Grande, Florida, Traverse City and Petoskey, Michigan.
-Botox specialist in Naples Florida at 700 2nd Avenue North, Unit 205
- Botox specialist in Boca Grande Florida at 320 E Railroad Ave
-Botox specialist in Traverse City Michigan at 3529 West Front Street
-Botox specialist in Petoskey Michigan at 116 West Mitchell Street
Looking for Botox or Dysport in Naples?
Book a free consultation or Naples Botox appointment today!