How do I find the best dermal filler injector near me?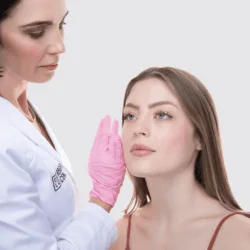 Best tips for finding a dermal filler specialist
If you're new to dermal fillers or your trusted dermal filler specialist is nowhere to be found, you may be wondering, "How do I find the best filler injector near me? And how do I trust a dermal filler injector?"
A skilled dermal filler appointment will enhance your natural beauty. How do fillers work? We all lose collagen and volume as we age, and fillers work by replacing volume where it used to be. They naturally fill in wrinkles, sunken cheeks, earlobes and of course lips.
Will people notice if I have dermal fillers? Aging gracefully is an art. So is the placement of dermal fillers. In addition to experience and advanced training, the best filler injector has an artistic eye and will precisely place small amounts of fillers like Juvederm®, Restylane® and Kysse®.
After dermal filler from an expert injector, you'll emerge naturally you — just better. If fillers still give you pause, check out our before and after gallery to see our natural results, or come see us for a filler consultation in Naples, Petoskey, Boca Grande or Traverse City. Our team at CSLC all have dermal fillers, so you can see real results on team members from 25 on up, both men and women. Many of us have been getting filler for almost two decades.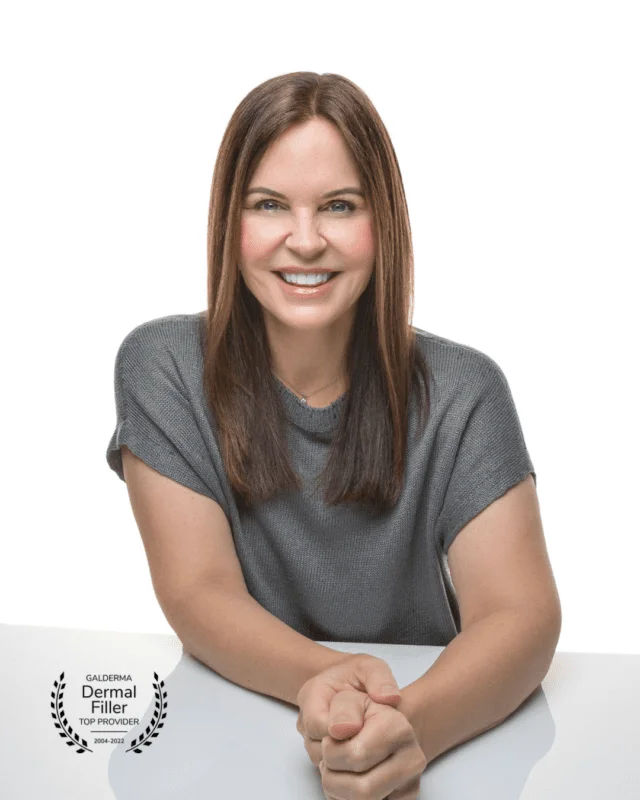 The 3 top reasons to get dermal fillers:
Dermal fillers are used to smooth lines. The best filler for wrinkles and lines depends on the depth of the wrinkle or crease. The top dermal fillers at Cosmetic Skin and Laser Center we inject to smooth lines include Restylane Kysse®, Restylane Refyne®, Restylane Defyne® and Juvederm Volbella®. These are generation two fillers that are soft and flexible, so move easily as you make expressions.
Dermal fillers restore and rejuvenate lips. Lip filler is one of the most popular cosmetic treatments nationwide. The best injector for lips is experienced and comfortable with all the HA fillers. Top injectors are trained on multiple techniques to smooth, enhance or hydrate lips. But most importantly your injector needs to take the time to have a conversation with you about your desired results from lip filler. Many of our patients only want their lip lines softened, with no lip enhancement at all, especially as they age. About half of CSLC lip filler patients want a little plumper pout and line smoothing. And then we have patients who have no lines at all, but simply want bigger lips; for those patients, we place all of the filler in the lip for fullness.
Dermal fillers replace volume and lift sagging skin. The most common reasons we inject filler to replace volume is to lift sagging cheeks, define a jawline, enhance a receded chin, rejuvenate hands and plump earlobes. Common dermal fillers for volume replacement include Restylane®, Restylane® Silk, Restylane® Lyft, Restylane® Contour, Sculptra®, JUVÉDERM® Ultra, JUVÉDERM® Voluma and JUVÉDERM® Vollure.
Other tips when choosing a filler provider in Petoskey or Traverse City, Michigan or Naples or Boca Grande, Florida:
Prioritize experience when it comes to a dermal filler injector.
Why does experience matter? The more frequently an provider injects dermal filler, the more experience they gain. With each patient, dermal filler specialists train their artistic eye and better understand how shape translates to beauty in the placement of the filler. Additionally, a trusted dermal filler specialist understands that each face is unique. At Cosmetic Skin & Laser Center, our providers follow advanced standards of care with safety and state-of-the-art techniques to guide our practice. And they inject dermal filler every single day of the week, several times per day.
Consultations should always be complimentary.
With the variety of treatments available at medspas, many ask, "How do I know which treatment is best for me?" Whether you're new to aesthetics or an established aesthetic client, consultations are so important. A trusted dermal filler specialist understands that it can be overwhelming. Consultations allow you to sit down with the injector and have a conversation to go over all your concerns. During the consultation, a trusted dermal filler specialist will develop a care plan that caters to your preferences, budget, and lifestyle.
At our skin and aesthetics center, we are committed to complimentary, individualized consultations at every visit. Our goal at Cosmetic Skin & Laser Center is to make every client feel comfortable, welcomed, and never rushed. When looking for a trusted dermal filler specialist, always find out if they offer complimentary consultations.
Consistent training and attending conferences is critical.
It is so important that dermal filler specialists stay up-to-date with innovative techniques and improved protocols for injecting dermal filler. Like everything in aesthetics, new techniques are always emerging. Don't you deserve the best? Completing trainings and attending national conferences held by top experts in the aesthetic industry allows our trusted dermal filler specialists to provide the best results for you.
At Cosmetic Skin & Laser Center, we receive extensive ongoing training at national conferences and individualized trainings by Courtney Lo, PA, Gustav Lo, MD, and CSLC clinical trainers. Galderma and Allergan experts and nationally recognized physicians and trainers provide additional, on-site training in the latest advancements in aesthetic techniques and procedures. We have learned first hand injection techniques from:
Julie Horne (@juliehornelips), owner of Julie Horne Academy. Julie Horne holds internationally acclaimed and world famous Lip Masterclasses.
Dr. Shino Bay Aguilera (@shinobay) who has won numerous awards for groundbreaking work at his dermatology and laser institute. He's a world renowned, multi-award winning trainer and speaker for both Galderma and Allergan.
Brittony Croasdell, APRN (@np_britt) is part of an elite group of injectors in the world hand selected by Allergan and Galderma to train MDs, NPs, PAs, and RNs in the technical skills of injectables.
Amy Lynn Plantier, RN (@amybirksrn), founder and clinical director of Glo Derma Aesthetics and Wellness.
Maggie Romano, PA (@the_pa_mag) is a national trainer for Galderma, the company that makes Restylane® fillers and Dysport®.
Lori Robertson MSN, FNP-C (@injectionexpert), national faculty for MINT, Galderma, and GENNow. Lori has a large Instagram following, which has given her a global platform to educate providers on safe and effective injection techniques.
Dr. Richard Swift, MD (@richardswiftmd) is a premiere plastic surgeon in New York. Dr. Richard Swift is a board certified plastic surgeon who offers a vide range of cosmetic treatments and trainings.
Bernice Cohen (@themasterinjector), who has been awarded the Top Global Galderma Trainer and the Top 100 Best Aesthetic Injectors in America.
Client testimonials and Before & Afters must be displayed.
Reading testimonials is a great way to get an understanding of what clients are saying about an aesthetic medical practice. Testimonials should be easily accessible on a med spa or aesthetic center website and Google My Business. In addition to testimonials, the best dermal filler specialist will have a photo gallery on their website and social media platforms. The photo gallery will show before and after photos of the dermal filler specialists' work. The photo gallery helps current and potential clients better understand the results they can expect from the dermal filler and see the specialist work first hand.
Our goal at Cosmetic Skin & Laser Center is to highlight your natural beauty and help you age timelessly with dermal fillers. Here are a few recent testimonials from our clients at CSLC:
"Recently moved to TC and needed a new place to address my skincare needs. This establishment did not disappoint. The staff was extremely friendly, very helpful, and very knowledgeable. Lee did an amazing job addressing my needs. I'm looking forward to working with this business for all my future skincare treatments." -Katherine A., Google Review.
"What a talented and professional staff! I loved hearing about their specials and specific recommendations. It was a completely personalized consultation with no added pressure." -Nancy D., Google Review.
"I have been going to CSLC for years and it has paid off. The staff knows that I don't have an unlimited budget but that it is important to me that I maintain my skin. They guide me to optimal maintenance routines for my skin and never recommend unnecessary procedures. In my experience, the entire staff goes 'one step further' every single time that you visit. It is difficult to find that exceptional customer service anywhere. Couple that with their knowledge and expertise, and why would I go anywhere else." -Jill S., Google Review.
Click here to read more client testimonials or view our dermal filler gallery. For 20+ years, we've been regional market leaders in dermal fillers. By combining treatments and innovative techniques, we achieve ideal results. For dermal filler, Cosmetic Skin & Laser Center has been awarded:
#1 Restylane provider in Michigan for 7 years
#1 Sculptra provider in Michigan
Top 15 Galderma injectors nationwide
At Cosmetic Skin & Laser Center, your trusted dermal filler specialist awaits! We have locations in southwest Florida and northern Michigan. We have trusted dermal filler specialists in Naples and Boca Grande, Florida and Traverse City and Petoskey, Michigan.
Click here for your complimentary dermal filler consultation or treatment. We can't wait to see you!