Learn more about laser hair removal in Traverse City and Petoskey.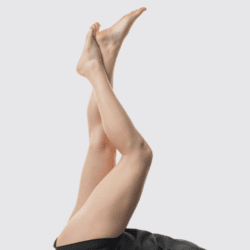 Cosmetic Skin & Laser Center has performed laser hair removal in Petoskey since 2001, and patients consistently tell us it's one their best self-care investments. Of course it's a huge time-saver (no more shaving, waxing, tweezing…) but it also saves money in the long run for the same reasons. It's true that laser hair removal won't always remove every single hair forever but most people get about 75% reduction after a series of treatments.
What Are the Best Lasers for Hair Removal?
Different types of laser are used to remove hair. The Nd:YAG and diode are the most effective. Consumer beware: IPL (intense pulsed light) and the Sciton BBL™ are oftentimes substituted for laser hair removal, but they are not lasers at all and are less effective. IPL and BBL TM (Sciton's brand name IPL) are broad spectrum lights that use filters to block out certain wavelengths, and they do lightly reduce hair. They are the least effective treatment for hair removal. "At Cosmetic Skin and Laser Center we have 6 IPL machines and we would never use them for laser hair removal," explains Dr. Gustav Lo, Medical Director of Cosmetic Skin and Laser Center and Regencen. "Medspas buy IPL or BBL™ to treats sunspots and redness, but then they use it for hair removal instead of investing in the proper laser technologyt," he states. "It saves the medspa money, but unfortunately the patients lose out."
Dr. Orit Markowitz, Professor of Dermatology at Mount Sinai in NYC agrees. He explains that "Nd:YAG and diode lasers target the pigment in hair follicles, causing eradication down to the bulb," which makes real laser treatments more effective and permanent, unlike IPL. "IPL is the least effective treatment for hair removal and is typically used in spa settings," he cautions
How Does Laser Hair Removal Work?
Laser hair removal works by sending a beam of light through the epidermis to target the hair follicles at the root. The heat of the light destroys the hair permanently when the hair is in the active growing phase. After a series of 5 treatments, most patients see about a 75% reduction, most of which is permanent. The laser settings are customized by a person's skin type and color, hair follicle color and coarseness, and hair density.
What areas of your body can you do laser hair removal?
At Cosmetic Skin and Laser Center, the most popular areas for laser hair removal are bikini line, brazilian bikini, underarms, face, and legs. Laser hair removal is also popular on backs, arms, and chests-ultimately you can remove hair anywhere. You can even treat ears, nose and toes!
Who is the best candidate for laser hair removal?
"The perfect candidate for laser hair removal has darker hair and lighter skin, but with the diode laser, we can treat any skin type," states Lo of Cosmetic Skin and Laser Center in Petoskey and Traverse City. "Someone with darker skin and finer hair may need more treatments but can still get nice results", he adds.
Cosmetic Skin and Laser Center opened in 2001 and has been offering laser hair removal since day one. "With laser hair removal, experience really matters!" says Courtney Lo, Clinical Director of Cosmetic Skin and Laser Center. "One of the most gratifying experiences is helping women with PCOS (polycystic ovarian syndrome) who oftentimes suffer from unwanted hair on their face, stomach, or back. They get their life back," states Lo.
How should I prepare for laser hair removal?
Schedule a consultation. At Cosmetic Skin & Laser Center, laser hair removal consultations are complimentary in both our Petoskey and Traverse City locations. If you aren't sure, ask what type of laser is being used to assure you get the results. Shave the day before your appointment and avoid tweezing, waxing, threading, self- tanners, tanning for a couple of weeks before. "Honestly many women have a tough time stopping tweezing before treatments. If that's the case, you may need a few extra treatments in your series," states Courtney. But the good news: you never have to stop shaving before laser hair removal or let the hair grow out before your treatment.
How long until I see results from laser hair removal?
Results are visible within two weeks after treatments. After 4-8 weeks, some hair starts to reappear and it's time for another treatment. After a series of 5 treatments, you may see up to 90% of the hair gone permanently. Some areas respond better than others-like underarms, legs, and bikini. On average with diode laser hair removal, patients report about 75% reduction in the areas. Laser hair removal is long lasting and clean up appointments are scheduled as needed.
Schedule your complimentary consultation or treatment with our online booking link above. 🙂