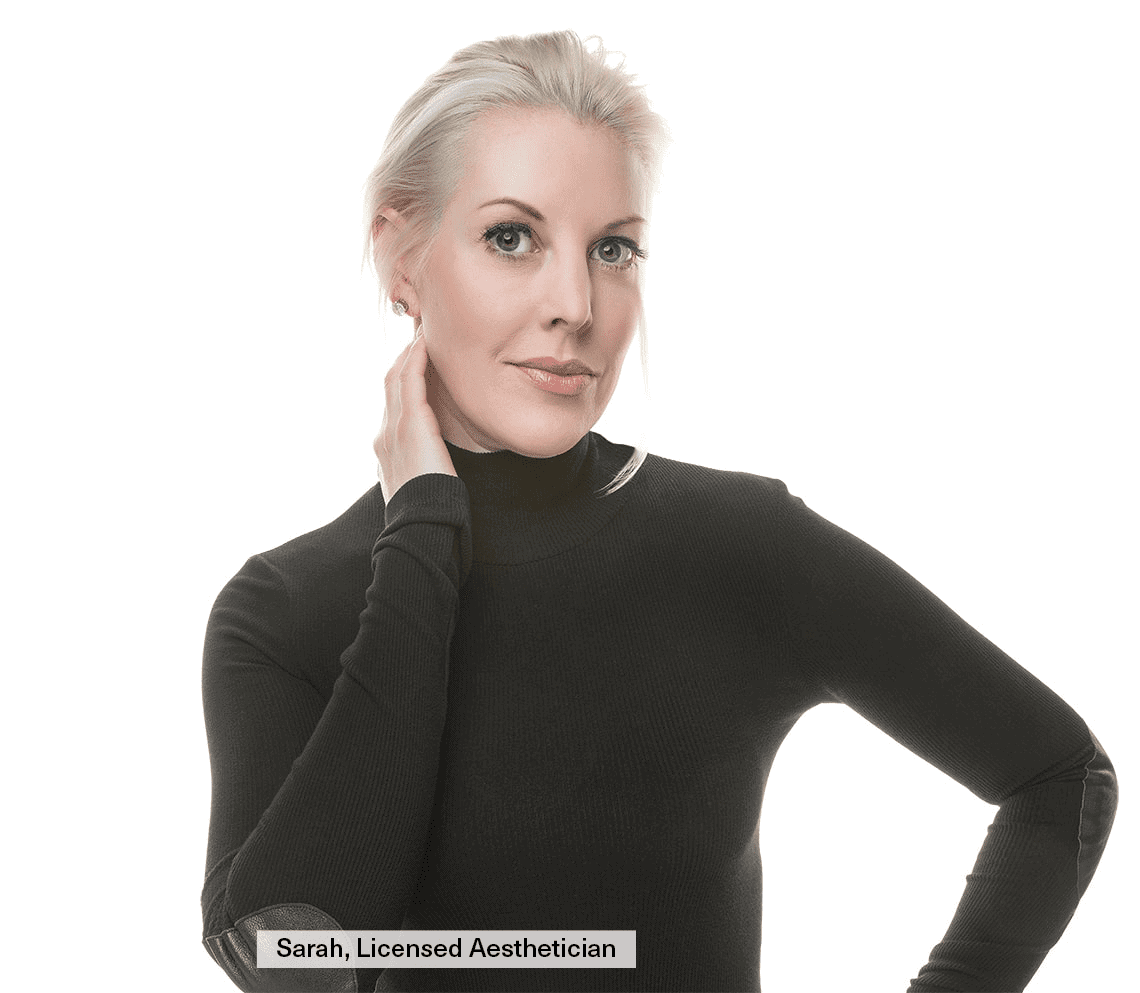 Smartlipo (laser-assisted liposuction) in Traverse City, Petoskey, & Naples
What we tell our patients: Smartlipo is a much easier version of traditional liposuction. When you want dramatic fat reduction in your stomach, thighs, or love handles, it's the ideal treatment. Performed in-office.
Laser liposuction with Dr. Gustav Lo since 2008
At Cosmetic Skin & Laser Center, Dr. Gustav Lo uses Smartlipo's laser technology and gentle liposuction techniques to remove unwanted fat, balance body shape, and leave the body in better proportion.
Abdomen

Thighs

Flanks

Arms

Legs

Knees

Neck
Smartlipo is an FDA-approved form of laser-assisted lipolysis or cosmetic surgery used to alter the shape and appearance of a person's body. Unlike traditional liposuction, Smartlipo is an in-office procedure that combines heat and laser energy to break fat cells apart and smooth and tighten the skin. Smartlipo is performed with tumescent or local anesthesia which offers a quicker recovery and smoother result than traditional liposuction. Multiple body areas can be treated at once with laser liposuction.
The most advanced body contouring and laser liposuction in Northern Michigan and Southwest Florida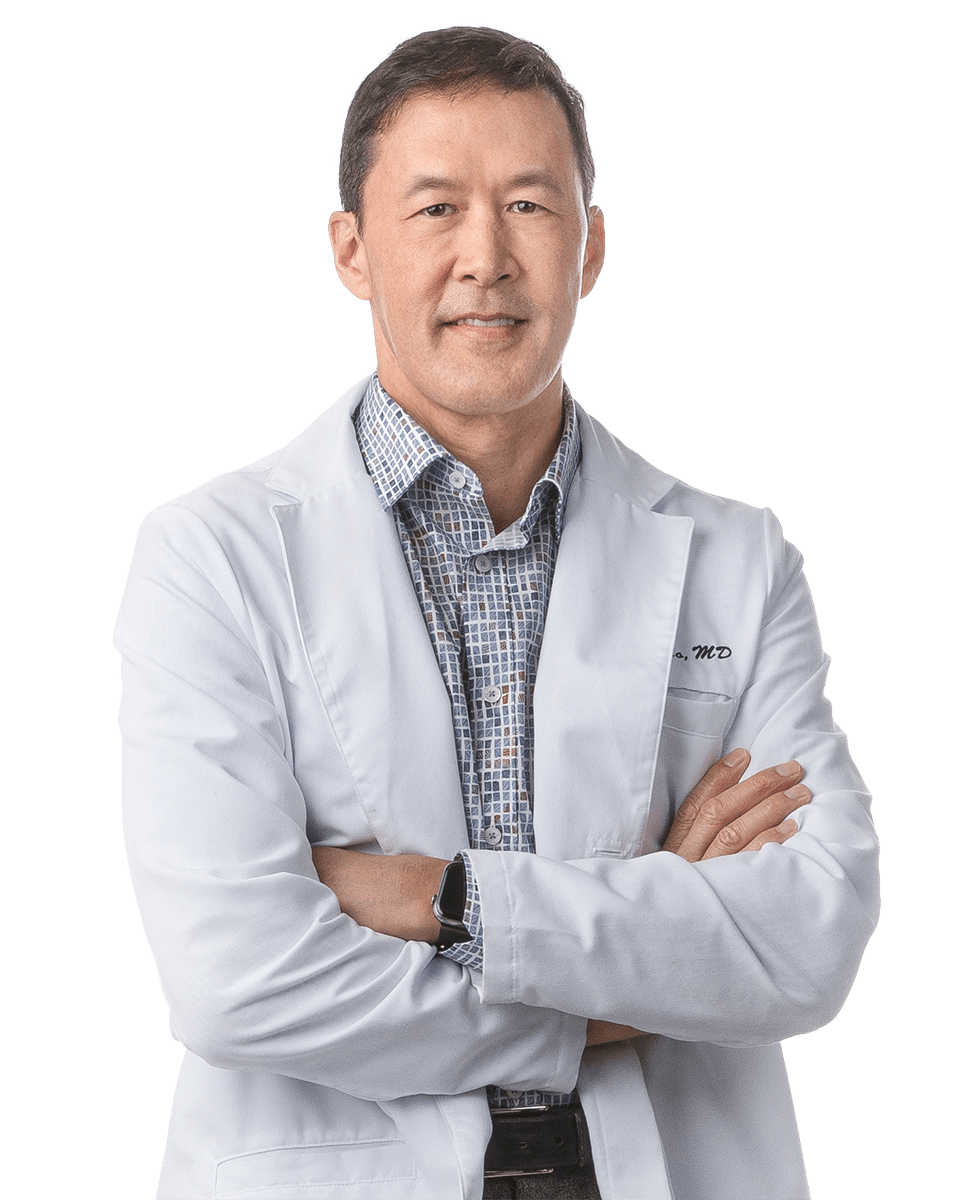 When you come in to Cosmetic Skin & Laser Center for a consult on laser liposuction, here's what you can expect:
Experience. Dr. Lo has performed thousands of Smartlipo procedures on the body and a few thousand on the face.
Overall consult. Weight gain and body changes are common as we age due to depleted testosterone and thyroid levels. And after menopause, lack of estrogen leads to weight gain. At RegenCen, our medical division of CSLC, we can balance your thyroid and hormones levels to help maintain your success. RegenCen also offers the Skinny Shot and NAD infusions which help boost metabolism. Your long-term weight loss and success is our goal.
Smooth, dramatic results. Check out our liposuction before and after photos and we have many more in the office to share.
Real testimonials. Many of our team members have had laser liposuction treatments and can show you their results and tell you about their liposuction treatment and recovery.
The steps of Smartlipo liposuction body contouring
We're here for you! Schedule a complimentary consultation to discuss goals, expectations, potential benefits, and possible risks of the Smartlipo. At the same consult, we can go over common alternatives like Coolsculpting, BodyTite or surgical tummy tucks.
A person who has mild to moderate skin laxity (loose or sagging skin) or unwanted fatty tissue on their abdomen (sometimes called menopause belly), or fat on the hips, thighs, or love handles is often times a good candidate for Smartlipo. We commonly do gentle liposuction on fatty deposits along the bra line, under the chin and around the knees as well. And BodyTite and Smartlipo are used to treat gynecomastia.
A person's treatment eligibility is determined by a number of factors, including: 
general medical history 

current medications 

medical issues/pre-existing conditions 

drug allergies

previous surgeries 
Prospective patients may be photographed, as well. These photos will serve as a reference point for follow-up appointments. 
2. Pre-Procedure Instructions
Pros and Cons of Smartlipo liposuction
✔ Pros
Smartlipo liposuction offers a number of advantages over traditional liposuction and tummy tucks.
in office procedure
minimal recovery
dramatic fat reduction (70% average)
no drains, stitches, or long incisions
natural skin tightening
no general anesthesia
✗ Cons
Any procedure has risks and Smartlipo liposuction is not excluded. Potential risks include:
side effects of anesthesia and meds
infection (very, very, very rare)
temporary swelling
temporary bruising
wearing a compression suit for two weeks
Smartlipo and BodyTite vs. Traditional Liposuction

Smartlipo laser liposuction and BodyTite are similar to traditional liposuction in that they are procedures meant to get rid of excess fat. However, unlike traditional liposuction, Smartlipo liposuction and BodyTite are much less traumatic - traditional liposuction uses a larger cannula to remove fat whereas Smartlipo and BodyTite liquefy fat cells prior to removal for a smooth, less invasive procedure. Smartlipo and BodyTite also have regenerative benefits. The heat promotes the growth of collagen for tighter, smoother skin, and has a shorter recovery time than tradition liposuction.
"Let's face it: Our fat distributes differently as we age, even if our weight stays the same. Combining bioidentical hormone replacement with gentle liposuction has really helped me maintain my body shape and weight through menopause." 
– Lee, RN & Injection Specialist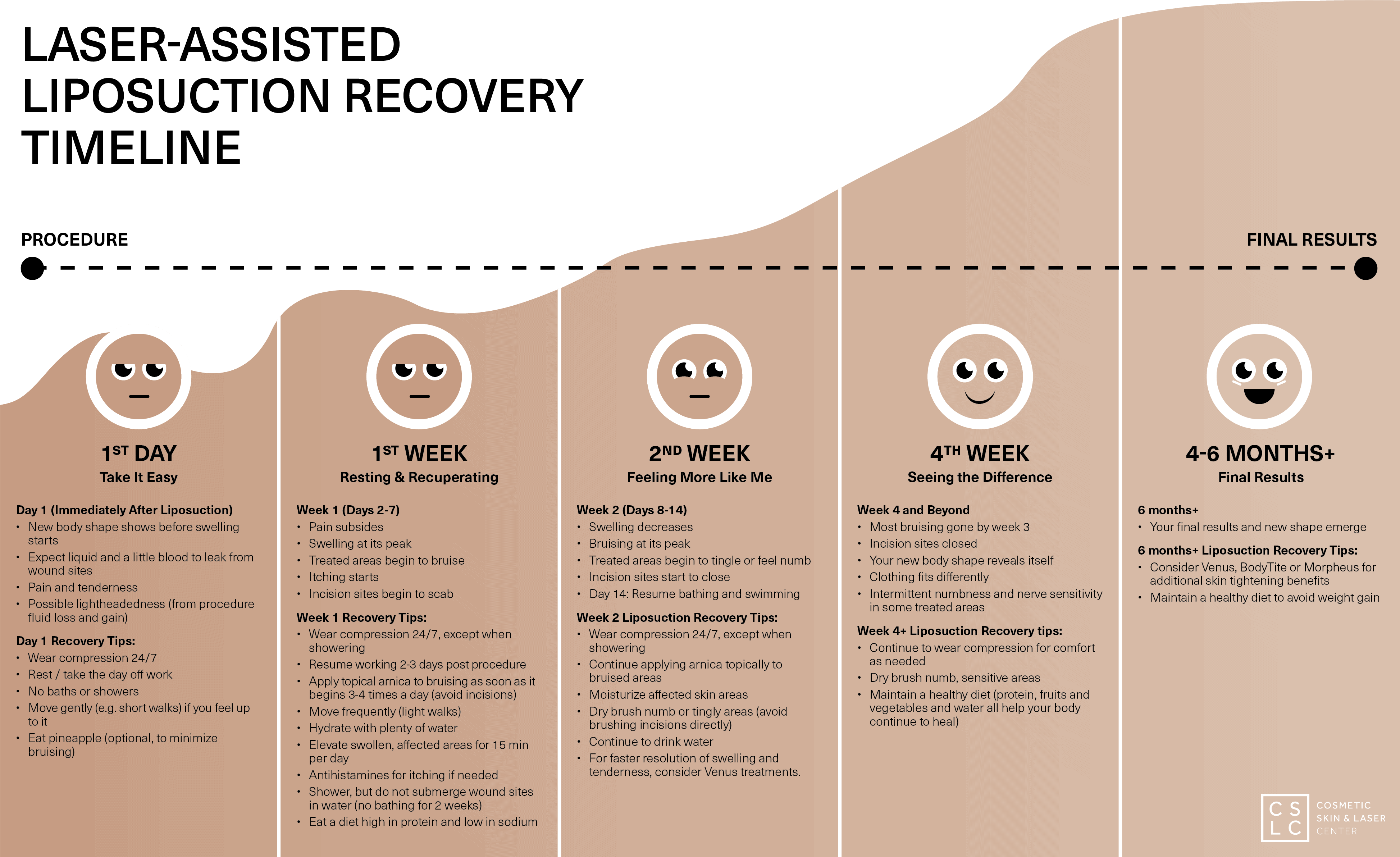 "Warm, bright and welcoming environment. The whole staff has great energy and are very encouraging and comforting. Knowledgeable and talented as well. Thank you so much!"

Smartlipo Laser Liposuction Before and After Photos at
Cosmetic Skin & Laser Center

Smartlipo Liposuction Frequently Asked Questions
Smartlipo is considered a safe and effective procedure for fat removal. Smartlipo liposuction performed by Dr. Gustav Lo in Petoskey, Traverse City & Naples is an FDA-approved cosmetic procedure and the lasers used are safe for clinical use. There's little risk of infection and scarring is generally minimal to none.
While Smartlipo targets and reduces fat cells, the best way to maintain this new and contoured shape is by maintaining your weight long term through diet and exercise.
According to the Centers for Disease Control (CDC), a healthy eating plan features an adequate amount of vegetables, fruit, whole grains, and low-fat or fat-free dairy products, includes a variety of protein-packed foods (e.g. poultry and lean meats, beans and peas, eggs, soy products, etc.), is low in saturated fats, trans fats, cholesterol, salt, and sugar, and stays within a person's daily calorie needs. 
Unless a patient experiences excessive weight gain or loss in the future, Smartlipo is considered a permanent fat loss procedure. Patients who maintain or make positive changes to their diet and exercise should see long-lasting results.
Patients who gain weight post-procedure may notice fat deposits appearing in new and untreated places on their bodies. For example, a person who treats their outer thighs and hips may find that their regained weight is in their stomach. 
Smartlipo isn't designed to treat cellulite. Smartlipo can, however, eliminate stubborn fat deposits and help tone, sculpt, and reshape a person's body. 
Yes, Smartlipo does help to tighten the skin. Studies show the treated skin tightens from 15-30% after the procedure. This is because the lasers used in Smartlipo heat the skin, producing collagen – nature's anti-aging supplement.
Unlike invasive, traditional liposuction, the downtime, pain, and discomfort of Smartlipo is significantly less. Smartlipo is an in-office procedure, and we advise taking two days of rest. Most patients can work and exercise within 3 days post-procedure.
Many patients report little to no pain with Smartlipo. Because Smartlipo is performed under local anesthesia, the pain or discomfort (if any) may produce a short-lived stinging sensation. To ensure that our patients are comfortable, we numb the treatment area and offer additional pain medication for those who need it.
Smartlipo uses a laser to heat and melt fat, which is then gently suctioned away. Traditional liposuction does not melt fat; instead, instruments are used to mechanically break up then suction the fat away. When compared to traditional liposuction, Smartlipo is less traumatic with almost no bleeding, promotes the growth of collagen for tighter, smoother skin, and has a shorter recovery time.
Absolutely! Smartlipo is one of the most effective ways to treat stubborn fat and loose skin on the jawline. Laser Lift utilizes the Smartlipo laser energy to liquefy and permanently remove fat in the jowls and under the chin while tightening the skin simultaneously. 
These treatments are often combined with PDO Novathreads, Morpheus8, Sculptra, or Ultherapy for an overall "nonsurgical facelift."
Some of the primary benefits of getting liposuction are our follow up treatment options. Smartlipo permanently removes fat but of course a healthy diet and exercise program is necessary to avoid gaining weight after liposuction.
Many liposuction patients have aging hormonal imbalances like low T (testosterone), low thyroid (free T3, T4, TSH), or an imbalance in estrogen/progesterone. We offer hormonal testing and treatment at our regenerative division, RegenCen, to help our patients maintain their weight.
In addition we offer Venus, a treatment combining PEMF with radiofrequency heat, to generate new collagen and firmer, smoother skin.
We offer Smartlipo liposuction by Dr. Gustav Lo in Petoskey and Traverse City, Michigan and Naples, Florida. We also offer Smartlipo consultations at our extension office in Boca Grande, Florida.
Ready to get started?
Book a free consultation today!