Traverse City Laser Treatments for Wrinkles
The Best Laser Treatments for Wrinkles, Acne Scars, Rosacea and More
"I'd love for my skin to look good, even without any makeup."
Rarely a week passes when we don't hear this sentiment in our treatment rooms. Women of all ages who simply want better skin and to live the foundation-free lifestyle, either once in a while or every day.
"When I do wear makeup, I want it to be like jewelry for my skin," says CSLC Clinical Director Courtney Lo. "A little sparkle here, a splash of color there. But not the star of the show."
That's reserved for her skin, Lo says, and many of our patients want the same results with their skin, too.
What are laser treatments and how do they help my skin?
Laser treatments deliver tiny, managed injuries that rejuvenate your skin. They do this via short-concentrated and fractionated light beams directed at irregularities in your skin. As the laser passes over the skin, microthermal injuries are created in the dermis via heat from the laser. As the wounds heal, collagen production is stimulated resulting in new healthy skin cells.
Laser treatments transform a variety of skin issues, from hyperpigmentation to acne scars, fine lines, rosacea and stubborn brown spots.
What laser treatment is right for your skin?
Let's clear up a misconception first: unlike deep chemical peels and older laser technologies, lasers don't take off the top layers of your skin. Today's laser technology penetrates below the skin surface and stimulate collagen from within.
Laser treatments also are fractional, which means not every single cell of your skin is impacted by the laser. This combines areas of both treated and untreated skin, and the untreated skin cells rally to help heal the treated cells. Because of this, recovery time and external visibility of the damage is greatly reduced compared to treatments from decades ago.
Depending on your age, skin condition and desired outcome, we offer 3 different types of in-office  laser treatments: ablative, non-ablative, and intense pulsed light (IPL).
Intense Pulsed Light (IPL) for Rosacea and Redness
The least intense of laser light treatments, IPL helps improve the color balance of skin tone and reduces hyperpigmentation. It's also the main treatment we recommend for patients with rosacea.
"I was tired of color-correcting my red flushed cheeks every day. IPL reversed my rosacea," says CSLC Practice Director Kelly Bolton.
IPL treatments are fast, with most lasting 30 minutes or less, and because the downtime is minimal (post treatment your skin will look pink—like a rosy glow) you can be in and out in a lunch hour. You'll see the best results if you schedule a series of 3-5 treatments, which help exponentially decrease brown spots and redness. After that, results are maintained with 1-2 treatments a year.
If your main concern is color balance or redness, or you want to keep downtime at a minimum, IPL is your best bet.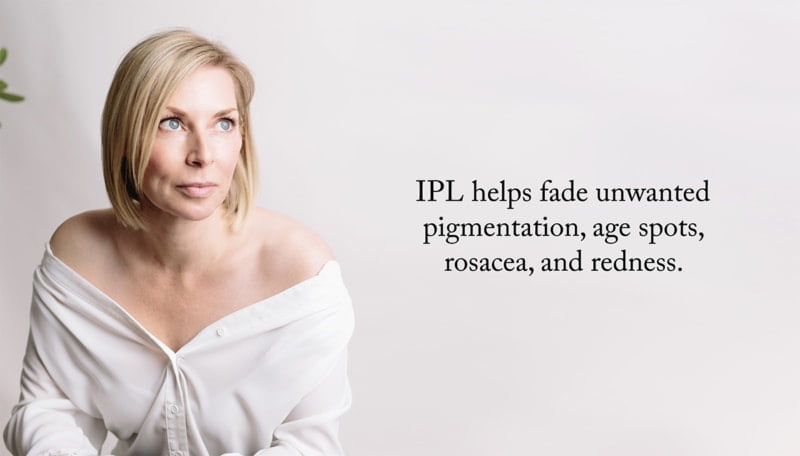 Non-ablative ResurFX laser for smooth skin with less downtime
"ResurFX laser treatment is ideal for men and women who don't want to take time from their work or social lives but desire skin textural transformation and pigmentation improvement," says Lo.
A step up from IPL, ResurFX improves fine lines, acne scars and uneven skin tone by penetrating the epidermis (below the skin's surface) and introducing controlled injuries to some of the skin's cells. ResurFX is a fractional laser, which leaves some cells untouched. As the wounds from the impacted cells heal, the non-impacted cells assist int he healing process. Meanwhile, collagen is stimulated.
As we age, collagen production decreases, and ResurFX is one way to recruit new collagen production and treat or reverse signs of aging.
Unlike the fractionated CO2 laser (FX), which has 5 days of downtime, ResurFX has only 1-2 days of mild downtime – post-treatment the treated area appears sunburned with possible swelling.
For patients who want smoother skin without the downtime associated with our most aggressive laser, FX, ResurFX strikes a balance between noticeable results and recovery time.
Multiple ResurFX treatments yield the most dramatic results, but even one treatment a year works to freshen aging skin and restore a glow.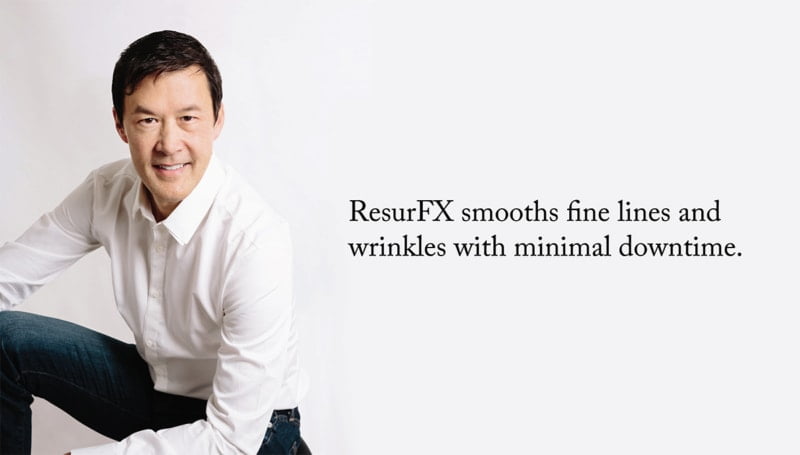 CO2 laser (FX) – An ablative laser that dramatically transforms aging skin
Our most powerful and transformative laser treatment is the C02 laser, FX, which delivers energy to the skin to improve skin tone and texture, reduce fine lines and even wrinkles. It also targets other stubborn spots like warts, scars and brown spots.
Just one week after your FX Laser treatment, your skin will be smoother, brighter, and more luminous. You'll see continued improvement for 3-6 months.
Featured on The Today Show and The Doctors, the University of Michigan says FX's revolutionary treatment will "change the way sundamaged, scarred, and wrinkled skin is treated for years to come."
Men and women who spent too much time in tanning beds or slathering baby oil on their bodies in the 70s and 80s love FX for its transformation that turns back the clock.
CSLC Master Injector Jette Wichmann credits FX with making her skin brighter, smoother and more luminous. "FX helped take back my horrible sun-tanning years-it reduced my pore size and helped improve my pigmentation," Lee says.
You'll want to plan for FX: its dramatic results come in exchange for 5-7 days of downtime, with redness that may last up to two weeks. It's often favored by patients in the winter months, when it's easier to hide away for a few days and emerge looking more fresh-faced than you have in years. Though the downtime is a bit longer, the actual in-office treatment is short at just 45-90 minutes. FX requires the fewest number of treatments to see significant results.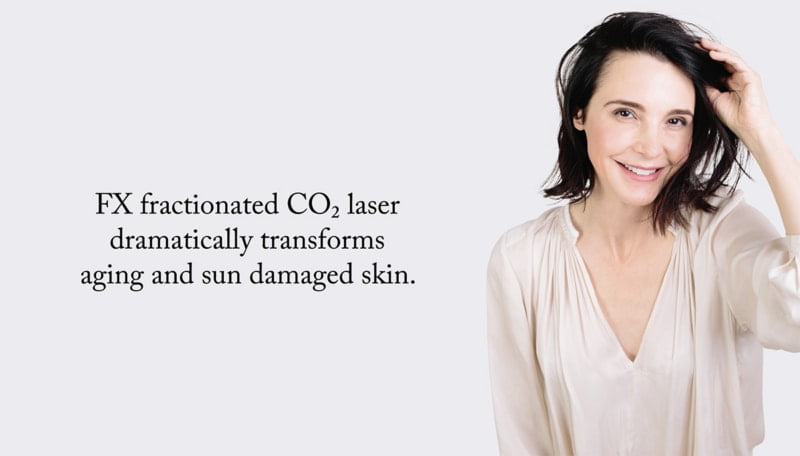 How to preserve your skin post laser treatments
We can't stress it enough: daily application of a broad-spectrum, SPF 30+ sunscreen, avoiding sun exposure, and a proper skincare routine are essential for preserving results of all laser treatments.
Northern Michigan's Premier Laser Treatment Center
Laser treatments were the first treatments we offered in both our Traverse City and Petoskey offices, and as one of the first aesthetic centers to bring laser to Northern Michigan, it started with our name: Cosmetic Laser Center. We later added "skin" to the name to become Cosmetic Skin and Laser Center when injections like Botox were approved.
We're marking 2 decades of aesthetic self-care in Northern Michigan, starting with lasers.
"If I had to pick one must-have self-care treatment for my skin, it would be laser," says Courtney Lo. "Not only does it last, but it saves me time, money and energy. Best of all, I can go out without foundation and feel great about my skin, even in my 40s."