"The goal of dermal fillers is to look smooth, lifted and refreshed. Like yourself, just better. No one will know you've had anything done. The best results should be invisible."

– Courtney Lo, PA & Founder
What do dermal fillers help with?
Dermal fillers in Naples naturally restore lip volume, rejuvenate aging hands, lift sagging cheeks and smooth wrinkles.
Fine lines

Aging hands

Thinning
lips

Sunken cheeks

Under eye
hollows

Facial
sagging

Deep
lines

Lip
lines
What's the best dermal fillerin Naples?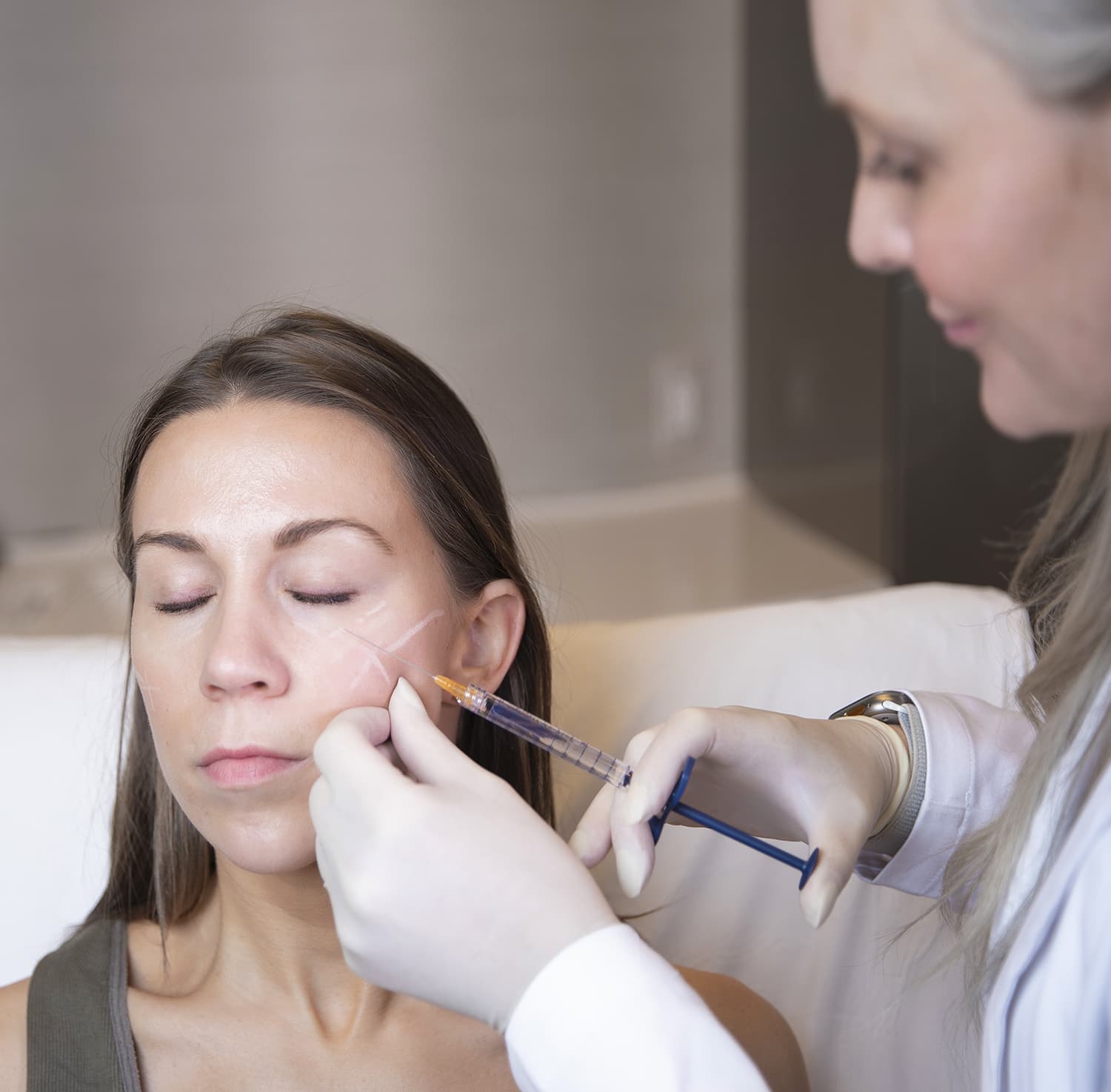 The best dermal filler in Naples depends on your cosmetic goal as well as where the product is placed. And both the dermal filler injectors' experience and placement techniques are as vital as the dermal filler that is chosen.
For a patient who just wants to get rid of lip lines with no lip enhancement, Volbella or Refyne may be the lip filler of choice.
For natural lip injections in Naples that give a very natural lip rejuvenation or smooth deep lines, our master injectors often choose Restylane Silk, Restylane Kysse and Juvederm dermal fillers which give a beautiful lip enhancement.
Due to it's predictability, Restylane is best for undereye filler in Naples.
Restylane Lyft is our preferred hand filler. Contour and Defyne are the preferred jawline fillers.
Lyft, Juvederm Voluma and Contour are most commonly used for cheek fillers and to lift sagging cheeks.
Does filler work for fine lines?
The two fillers that are great for filling or smoothing fine lines without plumping the skin are Juvederm Volbella and Restylane Refyne. These two fillers can be used for cheek and sleep lines, lip lines and fine lines around the mouth.
Our master injectors are also trained in skin boost at Cosmetic Skin & Laser Center in Naples. Skin Boost is microinjections of filler help with skin hydration and improve fine lines.
How do dermal fillers work in Naples?
Similar to your cells
Dermal fillers are made from a clear gel called hyaluronic acid. Hyaluronic acid is a nutrient that is naturally present in the body. Dermal fillers are formulated at different thicknesses or viscosities and are chosen based on the area treated and desired goal: hand rejuvenation, volume replacement, ear lob plumping, lip rejuvenation and/or lip rejuvenation.
dERMAL FILLer in naples
After the consultation with your dermal filler injector at our downtown Naples location, the filler is placed precisely in area of concern. Prior to treatment, topical anesthetic medicine is applied. With injections, bruising is always a possibility. However with cannulas (a blunt needle), there is much less chance of bruising than in years past.
 Long-lasting, instant results
Dermal filler appointments in Naples, Florida take around 20-60 minutes depending on the areas treated. It's also common to treat multiple areas with filler at one appointment.
In the area of the injection, fillers stimulate collagen as the product is being reabsorbed, providing long lasting, progressive results. Filler results in Naples last about a year and are immediate.
"Our 'global face approach' to dermal fillers is what sets us apart, and has clients leaving the office looking renewed and refreshed, without any obvious signs of having cosmetic treatments."
– Lee Middleton, RN & Aesthetic Provider
What's the cost of filler in Naples?
The cost of dermal fillers in Naples, Florida start around $600. One vial of filler can be used for lip injections or undereyes, and can smooth a few lines. For a full face rejuvenation or liquid lift with filler, multiple vials may be utilized at one appointment.
Our injectors inject dermal filler in Naples on the daily at Cosmetic Skin & Laser Center. Cost is a common question and we will discuss the cost of filler at your complimentary, individualized consultation prior to injections.
Filler before and after pictures
Cosmetic Skin & Laser Center in Naples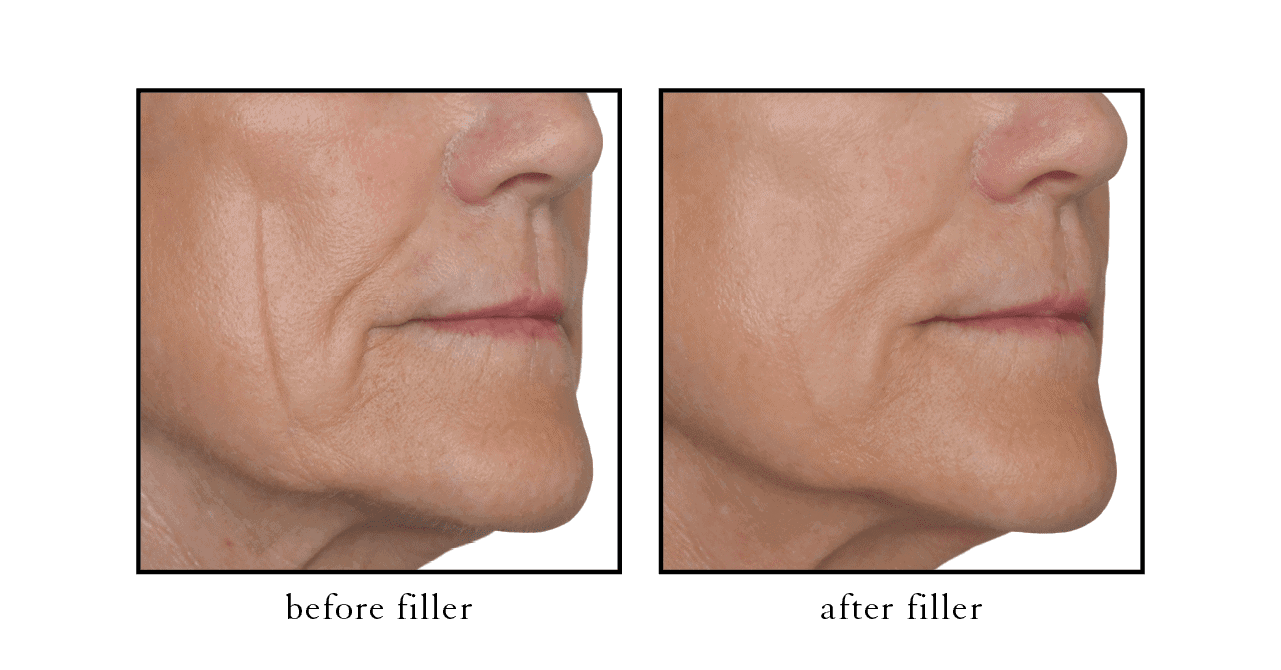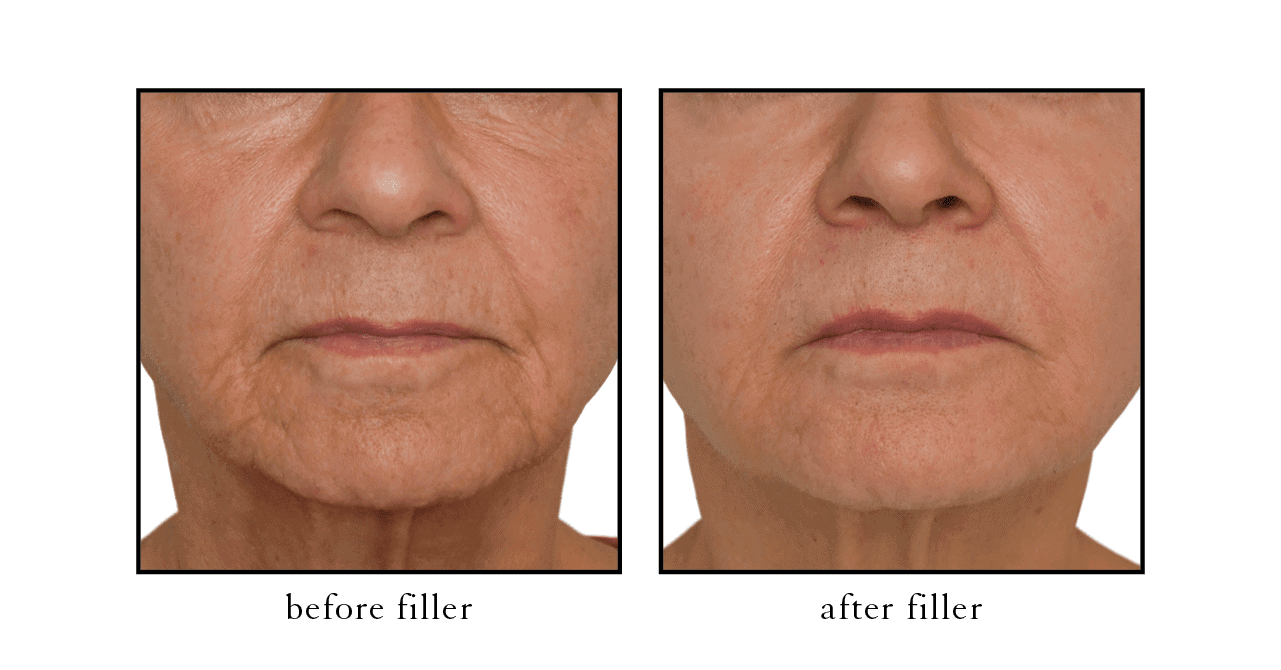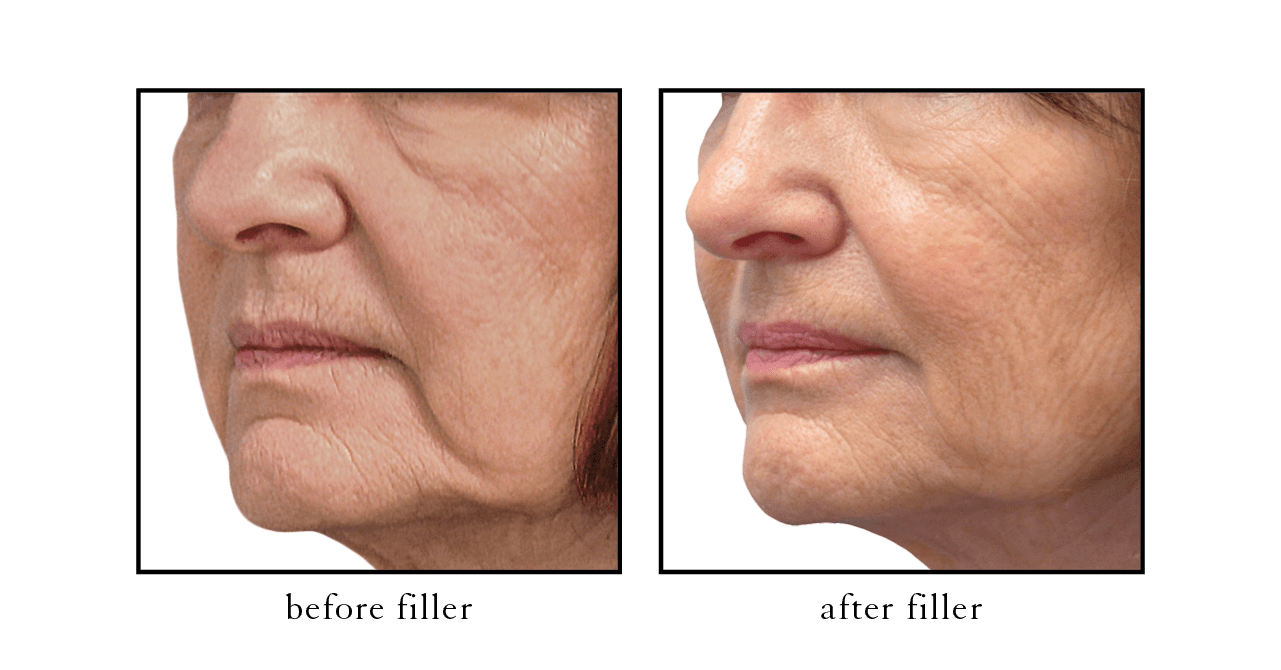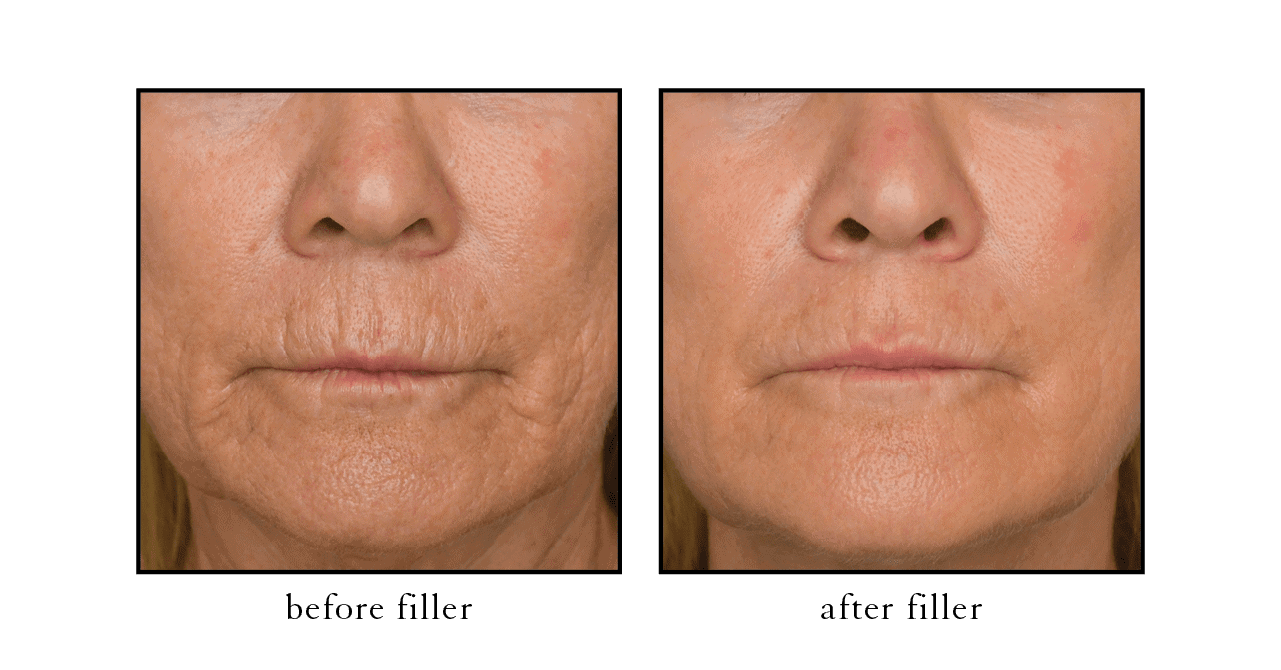 What's the best filler in Naples for thin lips?
At Cosmetic Skin & Laser Center, our number one goal with lip filler in Naples is to make sure your lips are enhanced naturally; whether you are 25 years old or 65 years old. If you naturally have small lips, it is important to choose lip filler and an injector carefully.
A great lip filler for height and structure is Restylane Kysse. Restylane Kysse will enhance your natural lip volume and shape with masterful microinjections.
Where can I get undereye filler in Naples?
Under eye filler is offered in our downtown Naples location. Injectors at Cosmetic Skin and Laser Center in Naples treat this area to help our clients achieve a more rested, vibrant look.
The undereye or tear trough area may have a hollowed look at a young age due to genetics and almost everyone notices some undereye hollowing with aging. Even in the 30's, men and women notice they "look more tired".
Precisely placed filler helps with undereye circles and hollowing. Hyaluronic Acid fillers like Restylane help clients look less tired, fade the under eye circles or shadows and they last about a year.  Platelet-rich fibrin injections are a filler alternative that improve undereye hollowing and skin integrity.
Lip filler before and after pictures
Cosmetic Skin & Laser Center in Naples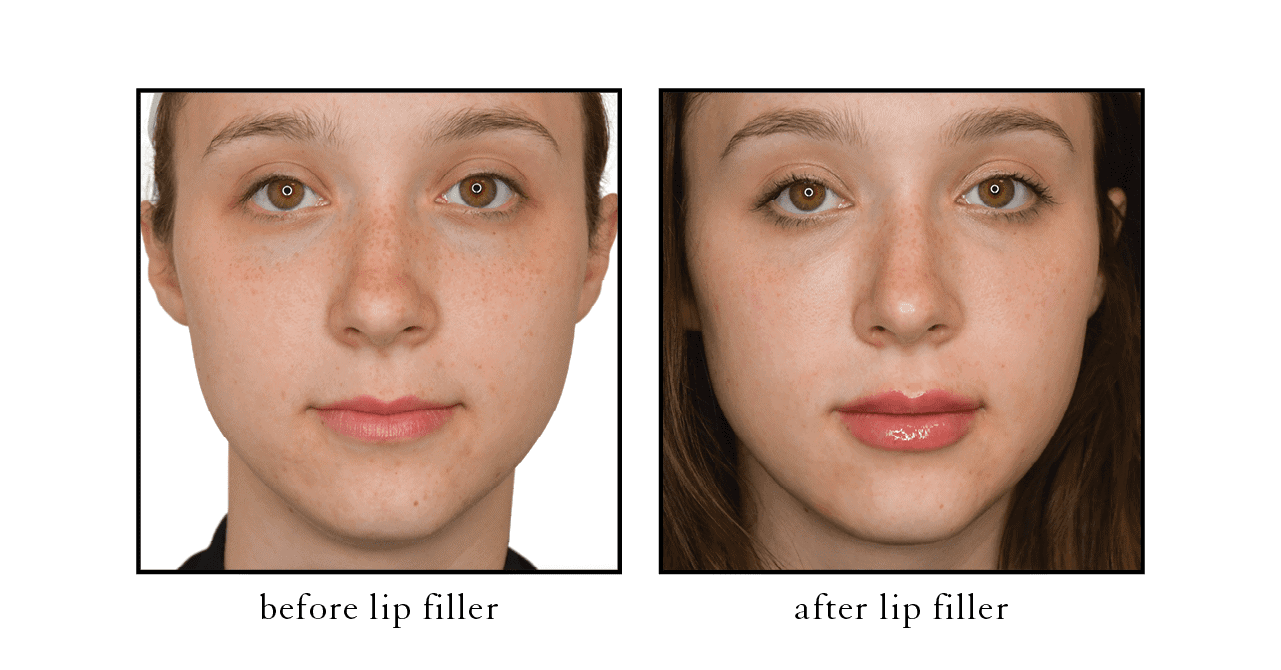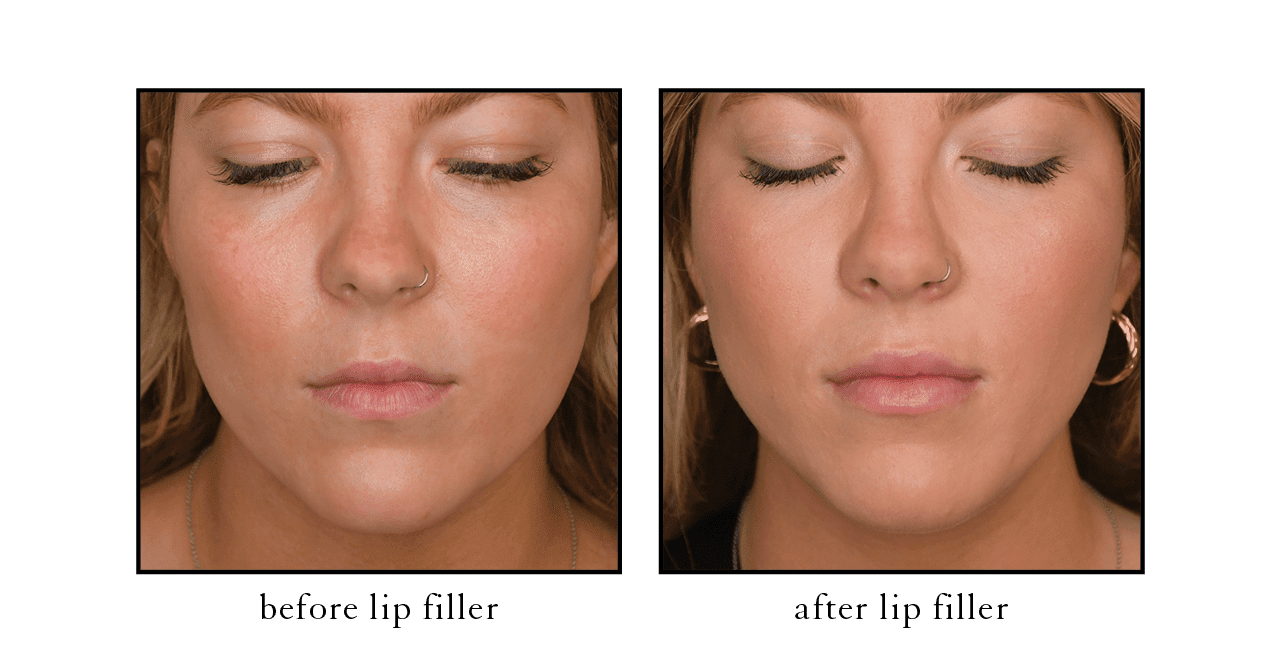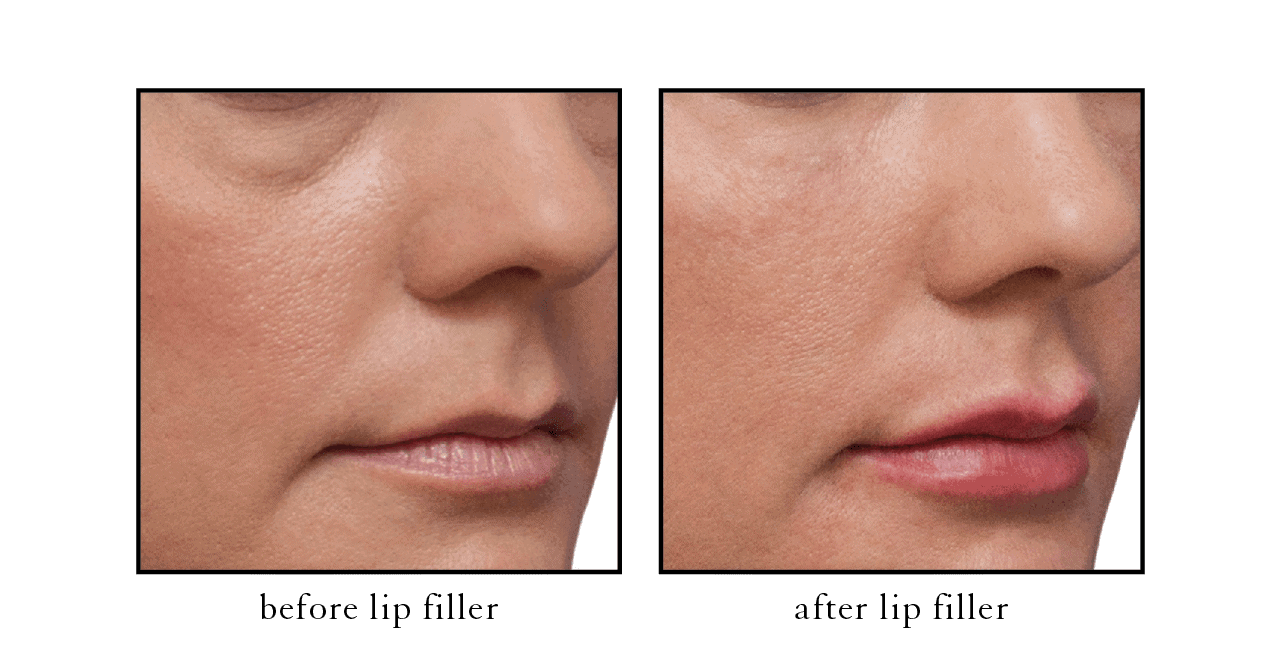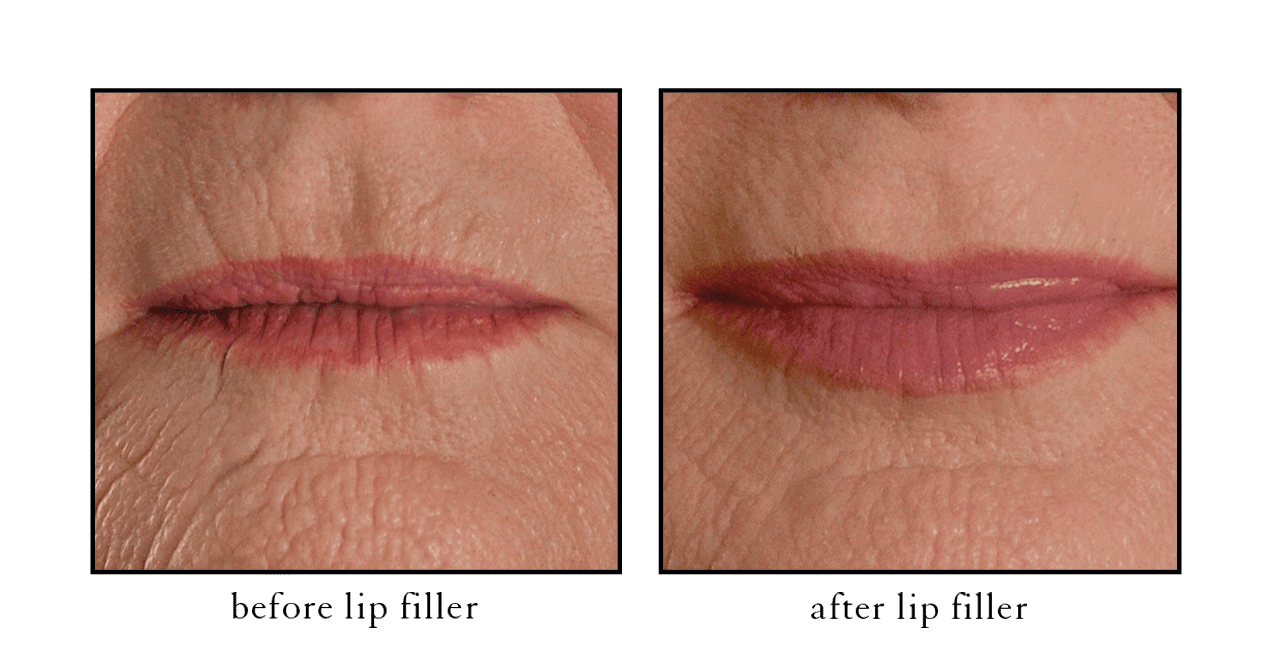 At Cosmetic Skin & Laser Center, cost is a common question. The cost of dermal fillers in Naples depends on how many vials is needed and which type of filler is utilized. Generation one and generation two fillers are used for wrinkle reduction, and the cost is different for each. Our expert providers will customize your dermal filler treatment in Naples and discuss pricing during your consultation.
Most of the time we can see patients the same day or next. Please call our Naples office at (239) 367-7353 and see if a dermal filler appointment is available with top dermal filler providers in Naples. At Cosmetic Skin & Laser Center in Naples, we try to accommodate our patients' busy schedules! 
We offer online booking in Naples for lip filler, under eye filler and liquid lifts. 
Cosmetic Skin & Laser Center offers dermal filler at 4 convenient locations in southwest Florida and northern Michigan:
Near 5th Avenue in downtown Naples
Downtown at Banyan Tree Pilates & Yoga Studio near the Pink Elephant in Boca Grande
One mile west of downtown Traverse City
Across the Bear River in Petoskey
Cosmetic Injectors at Cosmetic Skin and Laser Center go through extensive training in filler injections. We commonly inject facial filler to lift sagging cheeks, plump or smooth lips, help undereye circles and for facial sagging, or more commonly known as Liquid Lift.
Our providers also use fillers to rejuvenate hands and ear lobes.
Dermal filler injections with a skilled provider look very natural. After your dermal filler treatment in Naples, deep wrinkles and lines are smoothed away, cheeks are lifted, under eye hollows are filled, and lost volume is replaced. Dermal filler results are instantaneous, improve for the next 2-4 weeks, and then gradually go away slowly over 9-24 months. How long dermal fillers last varies on the filler(s) chosen.
Collagen production dramatically decreases in your 20s, and that is why many clients begin Sculptra in their 30s. If you're seeking full correction, it is recommended to treat every 6-8 weeks times two-three sessions. Optimal results are 12 weeks after injections.
Do you want to maintain your facial volume and structure? 1-2 vials of FDA-approved Sculptra each year is your solution. Sculptra results last for approximately 18-24 months, and is made from the same material that has been used in dissolvable sutures. Sculptra consultations in Naples are always complimentary at Cosmetic Skin & Laser Center.
Natural results from fillers in Naples is our standard at Cosmetic Skin and Laser Center.
Do you want to see natural dermal filler results? Come see us in Naples and take a look at our team. Many of our team members have been receiving fillers and Sculptra for 15+ years. 
The goal at CSLC is to help maintain your natural beauty and style. You can see natural liquid lift results, lip filler, jawline filler, hand filler, facial contouring, under eye filler, Sculptra, hand filler, ear lobe filler, and temple filler in Naples by walking in our office! 
Take a look at our before and afters of dermal fillers in Naples on our
gallery page.
Dermal filler in Naples does work on acne scars. However at our medspa and laser center, patients are happier with platelet-rich fibrin (PRF) vs filler for acne scares. Injecting PRF fills acne scars by stimulating new collagen. 
To plump and visibly reduce the appearance of veins in aging hands, dermal fillers in Naples are utilized. At Cosmetic Skin and Laser Center, fillers for aging hands include Juvederm, Restylane Lyft, Radiesse, and PRF (platelet-rich fibrin).
Yes dermal filler can be dissolved in Naples with hyaluronidase, a product that dissolves hyaluronic acid fillers. At CSLC our aesthetic providers are highly trained to use hyaluronidase to dissolve filler. Hyaluronidase is used to dissolve unwanted filler and also tweak a filler result. 
Yes. A natural type of filler is a product from your own blood, such as PRF or PRP. Injecting PRF or PRP stimulates collagen in your body and improves skin integrity. 
Common areas that we inject PRF and PRP in Naples at Cosmetic Skin and Laser Center include acne scars, under eye hollows, hands and fine lines. However, natural results from filler in Naples can be achieved with a highly skilled injector who has an artistic eye and understands balance and proportion. 
Results of dermal fillers in Naples can last anywhere from 6 months to two years. The longevity of fillers depends on the filler used. Generation two fillers such as Defyne, Refyne, Restylane Kysse, Voluma and Contour last around a year. Whereas Generation one fillers like Juvederm, Restylane-L and Restylane Silk are gone after 6-9 months.
Yes, natural filler can be achieved through platelet-rich fibrin (PRF) and platelet-rich plasma (PRP).
PRF and PRP as filler in Naples offers tremendous improvement in areas where thin skin is present such as hands and under eyes. 
No. Dermal filler and Botox are not the same.
Dermal fillers in Naples are used to revolumize areas and deep wrinkles on aging skin. Fillers are made from hyaluronic acid gels and results are immediate. Common areas for filler include under eyes and cheeks, and results last about 12 months.
Botox relaxes the muscles and is a neuromodulator. Neuromodulators help soften wrinkles in areas where expression is present. Common areas include scowl lines or the 11's between the brows, wrinkles around the eyes and forehead lines. Botox injections in Naples give you a refreshed look and results last around 3-4 months. 
At Cosmetic Skin and Laser Center in Naples, our goal with lips is to enhance their natural shape. Our injectors know the most advanced lip rejuvenation techniques, and your lips will still look like your own, just better!
Patients request lip filler in Naples for 3 primary reasons:
1. Patients want more volume and fuller lips.
2. Patients want to rejuvenate very thin lips from aging.
3. Patients want to hydrate and smooth their wrinkled lips.
Regardless of the patients desire, natural lip filler is achieved in Naples at our medspa and laser center by injecting slowly. We start with 1/2-1 syringe of lip filler at a time. This process allows the filler to be placed in the tissue naturally. When lip filler is injected slow, it prevents migration and promotes the most natural outcome.
Our Platinum Plus injectors will choose the best natural lip filler for you based on your goals and desires. Our injectors have been named the top 15 nationwide injectors for Galderma in Naples. At CSLC, we also participate with Aspire and Alle reward programs to help you save money on lip filler in Naples!
At CSLC, we use Restylane-L for under eye filler in Naples. For the most natural and consistent results, we have found that Restylane-L works the best. Under eye filler in Naples helps clients get rid of the hollowing under the eyes and achieve a more rested look. At Cosmetic Skin & Laser Center in Naples, we have injected thousands of under eyes with various techniques and fillers. Tear trough and under eye filler helps you not look tired and the results last around a year. 
When combining Restylane-L or hyaluronic acid filler with Platelet rich fibrin (the second generation platelet rich plasma), clients can see optimal results. Under the eyes, PRF and PRP help improve the skin integrity. 
Yes, you can have filler in your hands. Dermal fillers reduce the appearance of veins in the hands. With aging, the tissue and skin on the hands becomes thin and transparent. For hand rejuvenation in Naples at Cosmetic Skin and Laser Center, we inject PRF in combination with Restylane Lyft.
Our experienced dermal filler injectors in Naples use a micro cannula to inject filler in the hands. Dermal filler results in Naples last around a year, and are usually combined with other skin rejuvenation treatments like IPL, laser resurfacing or microneedling. 
Dermal fillers in Naples are still effective at any age. You are never "too old" to want to look like yourself, just refreshed. Dermal fillers are ideal for wrinkle reduction at any age. At our medspa and laser center in Naples, we say "it's the injector, not the syringe." Our goal is to make each client feel like the best version of themselves. 
If you're looking to combat signs of aging with dermal fillers, your 30s is a common age to start. Many clients at CSLC start dermal fillers in their 30s, due to lack of collagen production in their 20s. Dermal fillers in Naples help maintain facial volume and reduce the appearance of wrinkles.
What is collagen? Collagen is the moisture-retaining and firming component in the skin. Once collagen is lost in the skin, skin is drier, thinner, and less bouncy and firm. Dermal fillers in Naples encourage collagen production in the area it's injected. 
After lip filler in Naples, minor swelling is normal. Don't worry! Swelling from lip filler is also temporary, and it will resolve within 24-48 hours. After the swelling is gone, the true shape of your lips will be revealed. Lip filler in Naples at Cosmetic Skin & Laser Center hydrates, smooths and increases the size of your lips. 
The best dermal filler for lips in Naples depends greatly on you; your desires, anatomy and goals. Dermal filler for lips is used to plump, hydrate, and/or define your lip shape. At Cosmetic Skin & Laser Center in Naples, our expert providers will talk with you during your consultation and discuss lip filler results. Based on your desired results, we'll choose what Restylane or Juvederm products will work best for you. 
Yes, absolutely. To smooth out facial wrinkles and restore lost volume, dermal fillers in Naples are utilized for facial contouring at our medspa and laser center. We usually use Restylane Lyft, Defyne, or Contour in Naples. These dermal fillers, with many others, are also helpful with jawline contouring. 
Dermal fillers for wrinkle reduction in Naples are made of hyaluronic acid. Dermal fillers are used to erase wrinkles and lines, replace facial volume, plump earlobes, help aging hands and get rid of scarring. Results are instant with dermal fillers in Naples, and CSLC injectors choose the product based on the area(s) that are treated. 
Sculptra is made of poly-L lactic acid (or PLLA) and is a biostimulator. Sculptra stimulates the bodies natural supply of collagen and used for volume correction. It is used to prevent volume loss, soften a sunken or bony face and help maintain facial lift and volume. Unlike filler, the results of Sculptra in Naples become visible at 3 months and generally last for 24-30 months. 
Yes. Natural injections or injectables are products from your own blood. Platelet products, such as PRF or PRP improve skin integrity and stimulate collagen. At Cosmetic Skin & Laser Center in Naples, common areas we inject PRF and PRP are acne scars, fine lines, under eye hollows and hands. 
However, natural results from injections in Naples can always be achieved at CSLC with our experienced providers. 
Dermal fillers in Naples have few sides effects. The few, mild side effects some patients may experience from dermal fillers is redness at the injection site, bruising and swelling. These side effects usually subside in 3-7 days, and patients can go about their normal activities following treatment. With dermal fillers in Naples for wrinkle reduction, there is no downtime.